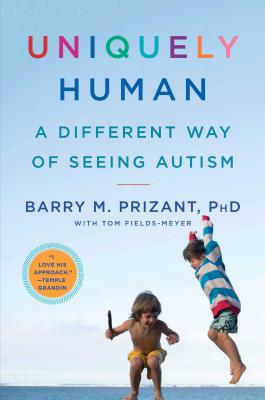 Uniquely Human
A Different Way of Seeing Autism
Hardcover

* Individual store prices may vary.
Other Editions of This Title:
Paperback (7/19/2016)
Paperback (4/5/2022)
Description
A groundbreaking book on autism, by one of the world's leading experts, who portrays autism as a unique way of being human—this is "required reading....Breathtakingly simple and profoundly positive" (Chicago Tribune).

Autism therapy typically focuses on ridding individuals of "autistic" symptoms such as difficulties interacting socially, problems in communicating, sensory challenges, and repetitive behavior patterns. Now Dr. Barry M. Prizant offers a new and compelling paradigm: the most successful approaches to autism don't aim at fixing a person by eliminating symptoms, but rather seeking to understand the individual's experience and what underlies the behavior.

"A must-read for anyone touched by autism... Dr. Prizant's Uniquely Human is a crucial step in promoting better understanding and a more humane approach" (Associated Press). Instead of classifying "autistic" behaviors as signs of pathology, Dr. Prizant sees them as part of a range of strategies to cope with a world that feels chaotic and overwhelming. Rather than curb these behaviors, it's better to enhance abilities, build on strengths, and offer supports that will lead to more desirable behavior and a better quality of life.

"A remarkable approach to autism....A truly impactful, necessary book" (Kirkus Reviews, starred review), Uniquely Human offers inspiration and practical advice drawn from Dr. Prizant's four-decade career. It conveys a deep respect for people with autism and their own unique qualities. Filled with humanity and wisdom, Uniquely Human "should reassure parents and caregivers of kids with autism and any other disability that their kids are not broken, but, indeed, special" (Booklist, starred review).
Praise For Uniquely Human: A Different Way of Seeing Autism…
"From its first pages, Uniquely Human establishes itself as a must-read for anyone touched by autism...contains a trove of experiences that will resonate, offer ideas, give hope... This book is a crucial step in promoting better understanding and a more humane approach."

"Refreshing--and constructive.... It should be required reading for all educators and practitioners working with autism....Breathtakingly simple and profoundly positive."

"Uniquely Human...details stories that will resonate with parents or loved ones when a child is first diagnosed with autism. Families may find Prizant's approach...positive and uplifting."

"Prizant distils decades of working with autistic children and adults, and their teams, into practical advice for lowering stress, leveraging strengths and interests, building resilience, and importantly, embracing and celebrating difference...Prizant's is a message of empathy, support and empowerment...Prizant shows [that] such understanding creates a context in which people with ASD can thrive, not just survive."

"A remarkable approach to autism....A truly impactful, necessary book."

"Uplifting...This positive volume should reassure parents and caregivers of kids with autism and any other disability that their kids are not broken, but, indeed, special."

"Prizant is a respected voice in the autism community, and the methods demonstrated here are backed by case study and experience. Parents, especially parents of the newly diagnosed, may find a ray of hope in the often bleak landscape of early diagnosis and the endless search for answers and information that inevitably results."

"Dr. Prizant explains the causes of behaviors associated with autism. I love his approach for understanding problems with sensory overload, anxiety and discomfort. He provides common sense, practical advice based on a 40-year career working in the trenches with both parents and teachers."
— Temple Grandin, author of The Autistic Brain and The Way I See It

"An excellent book that conveys what autism is like and how individuals with autism may be helped to build on their strengths and gain a greater social understanding. The approach involves much practical guidance for families and teachers, but it is refreshingly flexible and non-dogmatic."
— Sir Michael Rutter, Professor of Developmental Psychopathology, King's College London

"A masterful treatise advocating for necessary changes in the way we see, understand and provide services to persons with Autism. This is a book for all parents and persons providing professional services to individuals with significant disabilities, not just those with Autism. My hope is that this exceptional book will bring about the change in thinking and practice it is intended to do."
— David E. Yoder, Ph.D., Chair and Professor Emeritus, Dept. of Allied Health Sciences, University of North Carolina School of Medicine

"Uniquely Human is not just the perfect title for Barry Prizant's book, it's also an appropriate summation of Dr. Prizant's career. Though a clinical scholar, he is a humanist first, and always has been—a professional who is fascinated by unexamined lives that could be lived happily, yet aren't. With every brilliant, illuminating example in his book, he steers us away from the traditional fix-it mentality and towards the beatific, personally rewarding detective work that the entire spectrum world would be well served to adopt. Thanks be to Barry for the first-ever 'must read' written for parents, educators, and clinicians."
— Michael John Carley, Founder, GRASP; Author of Asperger's From the Inside-Out

"This is a wonderful book. Based on his own vast experience as a clinician working with children with autism and families, Barry Prizant offers a compassionate and insightful perspective on autism that many will find inspiring and hopeful. The book is filled with sound advice based on real world experience as well as research. Most importantly, it conveys a deep respect for persons on the autism spectrum and the qualities that make them special."
— Geraldine Dawson, PhD FAPA FAPS, Director, Duke Center for Autism and Brain Development, Duke University School of Medicine

"In the plethora of autism books, Uniquely Human stands alone as it holds the parents in highest of regard and honors the true experts - those with autism themselves. It will be the first book I recommend to parents whose children are recently diagnosed, and it will be the last book that seasoned parents of adults with autism will need to read. Uniquely Human reminds us all of our humanity."
— Elaine Hall, parent, author, speaker, founder of The Miracle Project

"This is by far the most empathic, wise, and insightful book I have ever read about autism, and is one of the most empathic and wise books I've ever read about being human. I can't overstate the transformative power of this book: it breaks open the heart, extends vision where there was only fog, and inspires keen insight where there was only reflexive response."
— Rabbi Bradley Shavit Artson, Dean's Chair and Vice-President, American Jewish University and parent

"A long-awaited tour-de-force that parts the ever-expanding sea of books on the topic of autism. A must-read for anyone who lives with and loves a person with autism, this book should also be required for anyone who is striving to be a competent and humanistic professional."
— Pamela Wolfberg, Ph.D. Professor of Autism Spectrum Studies, San Francisco State University; Founding Director, Autism Institute on Peer Socialization and Play; Author, Play and Imagination in Children with Autism

Elegant in its simplicity, Uniquely Human tackles extremely complex topics and how they impact school, home and community. Compassion, learning and supportive strategies--the three essentials for working with folks with ASD--are an integral part of this must-read book.
— Michelle Garcia Winner, Speech Language Pathologist and Founder of Social Thinking®

"Autism was initially described in 1943, and now with Uniquely Human, it is rediscovered 70 years later as a shared human experience. Autism is part of every community, and this tour of autism changes everything. Now, autism makes sense, and tomorrow looks a whole lot brighter for everyone. Stop what you are doing. Read this book. It's a masterpiece."
— Carol Gray, Developer of Social Stories™, International Consultant to Individuals with Autism

"Uniquely Human is an amazing book! It will change our perception and understanding of autism. Barry Prizant has an intuitive understanding of autism spectrum disorders and the wisdom of four decades of experience. I strongly recommend this book to parents and professionals and congratulate Barry for writing the book that needed to be written".
— Tony Attwood, Ph.D., author of The Complete Guide to Asperger's Syndrome

"The reverence that Dr. Prizant brings to his work with individuals with autism and their families leaps out from every page of this remarkable book, enabling him to tell the story of autism in a deeply personal way that is at once inspirational and informative. The engaging, real-life examples interspersed throughout the book serve both to illuminate the experience of autism from the inside out, and to expose the folly of viewing behavior separate and apart from the motivation that fuels it. That is epochal!"
— Diane Twachtman-Cullen, Ph.D., CCC-SLP, Editor-in-Chief, Autism Spectrum Quarterly

"From the master clinician and scholar who taught us how to channel different learning styles into successful lives of learning and adaptation, Uniquely Human shines a light onto the vast possibilities of people with autism, showing that their lives represent opportunities, not disabilities; promise, not doom. Heed his detailed guidance because therein lies not only the secret for the fulfillment of every child's promise, but also the fulfillment of the promise of our entire society."
— Ami Klin PhD, Director, Marcus Autism Center, Professor & Chief, Division of Autism and Related Disorders Department of Pediatrics, Emory University School of Medicine
Simon & Schuster, 9781476776231, 272pp.
Publication Date: August 4, 2015
About the Author
Barry M. Prizant, PhD, CCC-SLP, is among the world's leading authorities on autism, with more than forty years of experience as a scholar, researcher, and international consultant. He is an adjunct professor at Brown University and coauthor of The SCERTS Model: A Comprehensive Educational Approach, now being implemented in more than a dozen countries. Dr. Prizant has published more than 120 articles and chapters and has received many awards. The author of Uniquely Human: A Different Way of Seeing Autism, Dr. Prizant lives in Cranston, Rhode Island, with his wife, Dr. Elaine Meyer, and their teenage son.

Tom Fields-Meyer is author of the critically acclaimed memoir Following Ezra: What One Father Learned About Gumby, Otters, Autism, and Love from His Extraordinary Son, a finalist for the National Jewish Book Award. His work has appeared in The New York Times Magazine, The Wall Street Journal, the Los Angeles Times, and The Washington Post. The coauthor (with Barry M. Prizant) of Uniquely Human: A Different Way of Seeing Autism, and former senior writer for People, he lives in Los Angeles, where he teaches in the UCLA Extension Writers' Program.
or
Not Currently Available for Direct Purchase