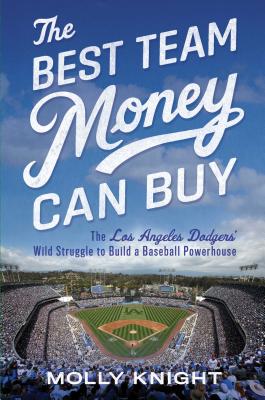 The Best Team Money Can Buy (Hardcover)
The Los Angeles Dodgers' Wild Struggle to Build a Baseball Powerhouse
Simon & Schuster, 9781476776293, 336pp.
Publication Date: July 14, 2015
Other Editions of This Title:
MP3 CD (7/14/2015)
Compact Disc (7/14/2015)
Paperback (4/5/2016)
Pre-Recorded Audio Player (11/2/2015)
* Individual store prices may vary.
Description
"From the outside looking in, the Dodgers have been a bubbling cauldron of personality, talent and moods, with the occasional dollop of jealousy. In The Best Team Money Can Buy, it's as if Molly Knight ushers you behind the closed clubhouse doors to see it for yourself." —Buster Olney, ESPN

News-making, inside revelations about the tumultuous years when the Los Angeles Dodgers were remade from top to bottom—from the ownership of the team to management to the players on the field—becoming the most talked-about and most colorful team in baseball.

In 2012 the Los Angeles Dodgers were bought out of bankruptcy in the most expensive sale in sports history. Los Angeles icon Magic Johnson and his partners hoped to put together a team worthy of Hollywood: consistently entertaining. By most accounts they have succeeded, if not always in the way they might have imagined.

Now Molly Knight tells the story of the Dodgers' 2013 and 2014 seasons with detailed, previously unreported revelations. She shares a behind-the-scenes account of the astonishing sale of the Dodgers, and why the team was not overpriced, as well as what the Dodgers actually knew in advance about rookie phenom and Cuban defector Yasiel Puig and how they and teammates handled him during his first two roller-coaster seasons. We learn how close manager Don Mattingly was to losing his job during the 2013 season—and how the team turned around the season in the most remarkable fifty-game stretch (42-8) of any team since World War II, before losing in the NLCS. Knight also provides a rare glimpse into the infighting and mistrust that derailed the team in 2014, and resulted in ridding the roster of difficult personalities and the hiring of a new front office.

Knight also reveals new facts behind the blockbuster trade with the Red Sox. She paints an intimate portrait of star pitcher Clayton Kershaw, probably the best pitcher in the game today, including details about the record contract offer he turned down before accepting the richest contract any pitcher ever signed.

Exciting, surprising, and filled with juicy details, Molly Knight's account is a must-read for baseball fans and anyone who wants the inside story of today's Los Angeles Dodgers.
About the Author
Molly Knight wrote about baseball for ESPN the Magazine for eight seasons. Her work has also appeared in The New York Times Magazine, Glamour, SELF, Baseball Prospectus, and Variety. A native of Los Angeles and lifelong Dodgers fan, she lives in LA. The Best Team Money Can Buy is her first book.
Praise For The Best Team Money Can Buy: The Los Angeles Dodgers' Wild Struggle to Build a Baseball Powerhouse…
"From the outside looking in, the Dodgers have been a bubbling cauldron of personality, talent and moods, with the occasional dollop of jealousy. In The Best Team Money Can Buy, it's as if Molly Knight ushers you behind the closed clubhouse doors to see it for yourself."
— Buster Olney, ESPN

"Fascinating perspectives. . . . [Knight] knows her way around the clubhouse, and she writes about the game with authority."
— David L. Ulin

"With unprecedented access, Knight brings readers inside the clubhouse and the front office as no other writer has with any team, showing us a modern-day soap opera playing out at 60 feet 6 inches."
— Keith Law, Analyst for ESPN's "Baseball Tonight"

"A well-written book that offers a nuanced look into the dynamics of a big league clubhouse. . . . A must-read."
— Brendan Gawlowski

"In The Best Team Money Can Buy, Molly Knight lifts the curtain on one the premier franchises in sports, taking readers beyond the field and into the clubhouse, board rooms and homes of some of the most compelling athletes of this generation. It is a rocky path—but a rollicking ride—for a glamour team bankrolled by billionaire owners who lifted the team from bankruptcy and will try anything to win a championship. With keen observations culled from tireless reporting, Knight deftly paints an intimate, nuanced portrait of the people behind it all, bringing these characters to life as nobody has before."
— Tyler Kepner, national baseball writer for The New York Times

"An entertaining chronicle of two Dodger seasons. . . . Knight supplies plenty of juicy clubhouse details."
— Gene Maddaus

"For any self-respecting fan, putting this book down would be like trying to eat just one garlic fry. . . . An agile exploration of the Dodgers' vertiginous 2013 season. Knight had her notebook out for all of it."
— Los Angeles Magazine

"Consistently absorbing. . . . Knight is a talented journalist, and there's enough tumult in these pages to hold the attention of even a casual fan."
— Kevin Canfield

"Entertaining . . . offers interesting anecdotes about some of baseball's most compelling figures, among them Clayton Kershaw, Zack Greinke, Don Mattingly and the enigmatic Yasiel Puig."
— Ailene Voisin

"Knight delivers an elegant précis of a baseball team's season, and you don't have to be a Dodgers fan to enjoy it."

"A compelling, well-examined book that exemplifies what occurs behind the scenes. A must-read for fans of the Dodgers and all Los Angeles sports teams. Knight's undercover work is like none other."
— Library Journal
or
Not Currently Available for Direct Purchase