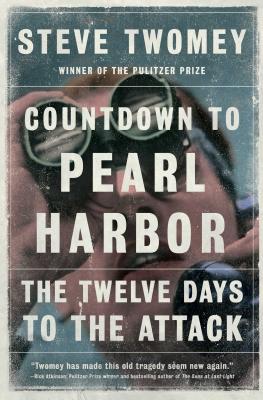 Countdown to Pearl Harbor (Paperback)
The Twelve Days to the Attack
Simon & Schuster, 9781476776484, 384pp.
Publication Date: November 21, 2017
Other Editions of This Title:
Digital Audiobook (10/31/2016)
Hardcover (11/1/2016)
* Individual store prices may vary.
Description
This "riveting" (Los Angeles Times), "crackerjack read" (Smithsonian) turns the lead-up to the most infamous day in American history into a ticking time-bomb thriller. Never before has a story you thought you knew proven so impossible to put down.

In Washington, DC, in late November 1941, admirals composed the most ominous message in Navy history to warn Hawaii of possible danger—but they wrote it too vaguely. They thought precautions were being taken, but never checked to be sure.

In a small office at Pearl Harbor, overlooking the battleships, the commander of the Pacific Fleet tried to assess whether the threat was real. His intelligence had lost track of Japan's biggest aircraft carriers, but assumed they were resting in a port far away. Besides, the admiral thought Pearl was too shallow for torpedoes; he never even put up a barrier. As he fretted, a Japanese spy was counting warships in the harbor and reporting to Tokyo.

There were false assumptions and racist ones, misunderstandings, infighting, and clashes between egos. Through remarkable characters and impeccable details, Pulitzer Prize–winner Steve Twomey shows how careless decisions and blinkered beliefs gave birth to colossal failure. But he tells the story with compassion and a wise understanding of why people—even smart, experienced, talented people—look down at their feet when they should be scanning the sky.

The brilliance of Countdown to Pearl Harbor is in its elegant prose and taut focus. "Even though readers already know the ending, they'll hold their collective breath, as if they're watching a rerun of an Alfred Hitchcock classic" (St. Louis Post-Dispatch).
About the Author
Steve Twomey began his career in journalism as a copyboy at the Chicago Tribune when he was in high school. After graduating from Northwestern University, he began a fourteen-year career at The Philadelphia Inquirer, during which he won the Pulitzer Prize for feature writing, and then worked at The Washington Post for the next thirteen years. More recently, he has written for Smithsonian and other magazines and has taught narrative writing at the graduate schools of New York University and the City University of New York. The ghostwriter of What I Learned When I Almost Died and author of Countdown to Pearl Harbor, Twomey lives in Montclair, New Jersey, with his wife, Kathleen Carroll. They have an adult son, Nick.
Praise For Countdown to Pearl Harbor: The Twelve Days to the Attack…
"Steve Twomey has accomplished something remarkable with Countdown to Pearl Harbor. With deep reporting and vivid writing, he has illumined one of the most momentous events of the twentieth century in stunningly new and penetrating light."
— David Maraniss, Pulitzer Prize winner and bestselling author of They Marched into Sunlight

"Steve Twomey is a masterful storyteller. Mining new and overlooked records, he has made the Pearl Harbor story new again—suspenseful, dramatic, intensely human, and tragic."
— Evan Thomas, bestselling author of Sea of Thunder

"A riveting narrative of the American misjudgments and mistakes that contributed to a day rivaled in U.S. history only by Sept. 11, 2001. It's not revisionist history so much as a poignant retelling of a familiar story."
— Los Angeles Times

"With thrilling speed and elegant craftsmanship, Steve Twomey recounts the catastrophe of Pearl Harbor as a classic tale of human nature—its glories and its flaws. A wonderful, heartbreaking book."
— David Von Drehle, author of Triangle: The Fire That Changed America

"A fine, compelling account of the immediate prelude to that infamous day in December 1941. Through dogged research and graceful writing, Steve Twomey has made the old tragedy seem new again."
— Rick Atkinson, Pulitzer Prize winner and bestselling author of The Guns at Last Light

"Gripping.... Infus[es] a well-known story with suspense."
— The New York Times Book Review

"A pulse-quickening read that straightens out the script of an American tragedy. The surprise in Steve Twomey's superb book is that the "surprise attack" on Pearl Harbor wasn't so much a surprise as a screw-up, fed by complacency, racial condescension, and sclerotic Navy tradition."
— Blaine Harden, bestselling author of Escape from Camp 14

"Steve Twomey, a careful reporter and fine writer, tells the story of Pearl Harbor in a punchy, oddly suspenseful book: you know what will happen, but can't believe it. Twomey wipes away anyone's belief in some bring-on-the-war conspiracy. And any reader will find that he tells this saddest of stories very well."
— Don Graham, former publisher of The Washington Post

"Steve Twomey has written not only an elegant, suspenseful account of the attack, but a brilliant portrait of a time when the nation was not yet at war yet sensing that everything was about to change forever."
— Jeffrey Frank, bestselling author of Ike and Dick

"Steve Twomey vividly retells and reappraises the events leading to the Pearl Harbor attack on Dec. 7, 1941... [and] manages to inject suspense and tension into a tale whose ending we all know.... This book is essential for those who still wonder why the Japanese chose such a perilous path in World War II and why the U.S. fleet was caught unguarded. It is a well-written and engaging account that reinserts human dynamism into a history too often reduced to abstract binaries."
— Japan Times

"Brings to life the many disparate personalities, hidebound traditions, racism and simple human error that led to the US being caught flat-footed on December 7, 1941.... Illuminating."
— Bookfilter

"A thoroughly researched and freshly dynamic narrative.... Twomey ably captures the tragic element in the Pearl Harbor saga."
— Booklist

"Twomey's highly recommended exploration of the miscommunications and racist assumptions of the U.S. military sheds light on the missteps of military leadership and provides much-needed context for why the American fleet was unprepared for Japan's devastating raid."
— Library Journal

"Pulitzer Prize-winning journalist Steve Twomey uses his impressive research and storytelling skills to recreate the dozen days leading up to the attack on Pearl Harbor on December 7, 1941....Twomey creates a dramatic, page-turning narrative that feels both fresh and suspenseful.... Countdown to Pearl Harbor offers a new and fascinating look at one of the defining events in U.S. history."
— Bookpage

"Twomey presents more than enough researched facts to show what we might call today a failure of intelligence, or government coordination, or preparedness. What he gives us – a look at pre-WWII society, the outlines of spy craft and code-breaking – is exciting."
— Blue Heron Journal

"A well-researched study of an infamous moment that is still fascinating and controversial."
— Kirkus Reviews

"A fine account of the players and events in the years leading up to the Japanese attack on Pearl Harbor.... The story of Pearl Harbor has been done to death, but Twomey's vivid work rates high nonetheless."
— Publishers Weekly