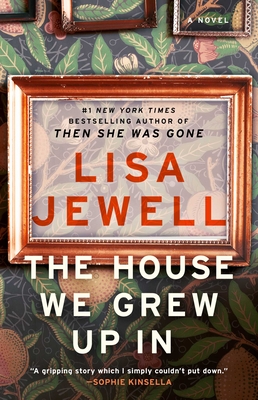 The House We Grew Up In (Paperback)
A Novel
Atria Books, 9781476776866, 416pp.
Publication Date: April 28, 2015
* Individual store prices may vary.
Description
From the New York Times bestselling author of Then She Was Gone…

OUR HOUSE. OUR FAMILY. OUR SECRETS.

Meet the picture-perfect Bird family: pragmatic Meg, dreamy Beth, and towheaded twins Rory and Rhys, one an adventurous troublemaker, the other his slighter, more sensitive counterpart. Their father is a sweet, gangly man, but it's their beautiful, free-spirited mother Lorelei who spins at the center. In those early years, Lorelei tries to freeze time by filling their simple brick house with precious mementos. Easter egg foils are her favorite. Craft supplies, too. She hangs all of the children's art, to her husband's chagrin.

Then one Easter weekend, a tragedy so devastating occurs that, almost imperceptibly, it begins to tear the family apart. Years pass and the children have become adults, while Lorelei has become the county's worst hoarder. She has alienated her husband and children and has been living as a recluse. But then something happens that beckons the Bird family back to the house they grew up in—to finally understand the events of that long-ago Easter weekend and to unearth the many secrets hidden within the nooks and crannies of home.
About the Author
Lisa Jewell is the internationally bestselling author of sixteen novels, including the New York Times bestseller Then She Was Gone, as well as I Found You, The Girls in the Garden, and The House We Grew Up In. In total, her novels have sold more than two million copies across the English-speaking world and her work has also been translated into sixteen languages so far. Lisa lives in London with her husband and their two daughters. Connect with her on Twitter @LisaJewellUK and on Facebook @LisaJewellOfficial.
Praise For The House We Grew Up In: A Novel…
"Clever, intelligent, and believable on a subject few of us really understand. Lorrie is one of the most vivid—and complex—characters I've read in years. Wonderful."
— Jojo Moyes, author of Me Before You

"You'll be desperate to find out what messed this family up so badly."
— Sophie Kinsella, author of Shopaholic to the Stars

"A dramatic look at siblings, parents, and hoarding."

"...prose so beautiful that it glitters on the page. Lisa Jewell lays down piece after piece of mosaic, revealing the heart of the Bird family, filled in equal measure with love and loss. Unforgettable."
— Jo-Ann Mapson, author of Solomon's Oak, Finding Casey, and Owen's Daughter

"Lisa Jewell's quixotic Bird family functions like an operatic ensemble—each voice distinct, each singing its heart out, seemingly oblivious to the others. Yet somehow by the end of this engrossing, beautifully crafted novel, their separate stories will draw them back together, reminding us that, however hard we struggle against them, family ties are not easily undone."
— Judith Ryan Hendricks, author of Bread Alone

"This richly rendered family saga is populated with such compelling characters and told in such luscious, insightful prose, that a singular tragedy is made universally relatable. You won't be able to stop thinking about it long after the book is over."
— Jessie Sholl, author of Dirty Secret

"A gorgeous, powerful, affecting tale of a family both ordinary and extraordinary. Lisa Jewell is a wonderful storyteller, and The House We Grew Up In grips you from the first page to the last. I'm afraid to say it made me neglect both my children and my husband. The Bird family might be dysfunctional, but I was strangely sorry to leave it."
— Anna Maxted, author of Getting Over It and Running In Heels

"Jewell cleverly frames the destruction of the Bird family ….an absolute page-turner."