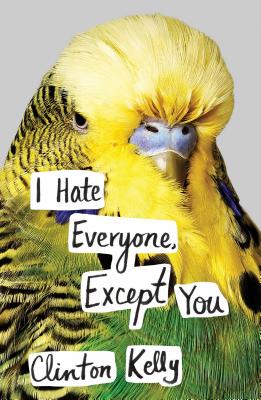 I Hate Everyone, Except You (Hardcover)
Gallery Books, 9781476776934, 240pp.
Publication Date: January 10, 2017
Other Editions of This Title:
Paperback (6/6/2017)
* Individual store prices may vary.
Description
Bestselling author and television host Clinton Kelly pens a hilariously candid, deliciously snarky collection of essays about his journey from awkward kid to slightly-less-awkward adult.

Clinton Kelly is probably best known for teaching women how to make their butts look smaller. But in I Hate Everyone, Except You, he reveals some heretofore-unknown secrets about himself, like that he's a finicky connoisseur of 1980s pornography, a disillusioned critic of New Jersey's premier water parks, and perhaps the world's least enthused high-school commencement speaker.

Whether he's throwing his baby sister in the air to jumpstart her cheerleading career or heroically rescuing his best friend from death by mud bath, Clinton leaps life's social hurdles with aplomb. With his signature wit, he shares his unique ability to navigate the stickiest of situations, like deciding whether it's acceptable to eat chicken wings with a fork on live television (spoiler: it's not). Clinton delves into all these topics—and many more—in this thoroughly unabashedly frank and uproarious collection.
About the Author
Clinton Kelly is a television personality, style expert, and entrepreneur. He won an Emmy as a cohost of ABC's daytime hit, The Chew. He also cohosted What Not to Wear, TLC's longest-running primetime reality show, for a decade. Clinton starred in more than 300 episodes of What Not to Wear over the course of ten years, offering honest style advice with a sense of humor. More than one million people watched the popular makeover program every week. Clinton is the author of Freakin' Fabulous; Freakin' Fabulous on a Budge; Oh, No She Didn't; and I Hate Everyone, Except You.
Praise For I Hate Everyone, Except You…
Praise for I Hate Everyone, Except You

"Clinton wrote a book that has me doubled over laughing and trying to catch my breath! Life is too short not to laugh good and hard when a good, hard laugh is offered. Clinton is offering. Read his book."
— Jane Lynch, actress, comedian, and New York Times bestselling author of Happy Accidents

"No matter how you know Kelly, you will know him infinitely better after reading I Hate Everyone, Except You, his hilarious, wise, and revealing new memoir... Kelly delivers a perfect blend of heart, humor and trucker language."
— Bookpage

"Funny, smart, and profane."
— Shelf Awareness

"Usually taking the high road, Kelly recounts past love affairs, run-ins with rude diners, and correspondence from unfavorable viewers with equal, levelheaded aplomb… A thoroughly light and entertaining memoir."
— Kirkus Reviews

Praise for Freakin' Fabulous

"Grammar pointers, etiquette tips, appetizer recipes, and wardrobe advice deliver big laughs—seriously."
— Chicago Tribune

"Laugh your way through this irreverent tome."
— Newsday

Praise for Freakin' Fabulous on a Budget

"If there's a stylish wannabe on your gift list who just got their first apartment or starter home, you can now check the box next to their name off with a flourish."
— Denver Post

"Kelly does a terrific job of demystifying the role of host or hostess . . . Readers in search of basic housekeeping and party-hosting tips—not to mention Kelly's fans—will find the book informative and entertaining."
— Publishers Weekly

"Clinton Kelly, host of ABC's 'The Chew,' knows a thing or two about entertaining. In his new book, Freakin' Fabulous on a Budget, Kelly shares his no-fail tips for living the fab life on the cheap."
— ABC News

Praise for Dress Your Best with Stacy London

"The spunky hosts of TLC's What to Wear present a fashion guide that's empowering, friendly and exceedingly useful . . . Ladies and gentlemen, start your shopping engines—and don't leave home without this book!"
— Publishers Weekly

Praise for Clinton Kelly

"Hitting the summer wedding circuit but not sure what to wear? Clinton Kelly, Macy's wedding expert, has your back."
— Parade

"Kelly seeks out the human quality that binds us all. He might be a fabulous and famous television star, but he empathizes with the girl who feels insecure in her outfit. That's the quality that has earned him fans that number in the millions and a social media following in the hundreds of thousands."
— Long Island Press

"Clinton Kelly has built an incredible fan base since appearing on 'What Not to Wear' and 'The Chew.' He comes off as someone who fans can relate to, which is appealing for viewers . . . Kelly is the man to go to when planning any party, and you can be sure his advice will be top notch."
— Examiner.com

"Clinton Kelly made a name for himself transforming fashion failures into style mavens alongside Stacy London on TLC's What Not to Wear. Now, as co-host of ABC's The Chew and author of Freakin' Fabulous andFreakin' Fabulous on a Budget, Clinton has proven himself to be an arbiter of style and good taste in all areas – from fashion to entertaining and everything in between."
— People

'Fashion maven Kelly is more booster than basher in this collection of mostly autobiographical essays about his life on- and off-screen... The former Long Island dork who always found fitting in difficult emphasizes his ongoing quest for common decency... A thoroughly light and entertaining memoir."
— Kirkus Reviews
or
Not Currently Available for Direct Purchase