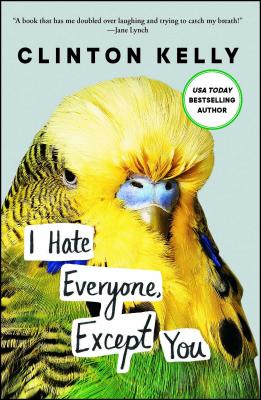 I Hate Everyone, Except You (Paperback)
Gallery Books, 9781476776941, 240pp.
Publication Date: June 6, 2017
Other Editions of This Title:
Hardcover (1/10/2017)
* Individual store prices may vary.
Description
From the bestselling author, beloved television host, and "arbiter of style and good taste in all areas" (People) comes a hilariously candid, deliciously snarky collection of essays about his journey from awkward kid to slightly-less-awkward adult.

Clinton Kelly is probably best known for teaching women how to make their butts look smaller. But in I Hate Everyone, Except You, he reveals some heretofore-unknown secrets about himself, like that he's a finicky connoisseur of 1980s pornography, a disillusioned critic of New Jersey's premier water parks, and perhaps the world's least enthused high-school commencement speaker.

Whether he's throwing his baby sister in the air to jumpstart her cheerleading career or heroically rescuing his best friend from death by mud bath, Clinton leaps life's social hurdles with aplomb. With his signature wit and relatable voice, he shares his unique ability to navigate the stickiest of situations, like find true love in a crowded gay bar or deciding whether it's acceptable to eat chicken wings with a fork on live television (spoiler: it's not). Clinton delves into all these outrageous topics—and many more—in this thoroughly unabashedly frank and uproarious collection.
About the Author
Clinton Kelly is a television personality, style expert, and entrepreneur. He won an Emmy as a cohost of ABC's daytime hit, The Chew. He also cohosted What Not to Wear, TLC's longest-running primetime reality show, for a decade. Clinton starred in more than 300 episodes of What Not to Wear over the course of ten years, offering honest style advice with a sense of humor. More than one million people watched the popular makeover program every week. Clinton is the author of Freakin' Fabulous; Freakin' Fabulous on a Budge; Oh, No She Didn't; and I Hate Everyone, Except You.