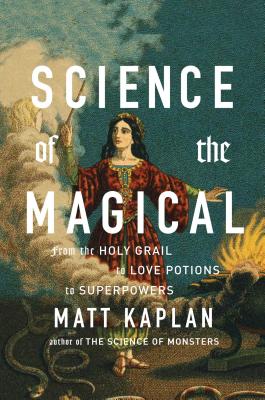 Science of the Magical (Hardcover)
From the Holy Grail to Love Potions to Superpowers
Scribner, 9781476777108, 256pp.
Publication Date: October 27, 2015
Other Editions of This Title:
Paperback (10/25/2016)
MP3 CD (11/10/2015)
Compact Disc (11/10/2015)
* Individual store prices may vary.
Description
From the author of The Science of Monsters, this engaging scientific inquiry provides a definitive look into the elements of mystical places and magical objects—from the philosopher's stone, to love potions to the oracles—from ancient history, mythology, and contemporary culture.

Can migrations of birds foretell our future? Do phases of the moon hold sway over our lives? Are there sacred springs that cure the ill? What is the best way to brew a love potion? How do we create mutant humans who regenerate like Wolverine?

In Science of the Magical, noted science journalist Matt Kaplan plumbs the rich, lively, and surprising history of the magical objects, places, and rituals that infuse ancient and contemporary myth. Like Ken Jennings and Mary Roach, Kaplan serves as a friendly armchair guide to the world of the supernatural. From the strengthening powers of Viking mead, to the super soldiers in movies like Captain America, Kaplan ranges across cultures and time periods to point out that there is often much more to these enduring magical narratives than mere fantasy. Informative and entertaining, Science of the Magical explores our world through the compelling scope of natural and human history and cutting-edge science.
About the Author
Matt Kaplan is a science correspondent with The Economist. He has also contributed to National Geographic, New Scientist, Nature, and The New York Times. He is the author of the book The Science of Monsters. In 2014, Kaplan was awarded a Knight Science Journalism Fellowship which he used to study the sciences at MIT and folklore at Harvard.
Praise For Science of the Magical: From the Holy Grail to Love Potions to Superpowers…
"In Science of the Magical, Matt Kaplan takes us on a journey spiced with the wonders of myth, history and art, leavened with impeccable research, endlessly fascinating. And the result is both a compelling read and a deeply thoughtful exploration of the world around us and the ways we seek to understand it."
— Deborah Blum, author of "The Poisoner's Handbook"

"Today magic is mostly a form of entertainment, but for millennia humans told magical stories to make sense of what they didn't understand. This erudite, witty and highly original book explores the surprising natural phenomena behind dozens of supernatural tales of yore. Kaplan will not only enlighten and charm you, but will also change the way you think about what is science and what is magic."
— Daniel E. Lieberman, Professor of Human Evolutionary Biology, Harvard University, author of "The Story of the Human Body: Evolution, Health and Disease"

In Science of the Magical, Matt Kaplan shows us the many ways by which magic and science can complement and explain each other. Written in a witty and personal style, Kaplan nimbly explores topics as diverse as berserks, hepatomancy, Methuselah mice, stage magic, superheroes, and sunstones, taking the reader on wide-ranging journeys from Iceland, Turkey, and Yellowstone Park to backstage in Las Vegas in his search for the science behind magic and myths."
— Stephen A. Mitchell, Professor of Folklore & Mythology and Scandanavian, Harvard University and author of "Witchcraft and Magic in the Nordic Middle Ages"

"Absorbing and intellectually stimulating, this book is a joy to read and is highly recommended."

"A wonderful exploration of the possible. Kaplan takes us on a journey into the myths and magic of days long gone and then looks to make scientific sense of these ancient ideas and practices."
— Jeffrey Shaman, Associate Professor of Climatology and Epidemiology, Columbia University

"Science of the Magical is a relevant, fascinating exploration of just how weird the world can be. I tell people about things I read in it at least once a week. In a world of bad news, it's refreshing to pick up a book that is filled with wonder, mystery, and joy, especially when all of that comes steeped in scientific realism and evidence."
— Maggie Koerth-Baker, journalist and author of "Before the Lights Go Out: Conquering the Energy Crisis Before it Conquers Us"

"In Science of the Magical, Matt Kaplan takes a smart, funny trip through the ancient stories of magic that still have the power to enchant us today. In the process, he also provides a remarkably wide-ranging tour of modern science, from geology to neurobiology. Far from being a glum debunker, Kaplan offers us new experiences of wonder through his investigations. The effect is, dary I say it, magical."
— Carl Zimmer, author of "A Planet of Viruses"

"This book reminded me of all the fascination and excitement I felt about the universe and how important it was for me to study life and our place in the world. In short, it made me remember why I became a scientist."
— Elizabeth Repasky, Professor of Oncology, Roswell Park Cancer Institute, New York

"Provocative...A charming romp through the history of science."

"What do The Princess Bride, The Odyssey, Super Mario Brothers, and The Book of Exodus have in common? Answer: Matt Kaplan's ingenious curiosity! Kaplan takes us on a scientific romp through fantasy, magic, and mythology to explain supernatural powers and mythical stories. He brings his questions to experts and to the laboratory to try to determine (to name a few) whether a holy grail protected nobles from poisoning, what you can learn from a liver and why pig livers are not so great for such predictions, and what Adam and Eve really ate to cause such a profound sense of self-awareness (spoiler alert: it's not an apple!). Written in a highly engaging and accessible style, you'll dig for the science behind myths and magic and learn some science and scientific scepticism in the process. And, you'll learn that holy grails probably didn't protect nobles…at least not the grails that he studied! Highly recommended."
— Daniel T. Blumstein, Professor and Chair, Department of Ecology and Evolutionary Biology, UCLA

"Using his wide-ranging background as a science journalist, Matt takes us on a wild ride exploring the science behind things once thought to be beyond explanation! A fascinating read that will force you to re-evaluate your thinking on myths and magic."
— Bruce Rideout, Director, Wildlife Disease Laboratories, San Diego Zoo's Institute for Conservation Research

"Kaplan has skillfully woven together a compelling tapestry of science and culture, drawing threads from ancient wisdom and modern laboratories alike. A must-read for anyone who has wondered why things are or have been so."
— Barbara L. Fredrickson, Kenan Distinguished Professor of Psychology and Neuroscience, University of North Carolina at Chapel Hill and author of "Positivity" and "Love 2.0"

"What I have always loved about magic is that brief moment when the impossible seems possible. In this book, those impossibilities are made to seem ever so slightly doable through Matt's impeccable research and endless curiosity. It's a bit of magic itself."
— Jason Alexander

"This book captivates the imagination as Kaplan brings scientific explanations for magical and mythical phenomena. The science is often even more fascinating than the magic — a very entertaining and enlightening read."
— Randall Hill, Executive Director, Institute for Creative Technologies, USC

"Kaplan's The Science of the Magical is an insightful and fun tour de force on how magical thinking can arise in even the deepest thinkers. There are dozens of books on how people think irrationally, but no other book explains why we think irrationally as clearly or with as much sensitivity and humanity."
— Stephen L. Macknik & Susana Martinez-Conde, authors of "Sleights of Mind: What the Neuroscience of Magic Reveals About Our Everyday Deceptions"

"A compelling read for anyone interested in science, but more importantly, for anyone who has ever wondered about the wizardry and magic of life and all of the wonders of our natural world."
— Jay Olshansky, Professor, Division of Epidemiology and Biostatistics, University of Illinois at Chicago

"Kaplan considers how things that were once the stuff of legends could one day become reality. ...filled with cool cocktail-party tidbits."

"A sprightly survey of how some myths and rituals anticipated later scientific hypotheses, and of how science itself is now materializing the visions of ancient myth."
or
Not Currently Available for Direct Purchase