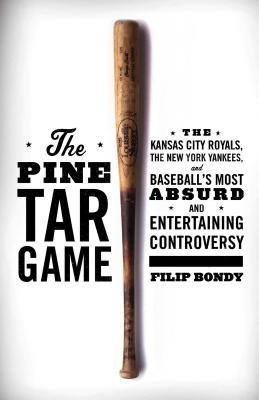 The Pine Tar Game
The Kansas City Royals, the New York Yankees, and Baseball's Most Absurd and Entertaining Controversy
Hardcover

* Individual store prices may vary.
Other Editions of This Title:
Paperback (8/2/2016)
Description
An award-winning veteran sportswriter who personally covered the Pine Tar Game looks back and explores one of the wackiest events in baseball history.

On July 24, 1983, during the finale of a heated four-game series between the dynastic New York Yankees and small-town Kansas City Royals, umpires nullified a go-ahead home run based on an obscure rule, when Yankees manager Billy Martin pointed out an illegal amount of pine tar—the sticky substance used for a better grip—on Royals third baseman George Brett's bat. Brett wildly charged out of the dugout and chaos ensued. The call temporarily cost the Royals the game, but the decision was eventually overturned, resulting in a resumption of the game several weeks later that created its own hysteria.

The Pine Tar Game chronicles this watershed moment, marking a pivot in the sport, when benign cheating tactics, like spitballs, Superball bats, and a couple extra inches of tar on an ash bat, gave way to era of soaring salaries, labor struggles, and rampant use of performance-enhancing drugs. Filip Bondy paints a portrait of the Yankees and Royals of that era, featuring two diametrically opposed owners, in George Steinbrenner and Ewing Kauffman; a host of bad actors and phenomenal athletes; and lots of yelling. Players and club officials like Brett, Goose Gossage, Willie Randolph, Ron Guidry, Sparky Lyle, David Cone, and John Schuerholz offer fresh commentary on the events along with their take on a rivalry that culminated in one of the most iconic baseball tantrums of all time. Rush Limbaugh, employed by the Royals at the time as a promotions director, offers his own insider's perspective. Through this one fateful game, the ensuing protest, and ultimate fallout, The Pine Tar Game examines a more innocent time in professional sports, as well as the shifting tide that gave us today's modern iteration of baseball.
Praise For The Pine Tar Game: The Kansas City Royals, the New York Yankees, and Baseball's Most Absurd and Entertaining Controversy…
"In The Pine Tar Game Filip Bondy conjures a seminal moment in baseball history when what passed for controversy was more keystone cops than congressional investigation and illicit substances were sticky rather than addictive. The book is a delightful romp guaranteed to make a baseball lover pine for a more innocent time full of bluster and pique."
—Jane Leavy, New York Times bestselling author of Sandy Koufax: A Lefty's Legacy

"The Pine Tar Game does exactly what writing is supposed to do: It takes a moment in time, one of the craziest in all of baseball history, and makes you understand that you didn't know nearly as much about it as you thought you did. All this time later, it makes you realize that the moment was even crazier than you remembered. This story could never possibly have been told better than Filip Bondy tells it."
—Mike Lupica, columnist for the New York Daily News and commentator at ESPN

·"Transforms a minor albeit amusing baseball play into an artful narrative, replete with a great cast of characters."
—The Daily Beast

"Bondy successfully explores the personalities of those involved in the adventure and its aftermath…entertaining."
—Bill Littlefield, NPR

"The teenage Yankee fan inside of me is still angry at Lee MacPhail for upholding Kansas City's protest and wiping out perhaps the most bizarre ruling in baseball history. None of us who watched live will ever forget the sight of George Brett making like Jack Nicholson in The Shining as he charged from the dugout, and none of you who read this book will ever forget how the great Filip Bondy, the perfect chronicler of this imperfect moment, brought a wild and crazy Yankee Stadium day back to life."
—Ian O'Connor, New York Times bestselling authorof The Captain: The Journey of Derek Jeter

"An improbably rich and entertaining tale…this one could find a lot of readers."
—Booklist

"As only Rumpelstiltskin could take straw and turn it into gold, Filip Bondy has turned pine tar into fun, frenzy and foolishness. I had a ball reading about a bat."
—Frank Deford, Senior Contributing Writer, Sports Illustrated

"Masterfully offers context and a history of the Yankees-Royals' complicated sports rivalry…[the book] is worthy for devoted professional baseball fans and for its artfulness in creating a narrative focused primarily on just one pitch."
—Kirkus Reviews

"If you thought you knew the full, sticky story of the most bizarre game in the annals of baseball, you thought wrong. The great Filip Bondy proves it on every page of this fresh and richly reported book, going way beyond the goop on George Brett's bat to weave a story that is rollicking and revelatory from beginning to end."
—Wayne Coffey, New York Times bestselling author of The Boys of Winter and coauthor of Mariano Rivera's The Closer

"In his smart, whimsical New York Daily News columns, Filip Bondy has long projected a big-city voice along with a healthy appreciation and sympathy for small-market challengers. He does it again in The Pine Tar Game, with a richly reported and written account of the Yankees-Royals rivalry that gave us memorable characters and zany circumstances. Bondy was there. With his book, you will be, too."
—Harvey Araton, author of Driving Mr. Yogi

"A sticky moment milked for all its nutty, head-shaking glory." —Sports Illustrated

"Filip Bondy craftily tells the story behind the notorious Pine Tar Game…a clever look into the characters that made up the short-lived but angry rivalry between the revived Yankees of the late '70s and early '80s and the burgeoning Kansas City Royals of that same period." —Providence Journal

"A rollicking account of a clutch home run, a marvelous temper tantrum, and an inning that took almost a month to complete…Even those who know [the ins and outs of the story] find something new in The Pine Tar Game…Depict[s] the odd purgatory into which the game itself was plunged, and the sense that just about anyone might become involved in the saga."
—The Kansas City Star

"[Bondy] writes with a keen eye for character, giving us masterful sketches of Brett, Martin, team owners Ewing Kauffman and George Steinbrenner, and others."
—Kate Tuttle, Boston Globe

"Bondy's book fills in all the details I missed, ignored or forgot in all the retellings…[He] weaves together the Yankees' tradition, swagger and dysfunction with tales of Charlie Finley, Rush Limbaugh, Gaylord Perry, and David Cone to thoroughly document the conditions that led Brett to make his infamous sprint to home."
—Wichita Eagle

"Long before pro football's Deflategate controversy over the inflation level of game balls, baseball had an equally mole hill-turned-mountain brouhaha. . . . Filip Bondy witnessed it all as a young sports writer, and now uses this bizarre episode to examine the larger narrative of shifting values in baseball and to rewind the rivalry between the mighty pinstripers and the small-town Royals."
—Christian Science Monitor

"A study in contrasts between the small-market Kansas City team and the Yankees with their huge New York market. . . . Deserve[s] high marks."
—Washington Times

"A must-own for any Royals fan."
—RoyalsReview.com
Scribner, 9781476777177, 256pp.
Publication Date: July 21, 2015
About the Author
Filip Bondy has been a sports columnist for the Daily News (New York) for more than twenty years, regularly covering the Olympics, World Cup, and Wimbledon. Before that, he was an Olympics writer for The New York Times. Some of Bondy's previous books include a look at the watershed NBA draft (Tip Off) and a lighthearted view of the worst players in Major League Baseball history (Who's on Worst?).
Coverage from NPR
or
Not Currently Available for Direct Purchase