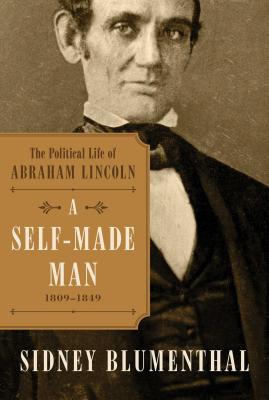 A Self-Made Man (Hardcover)
The Political Life of Abraham Lincoln Vol. I, 1809–1849
Simon & Schuster, 9781476777252, 576pp.
Publication Date: May 10, 2016
Other Editions of This Title:
Digital Audiobook (5/9/2016)
Paperback (5/16/2017)
* Individual store prices may vary.
Description
"A breathtaking new view of Abraham Lincoln." —The National Memo
"Illuminating…[an] instant classic." —The Daily Beast
"Engrossing" —Library Journal

The first of a multi-volume history of Lincoln as a political genius—from his obscure beginnings to his presidency, assassination, and the overthrow of his post-Civil War dreams of Reconstruction. This first volume traces Lincoln from his painful youth, describing himself as "a slave," to his emergence as the man we recognize as Abraham Lincoln.

From his youth as a "newsboy," a voracious newspaper reader, Lincoln became a free thinker, reading Tom Paine, as well as Shakespeare and the Bible, and studying Euclid to sharpen his arguments as a lawyer.

Lincoln's anti-slavery thinking began in his childhood amidst the Primitive Baptist antislavery dissidents in backwoods Kentucky and Indiana, the roots of his repudiation of Southern Christian pro-slavery theology. Intensely ambitious, he held political aspirations from his earliest years. Obsessed with Stephen Douglas, his political rival, he battled him for decades. Successful as a circuit lawyer, Lincoln built his team of loyalists. Blumenthal reveals how Douglas and Jefferson Davis acting together made possible Lincoln's rise.

Blumenthal describes a socially awkward suitor who had a nervous breakdown over his inability to deal with the opposite sex. His marriage to the upper class Mary Todd was crucial to his social aspirations and his political career. Blumenthal portrays Mary as an asset to her husband, a rare woman of her day with strong political opinions.

Blumenthal's robust portrayal is based on prodigious research of Lincoln's record and of the period and its main players. It reflects both Lincoln's time and the struggle that consumes our own political debate.
About the Author
Sidney Blumenthal is the acclaimed author of A Self-Made Man and Wrestling with His Angel, the first two volumes in his five-volume biography, The Political Life of Abraham Lincoln. He is the former assistant and senior adviser to President Bill Clinton and senior adviser to Hillary Clinton. He has been a national staff reporter for The Washington Post and Washington editor and writer for The New Yorker. His books include the bestselling The Clinton Wars, The Rise of the Counter-Establishment, and The Permanent Campaign. Born and raised in Illinois, he lives in Washington, DC.
Praise For A Self-Made Man: The Political Life of Abraham Lincoln Vol. I, 1809–1849…
"A breathtaking new view of Abraham Lincoln."
— The National Memo
"Splendid . . . Blumenthal's work of building the context for Lincoln's political activism in the presidential elections of 1836 through 1848 is a miracle of detail and his six chapters on Lincoln as a congressman in antebellum Washington are worth the price of the book alone. . . . Never have we had such an exquisite warp of the ins and outs of political life in the 1830s and '40s laid across the weft of Lincoln's individual trajectory. Rarely has a Lincoln biographer come to his task with such elegance of style. . . . Here is a great book, on a theme that too many people disdain to regard as great. That they are wrong about the theme, and wrong about Lincoln, is the burden of Blumenthal's labor, and no one can come away from reading
A Self-Made Man
without understanding that, or without eagerly anticipating the ensuing volumes."
— Allen Guelzo
"Terrific . . . The Lincoln of Blumenthal's pen is a cunning Whig floor leader in Illinois, a brave progressive facing racist assaults on his religion, ethnicity, and very legitimacy that echo the anti-Obama birther movement. . . . Blumenthal takes the wily pol of Steven Spielberg's
Lincoln
and Doris Kearns Goodwin's
Team of Rivals
and goes deeper, finding a Vulcan logic and
House of Cards
ruthlessness."
— The Washingtonian
"Engaging and informative . . . lively . . . full of thought-provoking observations about the factors that went into Lincoln's makeup."
— Christian Science Monitor
"A terrific read, teeming with 19th-century life, from the down and dirty politics of 1830s Illinois to Lincoln's single term in Congress at the end of the 1840s."
— The Guardian
"Lincoln again? Not to worry. Just stand back and let this first volume of a planned four-volume treatment reveal its glowing qualities. . . . A fascinating perspective during a presidential election cycle."
— Booklist, starred review
"In beautiful style…Blumenthal's Lincoln is a terrific read. I can't wait for the next volume."
— The Buffalo News
"Engrossing . . . Blumenthal takes the reader deep into Illinois and national politics to locate the character and content of Lincoln's ideas, interests, and identity, and to understand his driving ambition to succeed in law and politics. . . . [Blumenthal] effectively shows that the president's Illinois was a proving ground for the politics of expansion, economic development, nativism, anti-Mormonism, and slavery that both reflected and affected national concerns."
— Library Journal
"A tremendous historical and political contribution."
— Huffington Post
"No one would have guessed that it would be Lincoln who emerged to save the union, abolish slavery and preserve American democracy. Future volumes of Blumenthal's engaging and well-crafted biography promise to show why."
— Civil War Times
"[Blumenthal] delves deeply into the incremental building of Lincoln's anti-slavery views . . . A consummate political observer keenly dissects the machinations of Lincoln's incredible rise to power."
— Kirkus Reviews
"In this compelling first volume of what will no doubt be a landmark biography of perhaps our greatest president, Sidney Blumenthal brings his formidable storytelling and analytical gifts to the task of creating a lasting portrait of Lincoln. In this Blumenthal succeeds wonderfully well, giving readers an engaging, clear-eyed, and insightful account of Lincoln's early years, clearly charting the sixteenth president's intellectual and political development. The book is at once timely and timeless."
— Jon Meacham, author of Destiny and Power and Thomas Jefferson
"Sidney Blumenthal's
A Self-Made Man
provides an intricate network of personal detail about the first forty years of our sixteenth president. Compelling, deeply researched, and superbly written, it provides a definitive account of how Lincoln became the man he was."
— Jean Edward Smith, author of Grant and Bush
"Sidney Blumenthal has brought us a vivid, riveting, beautifully-written and strikingly original portrait of America's greatest President during his early years, which enhances both our understanding and admiration of how this truly self-made man ultimately became one of the towering leaders of all time."
— Michael Beschloss, author of "Presidential Courage: Brave Leaders and How they Changed America, 1789-1989"
"With riveting prose, solid command of the sources, and a genius for conveying time, character, and atmosphere, Sidney Blumenthal has accomplished the unimaginable: he has crafted an extraordinarily fresh account of the rise of Abraham Lincoln, master politician. I don't think there is a better, more eminently readable account of Lincoln's political rise in the entire literature."
— Harold Holzer, winner of the Gilder Lehrman Lincoln Prize, author of Lincoln and the Power of the Press
"A veteran of modern political wars, Sidney Blumenthal has written an astute account of Lincoln the politician whose apprenticeship in that profession was a necessary prelude to his greatness as a statesman in the Civil War. Set in context of the transition in national political issues from the Second Bank of the U.S. and the tariff in the 1830s to the Mexican War and slavery by the end of the 1840s, this book offers new insights into Lincoln's life and career."
— James McPherson, author of The War that Forged a Nation
"Illuminating . . . Blumenthal's greatest contribution is, as the book's subtitle indicates, putting Lincoln the politician in bas-relief. . . . Blumenthal provides greater perspective and emphasis on perhaps the preeminent politician in American history. . . . instant classic . . . [Blumenthal] writes with a boldness as if no one has written on Lincoln before."
— The Daily Beast
"Well-written and fast-paced . . . a joy to read . . . more than a biography of Lincoln. It is really a "life and times" treatment of the first 40 years of Lincoln's life."
— Civil War News
"Compelling . . . trenchant . . . magnificent"
— The Post and Courier (Charleston, SC)
"Reads like a conversation with those who knew Lincoln . . . a compelling read."
— Deseret News
"A magnificent look at 19th century American political, economic, and cultural history, with understated but impressive resonance for our current day."
— James Fallows