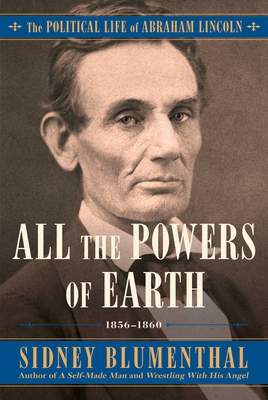 All the Powers of Earth (Hardcover)
The Political Life of Abraham Lincoln Vol. III, 1856-1863
Simon & Schuster, 9781476777283, 512pp.
Publication Date: September 3, 2019
* Individual store prices may vary.
Description
Volume III of Sidney Blumenthal's "magisterial" and "masterful" biography, The Political Life of Abraham Lincoln, brings the prairie lawyer out of his wilderness into the presidency. Lincoln rises from defeat and obscurity to become the Commander-in-Chief who strikes down slavery with the Emancipation Proclamation.

Following the award winning A Self-Made Man and Wrestling with His Angel, Volume III, All the Powers of Earth, is a stunning achievement. Beginning alone, without any resources but ability, vision and self-discipline, Lincoln creates his own power every step of his way. His old party has collapsed and the opposition cracks up. Lincoln enlists his friends in a new political party built at the center of the chaos to take on "all the powers of earth" in the country's greatest crisis.

The master politician wins the trust of ambitious personalities and warring factions and welds them together in a common cause, declaring "a house divided against itself cannot stand." President Lincoln now faces the forces that tore apart the Union.

Lincoln stands firm in the secession crisis, refuses fatal compromises, and puts together a cabinet of strong political men who often act as if they and not he is president. He must create an army, cope with terrible early defeats, and find worthy commanders. He must deal with the contempt of his top general George B. McClellan, the suspicion of the Radical Republicans in the Congress, and the threat that the slave border states will defect to the Confederacy. He comes at last to his most daring act and forges his most powerful weapon, the Emancipation Proclamation.
About the Author
Sidney Blumenthal is the former assistant and senior adviser to President Bill Clinton, and senior adviser to Hillary Clinton. He has been a national staff reporter for The Washington Post, Washington editor and staff writer for The New Yorker, senior writer for The New Republic, and contributed to numerous additional publications. His books include the bestselling The Clinton Wars, The Rise of the Counter-Establishment, and The Permanent Campaign. Among his films, he was the executive producer of the Academy and Emmy Award–winning Taxi to the Dark Side.