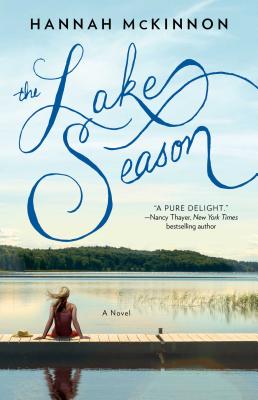 The Lake Season (Paperback)
A Novel
Atria/Emily Bestler Books, 9781476777641, 384pp.
Publication Date: June 2, 2015
* Individual store prices may vary.
Description
Set in the weeks leading up to an idyllic New England wedding, this "enticing and refreshing" (Nancy Thayer, New York Times bestselling author) novel sparkles with wry wit, sweet romance, and long-kept family secrets.

Iris Standish has always been the responsible older sibling: the one with the steady marriage, loving family, and sensible job. But all of a sudden, as her carefully-constructed life spins out of her control, a cryptic postcard from her estranged sister Leah arrives at the perfect time: Please Come. Iris seizes her chance to escape to her childhood lakeside home, where Leah is planning her summer wedding to a man their New Hampshire clan has never met.

Against a backdrop of dress fittings, floral arrangements, and rehearsal dinners, Leah hides secrets of her own. And while her sister faces a past that has finally caught up to her, Iris prepares to say good-bye to a future that is suddenly far from certain. As new love beckons and Hampstead Lake shimmers in the background, Iris must decide when to wade in cautiously and when to dive—and, ultimately, how to ferry herself to safe harbors in this enticing novel of second chances and the ties that bind.
About the Author
Hannah McKinnon is the author of The Lake Season, Mystic Summer, The Summer House, and Sailing Lessons. She graduated from Connecticut College and the University of South Australia. She lives in Fairfield County, Connecticut, with her family, a flock of chickens, and two rescue dogs.
Praise For The Lake Season: A Novel…
Hannah McKinnon's The Lake Season is a pure delight. Iris Standish is such an appealing woman, handling an overload of family calamities with good sense and good will, not to mention a few really good times. It's a bonus that the setting on Lake Hampstead is as enticing and refreshing as McKinnon's voice.
— Nancy Thayer, New York Times bestselling author of Nantucket Sisters

McKinnon's voice is sharp and evocative…Making use of a gorgeous setting and serious themes, this novel rises above a flock of fluffier beach reads.

Two sisters, a glittering New England lake, and one desperate, last-chance summer set the stage for Hannah McKinnon's emotionally affecting new novel, The Lake Season. The story features the complex Iris and her unpredictable sister Leah but its power extends well beyond the beautiful, heartbreaking bond between these two women. A memorable rumination on life, loss, and how to find a path home.
— Michelle Gable, nationally bestselling author of A Paris Apartment

Family and secrets colliding at a lakeside wedding…[a] must-read.

This is a beautiful tale of sisters, a heartfelt journey of truth and choices that will leave you deeply satisfied.
— Linda Francis Lee, bestselling author of The Glass Kitchen

A multilayered, nuanced portrayal of modern divorce... McKinnon is a talented observer of the family dynamic, weaving disparate personalities together as they navigate relationships, self-preservation, and redemption. Fans of Allison Pearson's I Don't Know How She Does It (2002) and Maggie Shipstead's Seating Arrangements (2012) will love this romantic yet realistic novel.

Hannah McKinnon's lyrical debut tells the story of a pair of very different sisters, both at a crossroads in life. McKinnon's great strength lies in her ability to reveal the many ways the two women wound - and ultimately heal - each other as only sisters can.
— Sarah Pekkanen, New York Times bestselling author

Fans of Debbie Macomber and those looking for a great summer read will enjoy this first foray into adult fiction by McKinnon (Franny Parker; The Properties of Water)...the story features engaging character development and an on-again, off-again romance that will keep readers intrigued.


Breezy...Summer isn't summer without an enticing beach read, and Hannah McKinnon delivers just that.

Charming and heartfelt! Hannah McKinnon's The Lake Season proves that you can go home again; you just can't control what you find when you get there.
— Wendy Wax, nationally bestselling author

Charming, absorbing and perfectly paced, The Lake Season is as full of warmth as summer itself. Don't blame Hannah McKinnon if this cinematic tale has you glued to a beach chair until it's finished.
— Chloe Benjamin, author of The Anatomy of Dreams

Sometimes funny, sometimes sad - but always bursting with compassion and sly humor. The Lake Season is a joy to read for anyone who cherishes the complexity and richness of family dynamics. Impossible not to be swept along by the characters. The perfect book to spread out with luxuriously on the beach.
— Saira Shah,

Here is sisterhood in all its complexity, rich with tenderness, resentments and shared jokes, disappointment, admiration and profound love. Those who have a sister will read this book and pass it on to them; those who do not, will wish more than ever that they did.
— Gabrielle Donnelly, author of The Little Women Letters

An emotionally charged story about returning to yourself.
— K.A. Tucker, USA Today bestselling author

Seasons of change take us home to the places and the people who shelter us. Well-told, and in turns sweet and bare, The Lake Season offers a compelling tale of family secrets, letting go, and the unbreakable bonds of sisterhood.


— Lisa Wingate, Nationally Bestselling Author

A delicious tale of sisters and secrets. Hannah McKinnon's writing style is as breezy as a weekend at the lake, yet her insights into the murkiness of family interactions run deep. The takeaway of this compelling read is clear: you can know someone your whole life and not know them at all.
— Mary Hogan, award winning author of Two Sisters

The Lake Season is one of those rare gems of a book that's both impossible to put down and emotionally complex. Do yourself a favor and put The Lake Season on your summer reading list: you'll love getting to know Iris Standish and her family and Hannah McKinnon's writing is so beautifully evocative that even the most landlocked of readers will swear s/he can smell the fresh New England summer air.

— L. Alison Heller, author of The Never Never Sisters

If you enjoy a novel with a gorgeous setting and a side of dark family secrets, you will enjoy The Lake Season, which I recommend to fans of Nancy Thayer and Elin Hildebrand.

Loved this book.

A novel about sisters and second chances, The Lake Season is a delight to read- perfect for the beach.
— Books for Her

A delightful read.
— An Interior Journey

The Lake Season is totally being added to my 2015 Beach Must Read List! …moving and heartwarming.
— Steph and Chris Book Review

McKinnon built a beautiful and affecting setting, making it so easy to get sucked into the easygoing atmosphere of being at the lake for the summer. Readers have no choice but to feel laid back and ready for summer when reading this one. Renewal, forgiveness, and self-discovery are all wrapped up in this touching tale. I look forward to reading many more stories by McKinnon.
— Read, Run, Ramble

The interactions of mother, and daughters, and sisters was thought provoking...a good book club book.
— The Book Date

McKinnon is a voice to be reckoned with in women's fiction...for fans of Jill Shalvis, Elin Hilderbrand, and Wendy Wax, this is a perfect book for a relaxing, summer reading or book club.
— Kathy Reads Fiction

A Women's Fiction "Best Bet": Conflicted family bonds, Genuine sibling roles; Uplifting ending... Illustrates that no one has the perfect life, even when it looks like it on the outside.

[A] sparkling debut novel.

Hannah McKinnon can certainly tell a moving story! …Family secrets, love and intrigue in a nice little package. I highly recommend this book!

The Lake Season is filled with love, heartbreak, family, and romance. Hannah McKinnon pulled me right in from the very first page and never let me go.

"Soak up a great beach read!"