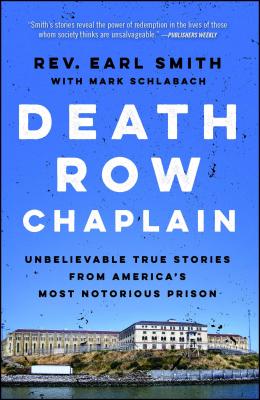 Death Row Chaplain
Unbelievable True Stories from America's Most Notorious Prison
Paperback

* Individual store prices may vary.
Description
From a former criminal and now chaplain for the San Francisco 49ers and the Golden State Warriors, comes a riveting, behind-the-bars look at one of America's most feared prisons: San Quentin. Reverend Earl Smith shares the most important lessons he's learned from years of helping inmates discover God's plan for them.

In 1983, twenty-seven-year-old Earl Smith arrived at San Quentin just like everyone thought he would. Labeled as a gang member and criminal from a young age, Smith was expected to do some time, but after a brush with death during a botched drug deal, Smith's soul was saved and his life path was altered forever.

From that moment on, Smith knew God had an unusual mission for him, and he became the minister to the lost souls sitting on death row. For twenty-three years, Smith played chess with Charles Manson, witnessed twelve executions, and negotiated truces between rival gangs. But most importantly, Smith helped the prisoners of San Quentin find redemption, hope, and understand that it is still possible to find God's grace and mercy from behind bars.

Edgy, insightful, and thought provoking, Death Row Chaplain teaches us that God's grace can reach anyone—even the most desperate and lost—and that it's never too late to turn our lives around.
Praise For Death Row Chaplain: Unbelievable True Stories from America's Most Notorious Prison…
"With the eloquence of a gifted sage, Earl A. Smith delivers a kind of visceral imagery that can only be acquired by firsthand knowledge of a life lived on both sides of the bars. He is uniquely qualified to bring the untold tales of faith, endurance, and perseverance from inside one of the world's most notorious prisons."
— Bishop T.D. Jakes

"This book shows how one man's life was changed not by iron bars, but by a leather book. That book allowed him to open his heart towards the love that God had for him, which changed his life, changed his household, and ultimately changed the trajectory of the future generations of his family."
— Mike Singletary, coach and NFL Hall of Famer

"A riveting, clear-eyed but supremely compassionate journey, through one of the darkest corners of the American judicial system. Death Row Chaplain compels the reader to a renewed assessment and appreciation of the human potential for constructive, even inspired, change."
— Harry Edwards, Ph.D., professor emeritus of sociology, U.C. Berkeley and consultant for the San Francisco Forty Niners, the NFL, and the NBA

"Chaplain Earl Smith is a man of real integrity and unusually effective in dealing with inmates in prison. He also has enjoyed great ability in communicating as a chaplain for the San Francisco 49ers and the Golden State Warriors. He is highly socially mobile being able to deal with the elite athletes in the world and the most notorious criminals. There are very few ministers that have this range of communication abilities, but Earl certainly does."
— Bill Glass, founder of the largest prison ministry in America, Beyond the Walls

"Earl Smith traces his remarkable journey from a crime-filled youth, including a near-death experience at the wrong end of a gun, to his ministries to the most hardened of criminals at San Quentin. It is a tale of redemption that has lessons for us all, including the emancipating power of forgiveness over the coercive reflex of revenge."
— Thomas D. Gardner, former president of Reader's Digest U.S. Books and Home Entertainment

"The stories of triumph and the stories of adversity are the stories that allow us to evolve. I hope you read this book and I hope you enjoy it as much as I did. You will be truly inspired."
— Ronnie Lott, NFL Hall of Famer

"Rev. Earl Smith's book takes us into San Quentin, an unforgiving and forgotten dark place where the light of God is powerfully at work. The inspirational stories from behind the bars remind us that grace and mercy is for all people—a message for everyone."
— Rev. Dr. Pablo R. Diaz, Vice President of Ministries, Guideposts

"Smith's stories reveal the power of redemption in the lives of those whom society thinks are unsalvageable."
— Publishers Weekly
Howard Books, 9781476777788, 264pp.
Publication Date: April 19, 2016
About the Author
Rev. Earl Smith became the youngest chaplain ever hired by the California Department of Corrections when he was asked to become the chaplain at San Quentin in 1983. In 2000, Earl was named National Correctional Chaplain of the Year. He currently serves as chaplain for the San Francisco 49ers and the Golden State Warriors. He has appeared on HBO, CNN, The 700 Club, Trinity Broadcasting and the Discovery Channel, and has been featured in Newsweek and Time. He was born and raised in Stockton, California, where he lives today with his wife, Angel, and their children Ebony, Earl Jr., Tamara, and Franklin.

Mark Schlabach is the coauthor of the New York Times bestselling books, Happy, Happy, Happy, Si-cology 1, and The Duck Commander Family. He is one of the most respected and popular college football columnists in the country. He and his wife live in Madison, Georgia, with their three children.