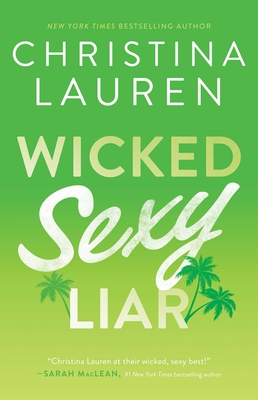 Wicked Sexy Liar (Wild Seasons #4) (Paperback)
Gallery Books, 9781476777986, 384pp.
Publication Date: February 2, 2016
* Individual store prices may vary.
Description
When three college besties meet three hot guys in Vegas, anything can—and does—happen. Book Four in the New York Times Wild Seasons series that began with Sweet Filthy Boy (the Romantic Times book of the year that Sylvia Day called "a sexy, sweet treasure of a story"), Dirty Rowdy Thing, and Dark Wild Night.

For two people ambivalent about dating and love, they sure get naked around each other an awful lot . . .

London Hughes is very content to surf daily, tend bar, hang out with her group of friends, and slowly orient herself in the years after college. Everything's going great and according to the non-plan.

But when a wave knocks her for a loop one morning, then Luke Sutter's flirtatious smile knocks her for another that evening, she veers slightly off course…and into his path. Sure, he's a total player, but the Why not—it's only one night is a persistent voice in her ear.

For his part, Luke's been on hookup autopilot for so long that he rarely ever pauses to consider what he's doing. But after an amazing time with London, he realizes that he hasn't been moving on from a devastating heartbreak so much as he's been drifting to wherever—and whomever—the current takes him. With London he wants more.

Every relationship involves two people…plus their pasts. And as much as she enjoys her fling with Luke, when London learns about his past—more specifically, who's in it—everything becomes the brand of complicated she strives to avoid. It's up to Luke then to change some things in order to try and ensure he's not something she'll outright avoid as well.
About the Author
Christina Lauren is the combined pen name of longtime writing partners/besties Christina Hobbs and Lauren Billings, the New York Times, USA TODAY, and #1 international bestselling authors of the Beautiful and the Wild Seasons series, The Unhoneymooners, My Favorite Half-Night Stand, Love and Other Words, Josh and Hazel's Guide to Not Dating, Dating You / Hating You, Roomies, The House, and Autoboyography. You can find them online at ChristinaLaurenBooks.com, @ChristinaLauren on Instagram, or @ChristinaLauren on Twitter.
Praise For Wicked Sexy Liar (Wild Seasons #4)…
"Christina Lauren is my go-to author when I'm looking for sexy and sweet."
— Jennifer L. Armentrout, #1 New York Times bestselling author

"Lauren's snappy dialogue, amusing banter, and dual first-person perspectives (with alternating chapters told from London's and Luke's points of view) keep the emotions high, close, and intense. A hyper-sexy sophisticated romance that perfectly captures the hunger, thrill, and doubt of young, modern love."

"I don't say this lightly, but Wicked Sexy Liar may be my favorite Christina Lauren title ever... I was blown away by this deeply moving and wickedly hot romance. Christina Lauren sets up Luke as a shameless lothario running from commitment, who soon melts when he sees how guarded and self-protective London is. The problems they face as a couple — Luke trying to leave behind his caddish ways and London fighting an ingrained sense of caution and reserve — are achingly real. Oh, and any book that treats playing video games as a prelude to sex gets my personal stamp of approval."

"Full of expertly drawn characters who will grab your heart and never let go, humor that will have you howling, and off-the-charts, toe-curling chemistry, Dark Wild Night is absolutely unforgettable. This is contemporary romance at its best! Beautifully written and remarkably compelling—it reminded me why Christina Lauren's books have a place of honor on my bookshelf."
— Sarah J. Maas, bestselling author of Throne of Glass on Dark Wild Night

"A sexy, sweet treasure of a story. I loved every word."
— Sylvia Day on Sweet Filthy Boy

"Hot . . . The atmospheric San Diego setting, full of partying, video games, and casual hookups, provides a bright contrast to Luke and London's angst-filled romance. Fans of earthy relationships and the brisk, bright dialogue of Lauren's previous books will find plenty of both to enjoy."

"Sweet Filthy Boy lives up to every yummy bit of its title. Each word, each thought, each touch from Ansel is pure, unadulterated SEX. Christina Lauren's assured writing and their ability to create a scorching and witty love story makes them an automatic 1-Click for us."

"Hot . . . if you like your hook-ups early and plentiful..."

"A devilishly depraved cross between a hardcore porn and a very special episode of The Office…For us fetish-friendly fiends to feast on!!"

"The thing that I love the most about Christina Lauren and the duo's Beautiful books is that there is always humor in them. As well as hot steamy moments and some of the sweetest I love you's."

"Fresh, hip and energetic, Wicked Sexy Liar layers earthy sexiness with raw, honest dialog to create a page-turning keeper. London and Luke's journey toward grown-up love is a satisfying trip worth taking."

"The abundant sexual tension between the pair sizzles just as much as the sex itself, with a notable shower scene that exemplifies Lauren's ability to infuse familiar tropes with fresh passion."

"London and Luke are such an enjoyable and fun couple that we felt the need to read the book twice in a row. It's quickly become one of our favorites and it's a definite must read, especially if you're already a Christina Lauren fan!"

"Watching manwhore Luke meet his match and crumble under the charms of commitment-phobic London is almost too much fun!"

"[The] Wild Seasons series is equal parts hot, funny, and romantic.... In our eyes, Christina Lauren can do no wrong."