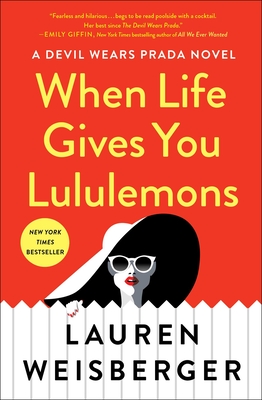 When Life Gives You Lululemons
Hardcover

* Individual store prices may vary.
Other Editions of This Title:
Digital Audiobook (6/4/2018)
Paperback (5/7/2019)
Paperback, Large Print (7/10/2019)
CD-Audio (5/7/2019)
Library Binding, Large Print (6/6/2018)
Description
***NEW YORK TIMES BESTSELLER***

Best Books of Summer 2018 Selection by
Entertainment Weekly * Cosmopolitan * Harper's Bazaar * Redbook * Southern Living * Good Housekeeping * PureWow * PopSugar * Bustle * Entertainment Tonight * Star Magazine * St. Louis Post-Dispatch * Columbus Dispatch * Tampa Bay Times * BookTrib *

HE SET HER UP. THEY'LL BRING HIM DOWN.

Welcome to Greenwich, Connecticut, where the lawns and the women are perfectly manicured, the Tito's and sodas are extra strong, and everyone has something to say about the infamous new neighbor.

Let's be clear: Emily Charlton does not do the suburbs. After leaving Miranda Priestly, she's been working in Hollywood as an image consultant to the stars, but recently, Emily's lost a few clients. She's hopeless with social media. The new guard is nipping at her heels. She needs a big opportunity, and she needs it now.

When Karolina Hartwell, a gorgeous former supermodel, is arrested for a DUI, her fall from grace is merciless. Her senator-husband leaves her, her Beltway friends disappear, and the tabloids pounce.

In Karolina, Emily finds her comeback opportunity. But she quickly learns Greenwich is a world apart and that this comeback needs a team approach.

So it is that Emily, the scorned Karolina, and their mutual friend Miriam, a powerful attorney turned stay-at-home suburban mom, band together to not only navigate the social land mines of suburban Greenwich but win back the hearts of the American public. Along the way, an indispensable ally emerges in one Miranda Priestly.

With her signature wit, Lauren Weisberger offers an alluring look into a sexy, over-the-top world—and proves it's style and substance together that gets the job done.
Praise For When Life Gives You Lululemons…
PRAISE FOR WHEN LIFE GIVES YOU LULULEMONS BY LAUREN WEISBERGER

"When Life Gives You Lululemons is a delicious sequel to The Devil Wears Prada. [It] reads like 'The Real Housewives of Greenwich,' a reality show that doesn't exist, but should… underneath the shiny surface, both Lululemons and Prada are exploring what it's like to be a woman buffeted by conflicting messages about career, relationships and motherhood. I'm hoping that When Life Gives You Lululemons gets made into a movie so it can become my new favorite."—LISA SCOTTOLINE, WASHINGTON POST

"The Devil Wears Prada's Emily gets the spin-off she deserves."—COSMOPOLITAN

"If you ever wondered what happened to the Miranda Priestly's assistant from the Devil Wears Prada, you'll love this amazing novel about the character Emily Charlton. Weisberger once again weaves a fun tale of how things aren't always as they seem, especially in the most dazzling neighborhoods. When Life Gives You Lululemons is the story of truth, lies and how everyone is a little bit insecure."—ASSOCIATED PRESS

"The new novels, departing from an era in which so-called chick lit so often reinforced gender stereotypes, prove more adept at framing individual women as whole and human than the previous books were...That these books are hugely entertaining cannot be assumed–but they are...add laughs to all the warm-and-fuzzy female solidarity and it makes for a pretty great time."—TIME MAGAZINE

"An uplifting comeback."—NEW YORK TIMES BOOK REVIEW

"The author of The Devil Wears Prada is back with another fantastic read, centered around a character fans will recognize: Emily Charlton, first assistant to Miranda Priestly, and now a highly successful image consultant. These days, work has taken her to the 'burbs in Greenwich, CT, where she lands in a heap of delicious drama."—BUSTLE

"Because we are blessed, Lauren Weisberger has graciously published a sequel (of sorts) to The Devil Wears Prada. Fast-paced, funny, and gossipy, When Life Gives You Lululemons is the must-have accessory for your beach bag."—POPSUGAR

"With rich people behaving scandalously on every page, this lemon is juicy and delicious…Having a kick-ass girl posse is not only great fun, but essential for survival in this town filled with moms obsessed with SoulCycle, trophy kids, and plastic surgery."—KIRKUS REVIEWS (STARRED REVIEW)

"Weisberger's back with another outstanding Prada companion novel… With chapters alternating among the three women and pithy section titles, this will have readers laughing at the over-the-top (and one hopes, embellished) ways of life in the suburbs…The coveted book of summer, this is sure to be in high demand."—LIBRARY JOURNAL

"As always, Weisberger's timely social satire packs some bite along with the pop-culture froth…The return of characters from Weisberger's most popular book will propel her latest to the top."—BOOKLIST

"Fearless and hilarious, Lauren Weisberger's latest novel begs to be read poolside with a cocktail. Her best since The Devil Wears Prada."—EMILY GIFFIN, New York Times bestselling author of Something Borrowed and All We Ever Wanted

"Female solidarity is at the heart of this delicious page-turner. Entertaining, sexy and laugh out loud funny, When Life Gives You Lululemons is sure to be the beach-read of 2018."—GREER HENDRICKS & SARAH PEKKANEN, New York Times bestselling authors of The Wife Between Us

"Lauren Weisberger hilariously skewers affluent suburbia, and does so through the cool, calm eyes of The Devil Wears Prada's Emily Charlton. What a delight to meet Miranda Priestley again and most importantly, have the treat of immersing ourselves in such a witty, well-observed world."—JANE GREEN, New York Times bestselling author of The Sunshine Sisters and Summer Secrets

"Fast-paced, funny, and gossipy, When Life Gives You Lululemons is the must-have accessory for your beach bag."—POPSUGAR

"Lauren Weisberger is at her best in When Life Gives You Lululemons. The payoff is as much fun as the title. An addictive and escapist read in the best way, from the posh lives of Greenwich moms to the heartbreak, horror, and redemption their lives entail. The perfect balance of fun and real-life relatability for those of us who grew up on The Devil Wears Prada."—JENNIFER KEISHIN ARMSTRONG, New York Times bestselling author of Seinfeldia and Sex and the City and Us

"Lauren Weisberger has the sharpest, wittiest eye and always knows her subjects inside out: I love her books."—JENNY COLGAN, New York Times bestselling author of The Bookshop on the Corner and The Endless Beach
Simon & Schuster, 9781476778440, 352pp.
Publication Date: June 5, 2018
About the Author
Lauren Weisberger is the New York Times bestselling author of The Devil Wears Prada, which was published in forty languages and made into a major motion picture starring Meryl Streep and Anne Hathaway. It was announced in 2017 that musician Elton John and Paul Rudnick will adapt The Devil Wears Prada for the stage. She is also the author of Where the Grass Is Green and the Girls Are Pretty, When Life Gives You Lululemons, The Singles Game, Everyone Worth Knowing, Chasing Harry Winston, Last Night at Chateau Marmont, and Revenge Wears Prada. Her books have sold more than thirteen million copies worldwide. A graduate of Cornell University, she lives in Connecticut with her husband and two children. Visit LaurenWeisberger.com to learn more.
or
Not Currently Available for Direct Purchase