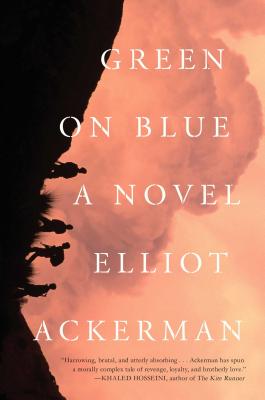 Green on Blue
A Novel
Hardcover

* Individual store prices may vary.
Other Editions of This Title:
Digital Audiobook (2/16/2015)
Paperback (2/2/2016)
Description
From a decorated veteran of the Iraq and Afghan Wars, and White House Fellow, a stirring debut novel about a young Afghan orphan and the harrowing, intractable nature of war.

Aziz and his older brother Ali are coming of age in a village amid the pine forests and endless mountains of eastern Afghanistan. There is no school, but their mother teaches them to read and write, and once a month sends the boys on a two-day journey to the bazaar. They are poor, but inside their mud-walled home, the family has stability, love, and routine.

When a convoy of armed men arrives in their village one day, their world crumbles. The boys survive and make their way to a small city, where they sleep among other orphans. They learn to beg, and, eventually, they earn work and trust from the local shopkeepers. Ali saves their money and sends Aziz to school at the madrassa, but when US forces invade the country, militants strike back. A bomb explodes in the market, and Ali is brutally injured.

In the hospital, Aziz meets an Afghan wearing an American uniform. To save his brother, Aziz must join the Special Lashkar, a US-funded militia. No longer a boy, but not yet a man, he departs for the untamed border. Trapped in a conflict both savage and entirely contrived, Aziz struggles to understand his place. Will he embrace the brutality of war or leave it behind, and risk placing his brother—and a young woman he comes to love—in jeopardy?

Having served five tours of duty in Afghanistan and Iraq, Elliot Ackerman has written a gripping, morally complex debut novel, an astonishing feat of empathy and imagination about boys caught in a deadly conflict.
Praise For Green on Blue: A Novel…
"Green on Blue is a novel that conveys, with harrowing power, the fallout that decades of war (going back through the Soviet occupation of the 1980s) has had on that country's people, and at the same time, it's a kind of Greek tragedy about the cycles of revenge and violence that can consume families and tribes, generation after generation…This novel as a whole attests to Mr. Ackerman's breadth of understanding — an understanding not just of the seasonal rhythms of war in Afghanistan and the harsh, unforgiving beauty of that land, not just of the hardships of being a soldier there, but a bone-deep understanding of the toll that a seemingly endless war has taken on ordinary Afghans who have known no other reality for decades."
— Michiko Kakutani

"The chief pleasures of Ackerman's novel derive from its striking descriptions of men at war…Like all novels written in skilled, unadorned prose about men and women of action, this novel will probably be compared to Hemingway's work. In this case, however, the comparison seems unusually apt…Elliot Ackerman has done something brave as a writer and even braver as a soldier: He has touched, for real, the culture and soul of his enemy."
— Tom Bissell

"Green on Blue is harrowing, brutal, and utterly absorbing. With spare prose, Ackerman has spun a morally complex tale of revenge, loyalty, and brotherly love. The saga of young Aziz is a chilling and often disturbing glimpse into one of the world's most troubled regions."
— Khaled Hosseini, author of The Kite Runner

"Elliot Ackerman departs from expectation in his debut novel, Green on Blue [...] allowing us to be repeatedly surprised as events unfold. The story reads quickly, and comparisons can be drawn with For Whom the Bell Tolls, Adventures of Huckleberry Finn and even Slumdog Millionaire…While most American writing about the desert wars explores the U.S. experience, Ackerman may be the first to devote his work to seeing beyond himself... The result is a work of imagination based on empathetic respect... He is, in this way, a storyteller like any in the Afghan mountains, his authority as a Marine veteran given away in favor of empathy for the people beside and against whom he fought. He invites us to sit by the fire with Aziz and hear what his people aren't able to say in our books about them."
— Washington Post

"Green on Blue is a standout both for its setting and for the austere grace of its prose. But what sets the novel apart in the annals of American war literature is its daring shift in perspective: It's written not from the point of view of an American soldier, but that of an Afghan boy…With understated grandeur, a portrait of Afghanistan in microcosm takes shape, one in which profit and peace are at odds, lines of allegiance are constantly being redrawn, and coming-of-age entails a swift initiation into moral ambiguity and brutality…The result is compassionate, provocative, and alive to the tremendous narrative risk involved in taking on the gaze of the "other": try imagining Apocalypse Now from the perspective of the South Vietnamese."
— Megan O'Grady

"What makes Green on Blue so brilliantly poignant is Elliot Ackerman's feeling of empathy, his ability to get under his characters' skin, reminding us not only of our vast differences but of our shared humanity."
— Azar Nafisi, author of Reading Lolita in Tehran

"If we're looking for answers—and after fourteen years of war we damn well better be—Elliot Ackerman's brilliant, audacious novel is an excellent place to start. For so many years the war has been about "us" and "them," but Green on Blue blows open the standard narrative by showing just how fluid and fraught that distinction can be. If we're tempted to think this war has been simple and clean, Ackerman's unflinching novel should wake us up to the messy, heartbreaking reality of it all."
— Ben Fountain, author of Billy Lynn's Long Halftime Walk

"Green on Blue is a remarkable achievement, a novel of war, betrayal, love, and honor that feels equally timeless and timely. Aleksander Solzhenitsyn once wrote that the line dividing good and evil doesn't run between nations, but through every human heart. Elliot Ackerman traces that shifting line with enormous empathy and intelligence."
— Anthony Marra, author of A Constellation of Vital Phenomena

"In all too many accounts of the Afghan War, the Afghan people caught in the cross-fire are rendered invisible. Elliot Ackerman's eye-opening Green on Blue places them front and center,taking us into the life of a Pashtun orphan navigating the impossible choices offered to him by the brutal realities of his war-torn country. An incisive and moving glimpse into the human consequences of decades of conflict."
— Phil Klay, author of Redeployment

"Here, in his deeply compelling and poetically rendered first novel, Elliot Ackerman goes where few, if any, western novelists have gone before, deep into the private skin and heart of a young Afghan soldier who began as we all do, as a child. Green on Blue is more than just the page-turner it most certainly is; it is a naked and profound exploration of the ugly futility of war, and it is also one of the finest literary debuts I have ever witnessed. I cannot recommend this book highly enough."
— Andre Dubus III, author of House of Sand and Fog and The Garden of Last Days

"Green on Blue, in part, is intended to be subversive; that is,forcing the reader to look beyond the easy 'them and us' rhetoric and into the heart of the collateral darkness inevitably created, and left behind, by our wars of liberation."
— Consequence Magazine

"Like The Thin Red Line's Guadalcanal, Green on Blue's Shkin is one war's heart, marked by loss, ambition, blood. Only Ackerman (a veteran, like Jones) isn't channeling the American view; his extraordinary empathy marks this novel as something more than brilliant. It is brave."
— Lea Carpenter, author of Eleven Days

"This is the best novel of the Afghan-Iraq wars to date, striking a lyrical cord akin and equal in power to Hemingway's For Whom The Bell Tolls. Elliot Ackerman captures both the deep brutality and the innate humanity of the Afghan Pashtun world and its collision with the west in clear, cold strokes. This fearless and pitch perfect first novel is a heart-breaking wonder."
— Admiral James Stavridis, USN (Ret), former NATO Supreme Allied Commander and Dean of The Fletcher School of Law and Diplomacy at Tufts University

"With a tension and tenderness reminiscent of Graham Greene,Elliot Ackerman's gripping novel of revenge and honor deftly reveals the complex machinations of a too often oversimplified war."
— Alexander Maksik, author of You Deserve Nothing and A Marker to Measure Drift

"Elliot Ackerman, a former Marine deployed in Iraq and Afghanistan, has performed that most difficult of all military operations – the achievement of radical empathy. In Green on Blue he has entered the world and the consciousness of a young Afghan soldier, one who is orphaned,impoverished and placed under the obligation of revenge. In doing so, Ackerman has brought to us a new understanding of the complicated layers within Afghanistan's tribal society, and the penetrating beauty of that country's landscape. This is a brave and impressive debut."
— Roxana Robinson, author of Sparta and Cost

"Ackerman's novel is bleak and uncompromising, a powerful war story that borders on the noir."
— Publishers Weekly
Scribner, 9781476778556, 256pp.
Publication Date: February 17, 2015
About the Author
Elliot Ackerman served five tours of duty in Iraq and Afghanistan and is the recipient of the Silver Star, the Bronze Star for Valor, and the Purple Heart. A former White House Fellow, his essays and fiction have appeared in The New Yorker, The Atlantic, The New Republic, and Ecotone, among others. He currently lives in Istanbul where he writes on the Syrian Civil War. Green on Blue is his first novel.
Coverage from NPR
or
Not Currently Available for Direct Purchase