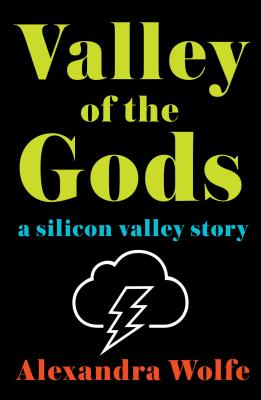 Valley of the Gods
A Silicon Valley Story
Hardcover

* Individual store prices may vary.
Other Editions of This Title:
Digital Audiobook (1/9/2017)
Paperback (1/23/2018)
Description
In a riveting, hilarious account, reporter Alexandra Wolfe exposes a world that is not flat but bubbling—the men and women of Silicon Valley, whose hubris and ambition are changing the world.

Each year, young people from around the world go to Silicon Valley to hatch an idea, start a company, strike it rich, and become powerful and famous. In Valley of the Gods, Wolfe follows three of these upstarts who have "stopped out" of college and real life to live and work in Silicon Valley in the hopes of becoming the next Mark Zuckerberg or Elon Musk. No one has yet documented the battle for the brightest kids, kids whose goals are no less than making billions of dollars—and the fight they wage in turn to make it there. They embody an American cultural transformation: A move away from the East Coast hierarchy of Ivy Leagues and country clubs toward the startup life and a new social order.

Meet the billionaires who go to training clubs for thirty-minute "body slams" designed to fit in with the start-up schedule; attend parties where people devour peanut butter-and-jelly sushi rolls; and date and seduce in a romantic culture in which thick glasses, baggy jeans, and a t-shirt is the costume of any sex symbol (and where a jacket and tie symbolize mediocrity). Through Wolfe's eyes, we discover how they date and marry, how they dress and live, how they plot and dream, and how they have created a business world and an economic order that has made us all devotees of them.

A blistering, brilliant, and hysterical examination of this new ruling class, Valley of the Gods presents tomorrow's strange new normal where the only outward signs of tech success are laptops and ideas.
Praise For Valley of the Gods: A Silicon Valley Story…
"[Wolfe] explores the particulars of the valley itself, where youth and high-profile failure can be badges of honor, and the concentrations of wealth and intelligence are staggering. With a detached and playful tone, fly-on-the-wall Wolfe catalogs the unique habits, dress, nutrition, and mating habits of the startup class."—Booklist

"Racy and fun…. Wolfe's entertaining and intensive look inside this aspirational, transformational, and transgressive lifestyle is both celebration and cautionary tale."—ELLE

"Wolfe is an entertaining writer....Wolfe lands on characters who are vibrant and open-minded."—The Atlantic

"A fascinating look into the beginning stages of startups."—San Francisco Chronicle

"A jauntily paced anthropological look at Northern California's techtopia. The Palo Alto semispoof is becoming a crowded genre (Mike Judge's HBO show, Antonio García Martínez's memoir Chaos Monkeys, etc.), but Wolfe, a Wall Street Journal reporter and former Bloomberg Businessweek columnist, has found relevant new eyes through which to show outsiders around."—Bloomberg Businessweek

"A sharply observed, often quite funny anthropological deep dive into the strange inner workings of the Bay Area tech world."—VOGUE.com

"Wolfe, a Wall Street Journal columnist and the daughter of author Tom Wolfe, uses the stories of Burnham, Deming, and their peers in Valley of the Gods to chronicle the peculiar and often comical mores of Silicon Valley....Valley poses some weighty questions about the value of a college education and the nobility of joining the modern gold rush in Silicon Valley, but the allure of the book is Wolfe's shrewd observations about more mundane things like clothes. Her narrative style is less showy than her father's, but she adopts some of his most effective literary techniques such as providing extensive descriptions of how her subjects dress, eat, exercise, and hook up."—National Book Review

"Alexandra Wolfe's revealing new book, Valley of the Gods, offers a peek inside the privilege, power, and profligacy of Silicon Valley. Wolfe's reporting exposes the inner workings of the multibillion-dollar tech industry and also the odd behavior in which its titans indulge."—Town & Country

"Wolfe delves into a world that few have seen up-close: her book takes place in hallowed businesses that many of us only know by their online presences, and it's an eye-opening look....If you want a good peek into tech businesses and, possibly, the future, find 'Valley of the Gods' and give it a try."—HOUSTON STYLE MAGAZINE

"Captures the absurdity of this brave new world, pierces the hype but also conveys the dreams and the passions that can shape a world's economy."—USA Today
Simon & Schuster, 9781476778945, 272pp.
Publication Date: January 10, 2017
About the Author
Alexandra Wolfe is a staff reporter for The Wall Street Journal and writes the weekly column "Weekend Confidential." After graduating from Duke University, she worked as a staff reporter for the New York Observer, The Wall Street Journal, and then Condé Nast Portfolio. As a freelancer, she wrote regular columns for Bloomberg Businessweek, features for Travel + Leisure and Departures, and has written cover stories for Vanity Fair and Town & Country. The Valley of the Gods is her first book. She lives in New York City.
or
Not Currently Available for Direct Purchase