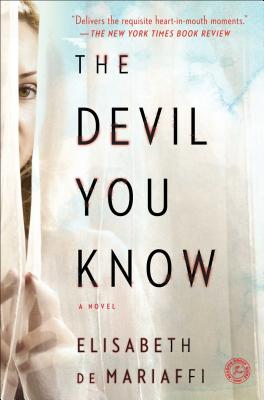 The Devil You Know (Paperback)
A Novel
Gallery Books, 9781476779096, 336pp.
Publication Date: January 5, 2016
Other Editions of This Title:
Hardcover (1/13/2015)
Compact Disc (1/13/2015)
MP3 CD (1/13/2015)
Compact Disc (1/13/2015)
* Individual store prices may vary.
Description
"Gripping!" —Margaret Atwood via Twitter (@MargaretAtwood)

In the vein of Gillian Flynn's Sharp Objects and A.S.A. Harrison's The Silent Wife, The Devil You Know is a thrilling debut about a rookie reporter, whose memories of the murder of her childhood best friend bring danger—and a stalker—right to her doorstep.

The year is 1993. Rookie crime beat reporter Evie Jones is haunted by the unsolved murder of her best friend Lianne Gagnon who was killed in 1982, back when both girls were eleven. The suspected killer, a repeat offender named Robert Cameron, was never arrested, leaving Lianne's case cold.

Now twenty-one and living alone for the first time, Evie is obsessively drawn to finding out what really happened to Lianne. She leans on another childhood friend, David Patton, for help—but every clue they uncover seems to lead to an unimaginable conclusion. As she gets closer and closer to the truth, Evie becomes convinced that the killer is still at large—and that he's coming back for her.

From critically acclaimed author Elisabeth de Mariaffi comes an "exceptional book…full of surprises" (Suspense Magazine) about secrets long buried and obsession that cannot be controlled.
About the Author
Elisabeth de Mariaffi is a critically acclaimed writer whose short story collection, How to Get Along with Women, was longlisted for the prestigious Giller Prize. She lives in St. John's, Canada, with her family.
Praise For The Devil You Know: A Novel…
"De Mariaffi delivers the requisite heart-in-mouth moments of pure paranoia, but she balances these thrills with shrewd character studies and the odd nugget of wisdom."
— New York Times Book Review

"Gripping!"
— Margaret Atwood via Twitter (@MargaretAtwood)

"A gripping page-turner on one hand, The Devil You Know is also literary in its unwavering focus on the complex portrayal of the psychology of its main character, and in its illumination of broader issues around violence against women." —Los Angeles Review of Books

"A terrific tangled page-turner with a paranoid mouthy narrator (loved her). This novel grips you from its close-your-curtains prologue to its bite-your-nails climax. . . . Also packed with priceless moments of dark humor and slightly skewed pithy pronouncements."
— Milwaukee Journal Sentinel

"A rollercoaster ride . . . The Devil You Know is de Mariaffi's first novel, but she masters the art of pacing and ratchets up the tension page by page throughout Evie's journey. Fans of psychological thrillers like Gone Girl will root for Evie's version of the truth right to the end."
— BookPage

"An exceptional book. . . Full of surprises, this author has managed to create a novel that is sometimes scary, definitely frightening, smartly written . . . guaranteed to send chills down your spine."
— Suspense Magazine

"Outstanding, unsettling . . . I read it, enthralled, unable to put the book down even as I knew how important it was to take breaks and marvel at de Mariaffi's talent at creating a bona fide literary thriller."
— National Post

"It takes both skill and empathy to write absorbing fiction about dead girls that doesn't dangerously veer into exploitation, and with The Devil You Know, Elisabeth de Mariaffi has beyond succeeded. . . . [A] well-crafted thriller,particularly reminiscent of Gillian Flynn's 2006 debut, Sharp Objects . . . a success both in storytelling and cultural commentary . . . The Devil You Know proves there can be enthralling literature about rape and murder that doesn't exploit or disrespect real-life anguish."
— The Globe and Mail

"[De Mariaffi] expertly builds suspense throughout this character-driven debut novel. As it nears its climax, readers will dread turning the pages for fear of what comes next."—Library Journal

"Evie is a tough, wisecracking narrator worthy of the greatest private-eye pulp novels. . . . [Her] vulnerable yet empowered voice, is refreshingly reverent."—Kirkus Reviews (starred review)


"[An] artful first novel . . . Hooked readers will silently implore Evie to refrain from entering a basement or a cabin in the woods in pursuit of a story—and a killer."
— Publishers Weekly

"Enough twists and turns to keep the reader almost as tense as Evie . . . Do not be surprised if the the book is a hit worldwide, and makes it to a big screen near you in the near future."
— Toronto Star

"The Devil You Know manages simultaneously to be funny, sweet, hip, and utterly terrifying. Elisabeth de Mariaffi has written a smart, unique thriller."—Alafair Burke, author of All Day and a Night

"The Devil You Know is a gripping literary thriller that will get under your skin and burrow into your every waking thought. You'll see a little bit of yourself in Evie Jones, and you'll find yourself looking over your shoulder even more after reading this creepy, chilling, and hauntingly beautiful book."—Chevy Stevens, author of That Night and Still Missing

"Elisabeth de Mariaffi conjures an atmosphere that is both light and dark, familiar and off-kilter, nostalgic and hard-edged, and, ultimately, all the more chilling for being anchored in reality. . . .You won't sleep till you get to the end." —Carrie Anne Snyder, author of Girl Runner

"The suspense slowly builds, reaching a frightening climax . . . . [An] engaging thriller from a promising first novelist."—Booklist

"This story is creepy, dark, and addictive. It's a really smart thriller—and it feels true, which makes it all the more frightening."—Sarah Selecky, author of This Cake Is for the Party

"The Devil You Know is an exceptionally tense, thoughtful book, one which had me questioning my assumptions and checking my pulse. Elisabeth de Mariaffi writes in crisp, tight prose that pulls the reader through the story seamlessly, and it is a story that thrills, surprises, and above all else makes the reader rethink their assumptions about how women experience the world of violence. A magnificent debut novel." —Steven Galloway, author of The Confabulist and The Cellist of Sarajevo

"A first novel rich with menace and psychological depth, The Devil You Know transports in the dangerous way of a nightmare but remains grounded—even more dangerously—in the way of a documentary. Elisabeth de Mariaffi delivers a thriller that thrills in so many ways."—Andrew Pyper, author of The Demonologist

"Take wit of Gone Girl, the horror of Helter Skelter, the twists of In Cold Blood, and the wisdom of Joan Didion's The White Album, and you feel the thrill of reading The Devil You Know. Elisabeth de Mariaffi has written a brilliant and thoughtful thriller that is tense, funny, scary, smart, and true. Her clear-eyed insight into the kind of fear that women carry through life resonated deeply with me."—Claire Cameron, author of The Bear

"Stunning. . . there's a sense that the universe depicted … is just slightly off kilter, tinged by the threat of the surreal,and de Mariaffi's prose doesn't call any attention to itself — the experience of reading seems to go somehow beyond the language she's using, dragging you deeper into an unknown world that you might just recognize as the one where you truly live."
— The National Post on How to Get Along with Women

"Manyof the characters . . . have identityissues and confidence problems, but their author is incredibly self-assured . . . . DeMariaffi explores her subjects with a detail - oriented eye, deftly insertingthe reader into key moments in her characters' lives . . . . [A] quiet emotionally wrenching star."
— Quill & Quire on How to Get Along with Women

"DeMariaffi is a writer adept at painting pictures from words and she approachesher characters with a firm sense of humor, understanding that all of us areslightly wacky and difficult."
— Toronto Star on How to Get Along with Women

"Jam-packed with suspense and violence . . . for those who love a good whodunit with an unpredictable ending. Filled with authentic factual information, The Devil You Know contains its own fictional spin to produce a totally riveting novel." (New York Journal of Books)

"Jam-packed with suspense and violence . . . for those who love a good whodunit with an unpredictable ending. Filled with authentic factual information, The Devil You Know contains its own fictional spin to produce a totally riveting novel." (New York Journal of Books)
or
Not Currently Available for Direct Purchase