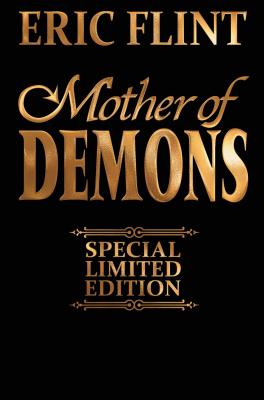 Mother of Demons (Leather / fine binding)
Baen, 9781476780320, 384pp.
Publication Date: March 24, 2015
Other Editions of This Title:
Mass Market (9/1/1997)
* Individual store prices may vary.
Description
SPECIAL LEATHERBOUND EDITION. FIRST NOVEL OF MULTIPLE NEW YORK TIMES BEST-SELLING AUTHOR ERIC FLINT, creator of the hugely-popular Ring of Fire alternate history series. A crumbling alien civilization fights to stave off a final fall into barbarism, and human explorers must chose: will they help or standby and let a once high civilization fall?

On a dangerous planet, a crumbling alien civilization fights to stave off a final fall into barbarism. What's more, a human expedition has arrived to churn the mix even further. In a world where caste and mating are genetically determined, one rebel couple choose to pair bond and stay together. Their love will either determine a new pattern and way forward for their species -- or they may become the last of their kind. And now Indira Toledo, a human paleobiologist, must chose whether to introduce one of the oldest human cultural adaptations of all–war–to save a once high civilization from falling to ravaging barbarians.

About Eric Flint
"[P]olitically correct? C'mon! Great fun? Ah, yes."—Booklist

"...Inventive...smile-worthy..."—Kirkus Reviews

"The action is realistic, the people seem to live and breathe...Recommended."—Norm's Notes
About the Author
Eric Flint is a modern master of alternate history fiction, with more than three million books in print. He's the author/creator of the multiple New York Times best-selling Ring of Fire series, starting with first novel 1632. With David Drake, he has written six popular novels in the "Belisarius" alternate Roman history series, and with David Weber, he has collaborated on 1633 and 1634: The Baltic War and latest Honorverse series entry Cauldron of Ghosts. Flint's latest Ring of Fire novel is 1637: The Polish Maelstrom. Flint was for many years a labor union activist. He lives near Chicago, Illinois.
or
Not Currently Available for Direct Purchase