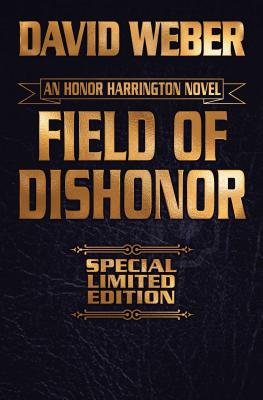 Field of Dishonor (Hardcover)
Baen Books, 9781476780573, 352pp.
Publication Date: June 2, 2015
Other Editions of This Title:
Mass Market (9/1/2002)
Compact Disc (6/2/2015)
MP3 CD (11/18/2014)
MP3 CD (1/1/2010)
Compact Disc (1/1/2010)
* Individual store prices may vary.
Description
Limited signed leatherbound edition of Book #4 in the internationally best-selling Honor Harrington science fiction series. HONOR BETRAYED The People's Republic of Haven's sneak attack on the Kingdom of Manticore has failed. The Peeps are in disarray, their leaders fighting for power in bloody revolution, and the Royal Manticoran Navy stands victorious. But Manticore has domestic problems of its own, and success can be more treacherous than defeat for Honor Harrington. Now, trapped at the core of a political crisis she never sought, betrayed by an old and vicious enemy she'd thought vanquished forever, she stands alone. She must fight for justice on a battlefield she never trained for in a private war that offers just two choices: death . . . or a ''victory'' that can end only in dishonor and the loss of all she loves. About David Weber and the Honor Harrington series:
." . .everything you could want in a heroine.... Excellent ... plenty of action."-Science Fiction Age "Brilliant Brilliant Brilliant "-Anne McCaffrey "Compelling combat combined with engaging characters for a great space opera adventure."-Locus "Weber combines realistic, engaging characters with intelligent technological projection . . . Fans of this venerable space opera will rejoice . . ."-Publishers Weekly About Shadow of Freedom, #15 in the Honor Harrington series:
"This entry is just as exciting as Weber's initial offering. . . .The result is a fast-paced and action-packed story that follows our characters] as they move from reaction to command of the situation. Weber builds Shadow of Freedom to an exciting and unexpected climax."--Daily News of Galveston About Mission of Honor, #13 in the Honor Harrington series:
"Weber combines realistic, engaging characters with intelligent technological projection and a deep understanding of military bureaucracy in this long-awaited Honor Harrington novel ... Fans of this venerable space opera will rejoice to see Honor back in action."-Publishers Weekly "This latest Honor Harrington novel brings the saga to another crucial turning point ... Readers may feel confident that they will be Honored many more times and enjoy it every time."-Booklist Honor Harrington Main Series:
On Basilisk Station
The Honor of the Queen
The Short Victorious War
Field of Dishonor
Flag in Exile
Honor Among Enemies
In Enemy Hands
Echoes of Honor
Ashes of Victory
War of Honor
The Shadow of Saganami
At All Costs
Storm from the Shadows
Mission of Honor
A Rising Thunder
Shadow of Freedom
About the Author
With over seven and a half million copies of his books in print and eighteen titles on the New York Times bestseller list, David Weber is the science fiction publishing phenomenon of the new millennium. In the hugely-popular Honor Harrington series, the spirit of C.S. Forester's Horatio Hornblower and Patrick O'Brian's Master and Commander lives on--into the galactic future. Books in the Honor Harrington and Honoverse series have appeared on twenty-one bestseller lists, including those of The Wall Street Journal, The New York Times, and USA Today. While Weber is best known for his spirited, modern-minded space operas, he is also the creator of the Oath of Swords fantasy series and the Dahak saga, a science fiction and fantasy hybrid. Weber is has also engaged in a steady stream of best-selling collaborations including his Starfire Series with Steve White, which produced the New York Times bestseller The Shiva Option among others. Weber's collaboration with alternate history master Eric Flint led to the bestselling 1634: The Baltic War. His Honorverse collaborations with Flint in the Crown of Slave series are also highly popular, with latest entry, Cauldron of Ghosts, becoming a New York Times bestseller. His planetary adventure novels with military science fiction ace and multiple national best-selling author John Ringo includes the March to the Stars and We Few. Finally, Weber's teaming with Linda Evans and Joelle Presby produced the Multiverse series, including latest entry, The Road to Hell. David Weber makes his home in South Carolina with his wife and children.
or
Not Currently Available for Direct Purchase