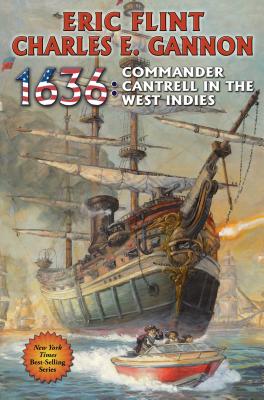 1636
Commander Cantrell in the West Indies (The Ring of Fire #14)
Mass Market

* Individual store prices may vary.
Other Editions of This Title:
Hardcover (6/3/2014)
Description
New York Times and Wall Street Journal best-selling alternate history series. Book #18 in the Ring of Fire series created by Eric Flint.

Eddie Cantrell, now married to the king of Denmark's daughter, is sent by Admiral Simpson to the Caribbean to secure access to the most valuable commodity on that continent—not the gold and silver which the Spanish treasure, but the oil which up-time machines and industry need. The admiral has also provided Eddie's small task force with the new steam-powered frigates that have just come out of the navy's shipyards.

Even with the frigates, a giant obstacle stands in his way: the Gulf-girdling Spanish presence in the New World. So a diversion is needed, carried out by an up-time car mechanic and a down-time mercenary colonel who also happens to be the last earl of Ireland. Their mission: grab the oil fields on Trinidad, and so distract the attention of Spain's New World governors.

While the Spanish galleons and troops head for Trinidad, Commander Cantrell's smallest and fastest steam sloop will make a run to the Louisiana coast. There, her crew will wind their way up the bayous to the real New World prize: the Jennings Oil Field.

But Cantrell's plans could be wrecked in a multitude of ways. He faces often-hostile natives, rambunctious Dutch ship captains, allied colonies on the brink of starvation, and vicious social infighting that can barely be contained by his capable and passionate new wife. When the galleons finally come out in force to engage his small flotilla, Eddie will discover that the Spanish aren't the only enemies who will be coming against him in a fateful Caribbean show-down.

About Eric Flint's Ring of Fire series:
"This alternate history series is…a landmark…"—Booklist

"[Eric] Flint's 1632 universe seems to be inspiring a whole new crop of gifted alternate historians."—Booklist

"…reads like a technothriller set in the age of the Medicis…"—Publishers Weekly
Baen, 9781476780603, 880pp.
Publication Date: May 26, 2015
About the Author
Eric Flint is a modern master of alternate history fiction, with three million books in print. He's the author/creator of the multiple New York Times best-selling Ring of Fire series, starting with first novel 1632. With David Drake he has written six popular novels in the "Belisarius" alternate Roman history series, and with David Weber he has collaborated on 1633 and 1634: The Baltic War, as well as four novels in Weber's Honorverse series. Flint was for many years a labor union activist. He lives near Chicago, Illinois.

Charles E. Gannon is the author of Compton Crook Award-winning, Nebula-nominated Fire with Fire, Trial by Fire, and Raising Caine in the Caine Riordan series. He is the coauthor with Eric Flint of 1636: The Papal Stakes and 1636: Commander Cantrell in the West Indies in Eric Flint's best-selling Ring of Fire series. With best seller Steve White, Gannon is the coauthor of Starfire series entries Extremis, Imperative, and Oblivion. Gannon is also the author of multiple short stories. He is a member of SIGMA, the "SF think tank," which has advised various intelligence and defense agencies since the start of the millennium. A former professor, Gannon lives near Annapolis, Maryland, with his wife and children.