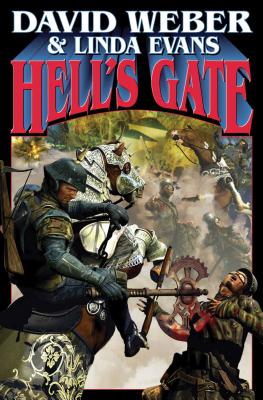 Hell's Gate (Multiverse Series #1)
Paperback

* Individual store prices may vary.
Description
#1 in the Hell's Gate science fiction/fantasy series returns! Matched with new hardcover entry The Road to Hell, a popular series by internationally best-selling author David Weber continues!

They Thought They Knew How The Universes Worked—THEY WERE WRONG

In the almost two centuries since the discovery of the first inter-universal portal, Arcana has explored scores of other worlds . . . all of them duplicates of their own. Multiple Earths, virgin planets with a twist, because the ''explorers'' already know where to find all of their vast, untapped natural resources. Worlds beyond worlds, effectively infinite living space and mineral wealth.

And in all that time, they have never encountered another intelligent species. No cities, no vast empires, no civilizations and no equivalent of their own dragons, gryphons, spells, and wizards.

But all of that is about to change. It seems there is intelligent life elsewhere in the multiverse. Other human intelligent life, with terrifying new weapons and powers of the mind . . . and wizards who go by the strange title of ''scientist.''

The Hell's Gate Series:
Hell's Gate
Hell Hath No Fury
The Road to Hell

About Hell's Gate:
"Magic and high tech collide in this exciting military SF novel from bestseller Weber . . . The authors treat both societies sympathetically and realistically, with human vices and virtues evenly distributed."—Publishers Weekly
Baen, 9781476780641, 816pp.
Publication Date: July 7, 2015
About the Author
With more than eight million copies of his books in print and 30 titles on the New York Times bestseller list, David Weber is a science fiction powerhouse. In the vastly popular Honor Harrington series, the spirit of C.S. Forester's Horatio Hornblower and Patrick O'Brian's Master and Commander lives on—into the galactic future. Books in the Honor Harrington and Honorverse series have appeared on 21 bestseller lists, including The Wall Street Journal, The New York Times, and USA Today. Additional Honorverse collaborations include the spin-off miniseries Manticore Ascendant with New York Times best-selling author, Timothy Zahn; and with Eric Flint, Crown of Slaves and Cauldron of Ghosts contribute to his illustrious list of New York Times and international bestseller lists.

Best known for his spirited, modern-minded space operas, Weber is also the creator of the Oath of Swords fantasy series and the Dahak saga, a science fiction and fantasy hybrid. Weber has also engaged in a steady stream of best-selling collaborations: the Starfire Series with Steve White; The Empire of Man Series with John Ringo; the Multiverse Series with Linda Evans and Joelle Presby; and the Ring of Fire Series with Eric Flint.

David Weber makes his home in South Carolina with his wife and children.
or
Not Currently Available for Direct Purchase