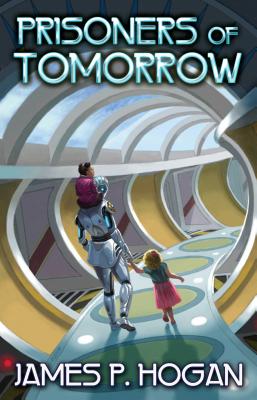 Prisoners of Tomorrow
Paperback

* Individual store prices may vary.
Description
TWO EPIC SCIENCE FICTION NOVELS BY A NEW YORK TIMES BEST SELLING AUTHOR TOGETHER IN ONE VOLUME: New York Times bestseller Endgame Enigma and Promethius Award winner Voyage from Yesteryear. Endgame Enigma
New York Times bestseller. In the near future, Russia has built Valentina Tereshkova, a space station a mile in diameter, a shining city in space. Its builders claim that the orbiting space city is a peaceful Utopian experiment, but American intelligence reports raise the ominous possibility that the space colony is actually a weapon built by the last heirs of the Soviet dictators.When scientist Paula Bryce and trained agent Lew McCain travel to the station to investigate, they become prisoners in the station's high-tech prison facilities. Escape seems impossible but if they can't escape, Armageddon is inevitable. . . . Voyage from Yesteryear:
Prometheus Award-winning novel. Late in our century, as nuclear war loomed, Americans sent a colonization spaceship manned by robots to an Earthlike planet in the Alpha Centauri system. On arrival, the robot crew used recorded DNA information to bring forth a generation of infants, whom they educated in accordance with the principles enunciated by the founders of the American government. Generations later, Earth has rebuilt after the war, unfortunately with authoritarian governments which now can send manned starships with more colonists to the new worlds. They'll show their distant relatives "help." But the robots educated their pupils much too well--the colonists are actually serious about all that life, liberty, the pursuit of happiness, and the inalienable rights of the individual stuff... About Endgame Enigma:
"Tautly constructed, well-plotted and well-written . .. placing Hogan] on the brink of joining the best-selling authors Dean R. Koontz and John Jakes . . ."--United Press International "Valentina Tereshkova will fascinate you. . . . A fascinating glimpse into the future."--Rave Reviews About Voyage from Yesteryear:
"The more I read of Voyage From Yesteryear, the more impressed I became and the more I enjoyed the book . . . it's a great story."--Dougs Book Reviews About James P. Hogan:
"Pure science fiction . . . Arthur C. Clarke, move over."--Isaac Asimov ." . . ambitious, expertly-handled . . . fascinating notions and nonstop plot twists in a taut, gripping narrative; a bravura performance."--Kirkus Reviews ." . . on the cutting edge of technology. . . . Hogans talent carrieds the reader from peak to peak in the story, while his knowledge of science . .. constitutes a speldid backdrop for the non-stop action."--Booklist ." . . Hogan, a dean of hard SF, parlays Pathways to Otherwhere] into an entertaining, imaginative yarn."--Publishers Weekly
Baen, 9781476780658, 848pp.
Publication Date: July 7, 2015
About the Author
James P. Hogan was a science fiction writer in the grand tradition, combining informed and accurate speculation from the cutting edge of science and technology with suspenseful story-telling and living, breathing characters. Born in London in 1941, he worked as digital system engineer and sales executive for several major computer firms before turning to writing full-time in 1979. His first novel, Inherit the Stars, was greeted by Isaac Asimov with the rave, "Pure science fiction . . . Arthur Clarke, move over!" and his subsequent work quickly consolidated his reputation as a major SF author. He wrote over thirty novels, nonfiction works, and mixed collections, including the New York Times bestsellers The Proteus Operation and Endgame Enigma and the Prometheus Award Winning novels Voyage from Yesteryear and The Multiplex Man. He lived in the U.S.A. for twenty years in the USA, then moved to the west coast of Ireland, where he died in 2010.
or
Not Currently Available for Direct Purchase