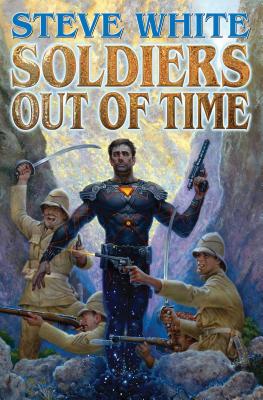 Soldiers Out of Time (Paperback)
Baen, 9781476780726, 256pp.
Publication Date: August 4, 2015
Other Editions of This Title:
Paperback (7/26/2016)
* Individual store prices may vary.
Description
Book #5 in Steve White's exciting TRA series. Jason faces down humanity's arch-enemies in an action-packed space adventure.

Special operations officer Jason Thanou of the Temporal Regulatory Authority must once again plunge into Earth's blood-drenched past to combat the plots of the Transhumanist underground to subvert that past and create a secret history leading up to the fulfillment of their mad dream of transforming humanity into a race of gods and monsters.

About Soldiers Out of Time:
"Creative . . . White seamlessly inserts his characters into history, blending science fiction and vintage military action to deliver a fast-paced, high-stakes story. The time travel leads to a twisty, clever series of surprises and plot mechanics."—Publishers Weekly

About Ghosts of Time:
"Meticulous research, vivid historical descriptions, and tense action sequences help flesh out this rousing time- travel adventure."—Publishers Weekly

About Pirates of the Timestreams:
"White expertly blends historical and futuristic elements … to create a fast-paced, detail-rich tale, seamlessly inserting his own inventions into factual events … an exciting, engaging story, accessible to new readers and thoroughly satisfying for established fans."—Publishers Weekly

About Steve White:
"White offers fast action and historically informed world-building."—Publishers Weekly

About Steve White's Forge of the Titans:
". . . recalls the best of the John Campbell era of SF. White's core audience of hard SF fans will be pleased ..."—Publishers Weekly

". . . Engaging entertainment . . . much suspense and many well-handled action scenes . . ."—Booklist


The TRA Series:
Blood of Heroes
Sunset of the Gods
Pirates of the Timestream
Ghosts of Time
Soldiers Out of Time
About the Author
Steve White completed a tour of duty in Vietnam as a naval officer. With David Weber, he has collaborated on Insurrection, Crusade, In Death Ground, and the New York Times best seller The Shiva Option. His most recent books for Baen are the Jason Thanous Time Travel series books, including Blood of Heroes, Sunset of the Gods, Pirates of the Timestream, Ghosts of Time, and Soldier Out of Time.
or
Not Currently Available for Direct Purchase