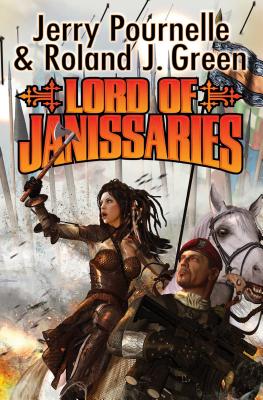 Lord of Janissaries, 1 (Baen #1)
Paperback

* Individual store prices may vary.
Description
Three best-selling Jerry Pournelle masterpieces in one volume for the first time: Janissaries and Tran. A modern soldier is transported by aliens to a world filled with warriors through the ages including medieval knights, Roman soldiers. His task: survival. Janissaries
Some days it just didn't pay to be a soldier. Captain Rick Galloway and his men had been talked into volunteering for a dangeorus mission--only to be ruthlessly abandoned when faceless CIA higher-ups pulled the plug on the operation. They were cut off in hostile teritory, with local troops and their Cuban advisors rapidly closing in. And then the alien spaceship landed... Clan and Crown and Storms of Victory
He didn't want to conquer the world. He had to. Captain Rick Galloway, formerly of the US Army, more recently a mercenary commander, was now Lord Rick on the planet Tran. Rescued by an alien spaceship from certain death when a mercenary assignment went sour, he and his men were dropped on a world distant from Earth, but inhabited by humans transplanted in the past from medieval Europe, from Imperial Rome, and from other now-vanished nations. Now the time of the Demon Star approaches, whose close approach and fierce heat will render much of Tran uninhabitable. To survive this fiery apocalypse, the warring nations of Tran must be united. Lord Rick doesn't want to conquer the world, but the alternative is certain extinction About Janissaries:
On the cover... is the clain 'No. 1 Adventure Novel of the Year.' And well it might be. - Milwaukee Journal
Baen, 9781476780795, 896pp.
Publication Date: September 1, 2015
About the Author
Jerry Pournelle is a reigning master of military science fiction, author of the series of novels about John Christian Falkenberg and his legion of interstellar mercenaries, and many other works, such as Janissaries, Exiles to Glory, High Justice, King David's Spaceship, Starswarm, and others. With Larry Niven he has collaborated on a string of bestselling novels, including Lucifer's Hammer, The Mote in God's Eye, Footfall, and many more. He holds advanced degrees in psychology, statistics, engineering, and political science, and has been involved professionally in all these fields. He and his wife live in Los Angeles. Roland J. Green has worked as a full-time writer and reviewer since he sold his first novel, Wandor's Ride, in 1973. Green's most prominent works are his military action adventures of the future, including the Starcruiser Shenandoah series, the Peace Company series, and Voyage to Eneh (2003). He is the coauthor of Tran with Jerry Pournelle.