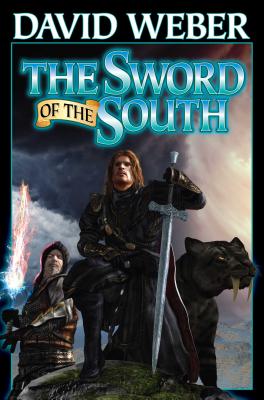 The Sword of the South (Baen #1) (Hardcover)
Baen, 9781476780849, 560pp.
Publication Date: August 4, 2015
Other Editions of This Title:
Mass Market (1/31/2017)
Paperback (5/3/2016)
MP3 CD (1/31/2017)
MP3 CD (1/5/2016)
* Individual store prices may vary.
Description
#1 in a NEW EPIC FANTASY SERIES by 28-times New York Times and international best seller David Weber, set within his Bahzell Bahnakson/War God universe. A swordsman who has been robbed of his past must confront an evil wizard with a world at stake. Know thyself. Its always good to know who you are, but sometimes thats a little difficult. Kenhodan has no last name, because he has no past . . . or not one he remembers, anyway. What he does have are a lot of scars and a lot of skills some exhilarating and some terrifying and a purpose. Now if he only knew where he'd gotten them and what that purpose was . . . . Wencit of Rm, the most powerful wizard in the world, knows the answers to Kenhodan's questions, but he can't or won't share them with him. Except to inform him that he's a critical part of Wencit's millennium-long battle to protect Norfressa from conquest by dark sorcery. Bahzell Bahnakson, champion of Tomank, doesnt know those answers and the War God isn't sharing them with him. Except to inform Bahzell that the final confrontation with the Dark Lords of fallen Kontovar is about to begin, and that somehow Kenhodan is one of the keys to its final outcome. Wulfra of Torfo doesn't know those answers, either, but she does know Wencit of Rm is her implacable foe and that somehow Kenhodan is one of the weapons he intends to use against her . . . assuming she can't kill both of them first. But in the far northern port city of Belhadan, an eleven-year-old girl with a heart of harp music knows the answers to all of Kenhodan's questions. . . and dares not share them with anyone, even the ancient wild wizard who loves her more dearly than life itself. It's not easy to face the future when you can't even remember your own past, but if saving an entire world from evil sorcerers, demons, devils, and dark gods was easy, anyone could do it. About The Sword of the South
"Weber returns to his epic fantasy world last depicted in War Maid's Choice . . . With the full pantheon of gods, wizards, elves, dwarves, and dark sorcery, this title is guaranteed to win the favor of Robert Jordan and Michael Sullivan enthusiasts. Designed as an entry point for first-time readers, it also is a great option for teens and adults."--Library Journal About David Weber's War Bahzell Bahnak series:
"Irresistibly entertaining."- Publishers Weekly

fun adventure full of noble steeds, fierce female fighters, dark sorcerers, serious swordplay, and plenty of tongue-in-cheek humor."- Locus About David Weber and the Honor Harrington series:
"Weber combines realistic, engaging characters with intelligent technological projection and a deep understanding of military bureaucracy in this long-awaited Honor Harrington novel...Fans of this venerable space opera will rejoice to see Honor back in action."-Publishers Weekly ." . .everything you could want in a heroine .... Excellent ... plenty of action."-Science Fiction Age "Brilliant Brilliant Brilliant "-Anne McCaffrey "Compelling combat combined with engaging characters for a great space opera adventure."-Locus "Weber combines realistic, engaging characters with intelligent technological projection . . . Fans of this venerable space opera will rejoice . . ."-Publishers Weekly
About the Author
With over seven and a half million copies of his books in print and eighteen titles on the New York Times bestseller list, David Weber is the science fiction publishing phenomenon of the new millennium. In the hugely-popular Honor Harrington series, the spirit of C.S. Forester's Horatio Hornblower and Patrick O'Brian's Master and Commander lives on--into the galactic future. Books in the Honor Harrington and Honoverse series have appeared on twenty-one bestseller lists, including those of The Wall Street Journal, The New York Times, and USA Today. While Weber is best known for his spirited, modern-minded space operas, he is also the creator of the Oath of Swords fantasy series and the Dahak saga, a science fiction and fantasy hybrid. Weber is has also engaged in a steady stream of best-selling collaborations including his Starfire Series with Steve White, which produced the New York Times bestseller The Shiva Option among others. Weber's collaboration with alternate history master Eric Flint led to the bestselling 1634: The Baltic War. His Honorverse collaborations with Flint in the Crown of Slave series are also highly popular, with latest entry, Cauldron of Ghosts, becoming a New York Times bestseller. His planetary adventure novels with military science fiction ace and multiple national best-selling author John Ringo includes the March to the Stars and We Few. Finally, Weber's teaming with Linda Evans and Joelle Presby produced the Multiverse series, including latest entry, The Road to Hell. David Weber makes his home in South Carolina with his wife and children.