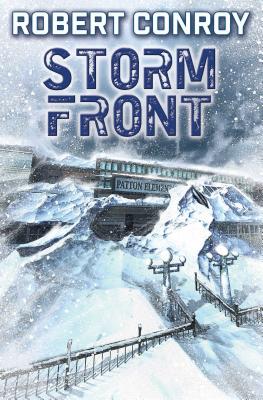 Storm Front, 1
Hardcover

* Individual store prices may vary.
Description
NATIONALLY BEST-SELLING AUTHOR. A snow storm of epic proportions shuts down the town of Sheridan, Michigan. The weather is dangerous enough on its own. But the bad weather has blown something even deadlier into town, and a duo of sadistic killers is on the loose. No one thought much about the storm. Not the National Weather Service and not the big-name meteorologists. Experienced local weatherman Wally Wellman thought there might be trouble, but even he couldn't predict the natural disaster that was about to lay siege to the quiet suburb of Sheridan, Michigan. Now, with resources stretched to their breaking point, Sheridan police officer Mike Stuart must try to keep the town safe. But there something is lurking in Sheridan. Something as cold as the snow and ice, and just as deadly. A pair of escaped convicts, on the run south, have been stranded in town. But they don't plan on laying low. And as the death toll rises, Officer Stuart must face down enemies far more dangerous --and unpredictable--than any storm. Robert Conroy's Rising Sun:
"Conroy extrapolates a new and militarily plausible direction for WWII . . . A thrilling adventure."--Booklist

About Robert Conroy's Himmler's War:
" Conroy] adds a personal touch to alternate history by describing events through the eyes of fictional characters serving on the front lines. VERDICT: Historical accuracy in the midst of creative speculation makes this piece of alternate history believable."-Library Journal About Red Inferno: 1945
"An ensemble cast of fictional characters. . . and historical figures powers the meticulously researched story line with diverse accounts of the horrors of war, making this an appealing read for fans of history and alternate history alike."--Publishers Weekly " E]ngrossing and grimly plausible. . .the suspense holds up literally to the last page."--Booklist About 1945:
" moving and thought-provoking. . ."--Publishers Weekly "Realistic. . ."--Booklist About 1942:
". . .fans of Tom Clancy and Agent Jack Bauer should find a lot to like here."--Publishers Weekly "A significant writer of alternate history turns here to the popular topic of Pearl Harbor, producing. . . this rousing historical action tale."--Booklist "A high-explosive what-if, with full-blooded characters."--John Birmingham, bestselling author of Without Warning About 1901:
". . .cleverly conceived. . .Conroy tells a solid what-if historical."--Publishers Weekly ". . . likely to please both military history and alternative history buffs."--Booklist
Baen, 9781476780870, 240pp.
Publication Date: December 1, 2015
About the Author
Robert Conroy was the author of a run of tremendously popular alternate history novels, including Himmler's War, Rising Sun, 1920: America's Great War, Liberty: 1784, and 1864: Custer in Chains for Baen Books. His 1942, which is set within a Japanese conquest of Hawaii, won the prestigious Sidewise Award for alternate histories. His family resides in the Chicago area.
or
Not Currently Available for Direct Purchase