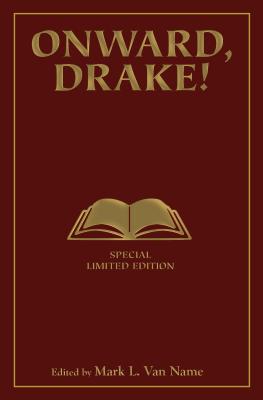 Onward, Drake! Signed Limited Edition
Hardcover

* Individual store prices may vary.
Description
SIGNED LIMITED LEATHER BOUND EDITION. David Drake has left an indelible mark on the science fiction and fantasy genres. He is considered the Grand Master of Military Science Fiction. Now, top authors in the field pay tribute to the man and his work in this all-new collection of stories and essays. This edition, signed by David Drake, will be limited to 1,000 copies and is sure to sell out fast. An instant collector's item. SIGNED LIMITED EDITION David Drake has left an indelible mark on the science fiction and fantasy genres. Now, top authors in the science fiction and fantasy field pay tribute to the man and his work in this all-new collection of stories and essays. Best-selling author David Drake has been creating topnotch military science fiction, space opera, and fantasy novels and stories for decades. In this all-original collection that appears as Drake is a Special Guest of the 2015 World Fantasy Convention, a stellar line-up of writers pays tribute to Drake with stories as broad in range as his own fiction. Each one comes with an illuminating afterword explaining the connection of the story to Drake and his work. In Eric Flint's "A Flat Affect" a king is no match for a pair of storytellers Gene Wolfe takes us to a strange and wondrous future in "Incubator" Larry Correia examines what it's like to face Hammer's Slammers from "The Losing Side" S.M. Stirling offers an insider's view of "Working with Dave, or, Inmates in Bellevue" Mur Lafferty shows what happens when a fairy visitor receives an unexpected welcome in "The Crate Warrior, the Doppelganger, and the Idea Woman" The book also features two new pieces from Drake himself: "The Great Wizard, Cabbage," a comic historical fantasy, and "Save What You Can," the first new Hammer's Slammers story in nearly a decade With more stories from editor Mark L. Van Name, Cecelia Holland, T.C. McCarthy, Barry N. Malzberg, Sarah Hoyt, Tony Daniel, John Lambshead, Hank Davis, Eric S. Brown, and Sarah Van Name, as well as appreciations from Baen Publisher Toni Weisskopf and Tor founder and Publisher Tom Doherty, Onward, Drake is a collection that fans of Drake's fiction--and anyone who enjoys a good story--will not want to miss About Onward, Drake
" R]uns the gamut from light-hearted, humorous pieces to touching tributes to the work's star, focusing largely on his military service. . . . Each story in the work pays tribute to some aspect of Drake and each tribute celebrates the life and contributions of one of the field's masters."--Publishers Weekly Praise for the work of David Drake: " P]rose as cold and hard's the metal alloy of a tank...rivals Crane and Remarque..." -Chicago Sun-Times "Drake couldn't write a bad action scene at gunpoint." -Booklist " R]ousing old-fashioned space opera." -Publishers Weekly "The fun is in the telling, and Mr. Drake has a strong voice. I want more " -Philadelphia Weekly Press " S]pace opera is alive and well. This series is getting better as the author goes along...character development combined with first-rate action and memorable world designs." -SFReader.com
Baen, 9781476780887, 288pp.
Publication Date: October 6, 2015
About the Author
Mark L. Van Name, whom John Ringo has said is "going to be the guy to beat in the race to the top of SFdom," has worked in the high-tech industry for over 30 years and today runs a technology assessment company in the Research Triangle area of North Carolina. A former Executive Vice President for Ziff Davis Media and a national technology columnist, he's published over a thousand computer-related articles and multiple science fiction stories in a variety of magazines and anthologies, including the Year's Best Science Fiction. David Drake was attending Duke University Law School when he was drafted. He served the next two years in the Army, spending 1970 as an enlisted interrogator with the 11th armored Cavalry in Viet Nam and Cambodia. Upon return he completed his law degree at Duke and was for eight years Assistant Town Attorney for Chapel Hill, North Carolina. He has been a full-time freelance writer since 1981. His books include the genre-defining and bestselling Hammer's Slammers series, the RCN series including What Distant Deeps, In the Stormy Red Sky, The Road of Danger, and many more.
or
Not Currently Available for Direct Purchase