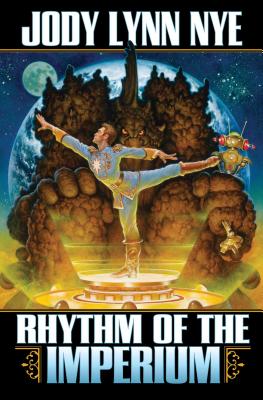 Rhythm of the Imperium, 3
Paperback

* Individual store prices may vary.
Description
Book Three in the View from the Imperium series from humorous SF master Jody Lynn Nye. Lieutenant Lord Thomas Kinago and his trusty constant companion, the unflappable Parsons, are back. And this time they've got a planet to save. The Zang, an elder race of the galaxy, may be a shrinking population, but they're also intelligent, curious, and powerful. What's more, they practice a most unusual art form: they bonsai star systems. Eager to witness this first hand, Lieutenant Lord Thomas Kinago, accompanied as always by his personal assistant Parsons, sets out on a several-week jaunt to see the Zang destroy a moon to enhance the beauty of a star system. But the trip is sidelined when Kinago's uncle offers to take him to the seldom seen human homeworld, Earth. Unable to resist, Kinago goes along, only to find on his return that the planet he's just visited may be in danger of being eradicated. Earth lies within the protective sphere of the Zang, but enemies of the Imperium are lobbying to have Sol system turned over to them. It is up to Kinago and Parsons to save Earth. Kinago has the key, but will he be able to persuade the Zang to spare the human homeworld before it's too late? About Jody Lynn Nye's Rhythm of the Imperium
" I]nfused with enough humor to keep you entertained and enough action to make you turn the pages."--Kirkus "The third in Nye's humorous space-opera series...fans of Robert Asprin and Toby Frost may enjoy Nye's offbeat latest."
--Booklist About Jody Lynn Nye's View from the Imperium series:
"Interstellar crime syndicates, political conspiracies, smuggling and fortunetelling combine . . . to deliver lighthearted, entertaining farce."--Galveston County Daily News Praise for the work of Jody Lynn Nye:
"I thoroughly enjoyed it, the plot, the settlement, the whole nine yards, and especially the twitch of humor at odd moments...a book I can thoroughly recommend." --Anne McCaffrey "An unusual story well-told, with characters it's a real pleasure to spend time with." --David Drake " An] innovative take on the well-loved theme of fairies and dangerous wishes." --Publishers Weekly on Wishing on a Star by Jody Lynn Nye and Angelina Adams.
Baen, 9781476780917, 432pp.
Publication Date: December 1, 2015
About the Author
Jody Lynn Nye is known for her numerous works of science fiction and fantasy include An Unexpected Apprentice and its sequel, A Forthcoming Wizard, Applied Mythology, Advanced Mythology, and others. She has collaborated with New York Times best-selling author Anne McCaffrey on The Death of Sleep, The Ship Who Won, Doona and other novels, and with another New York Times best-selling author, Robert Asprin, in his "Myth" series. She lives in Illinois with her husband and two cats of superior bearing.
or
Not Currently Available for Direct Purchase