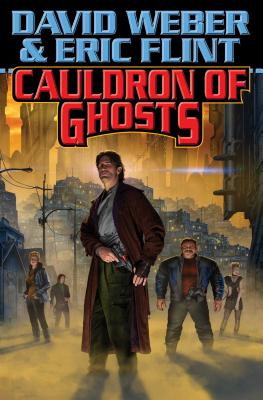 Cauldron of Ghosts (Crown of Slaves #3) (Mass Market)
Baen, 9781476781006, 848pp.
Publication Date: October 27, 2015
Other Editions of This Title:
Hardcover (4/8/2014)
Paperback (2/3/2015)
MP3 CD (10/27/2015)
Compact Disc (10/27/2015)
MP3 CD (11/1/2014)
Compact Disc (11/1/2014)
* Individual store prices may vary.
Description
NEW YORK TIMES BESTSELLER IN HARDCOVER. Sequel to national bestsellers Torch of Freedom and Crown of Slaves, Book Three in the Crown of Slaves, Honor Harrington universe. Secret agent Anton Zilwicki and Victor Cachat return in this classic tie-in series set in David Weber's Honorverse.

TOIL AND TROUBLE IN THE CAULDRON OF GHOSTS

The Mesan Alignment: a centuries-old cabal that seeks to impose its vision of a society dominated by genetic rank onto the human race. Now the conspiracy stands exposed by spies Anton Zilwicki and Victor Cachat—one an agent of Honor Harrington's Star Kingdom of Manticore, the other a Havenite operative. The outing of the Alignment has turned the galaxy's political framework topsy-turvy. Old coalitions have disintegrated. New alliances have been born.

For starters, the long and hard-fought war between the Republic of Haven and the Star Empire of Manticore is not only over, but these bitter enemies have formed a new pact. Their common foe: the Mesan Alignment itself.

But more information is needed to bring the Alignment out of the shadows. Now, defying the odds and relying on genetic wizardry themselves for a disguise, Zilwicki and Cachat return to Mesa—only to discover that even they have underestimated the Alignment's ruthlessness and savagery.

Soon they are on the run in Mesa's underworld, not only hunted by the Alignment but threatened by the exploding conflict on the planet between Mesa's overlords and the brutalized slaves and descendants of slaves who have suffered under their rule for so long. But if Zilwicki and Cachat succeed in rooting out the ancient conspiracy, a great evil may be finally removed from the galaxy—and on a long-oppressed planet, freedom may finally dawn.

The Crown of Slaves Honorverse Series:
Crown of Slaves
Torch of Freedom
Cauldron of Ghosts

About the Crown of Slave Series:
"Fans of Weber's Honor Harrington series … will be delighted with this offshoot in which he and coauthor Flint develop several situations and characters from other stories. ...This outstanding effort transcends the label 'space opera' and truly is a novel of ideas."—Publishers Weekly
About the Author
With over eight million copies of his books in print and thirty titles on The New York Times bestseller list, David Weber is a science fiction powerhouse. In the vastly popular Honor Harrington series, the spirit of C.S. Forester's Horatio Hornblower and Patrick O'Brian's Master and Commander lives on—into the galactic future. Books in the Honor Harrington and Honorverse series have appeared on twenty-one bestseller lists, including The Wall Street Journal, The New York Times, and USA Today. Additional Honorverse collaborations include a spin-off mini-series Manticore Ascendant with New York Times best-selling author, Timothy Zahn; and with Eric Flint, Crown of Slaves and Cauldron of Ghosts contributing to his illustrious list of New York Times and International Best Seller Lists. Best known for his spirited, modern-minded space operas, Weber is also the creator of the Oath of Swords fantasy series and the Dahak saga, a science fiction and fantasy hybrid. Weber has also engaged in a steady stream of best-selling collaborations, the Starfire Series with Steve White; The Empire of Man Series with John Ringo; the Multiverse Series with Linda Evans and Joelle Presby; and the Ring of Fire Series with Eric Flint. David Weber makes his home in South Carolina with his wife and children.

Eric Flint is a modern master of alternate history fiction, with over three million books in print. He's the author/creator of the multiple New York Times best-selling Ring of Fire series starting with first novel 1632. With David Drake he has written six popular novels in the "Belisarius" alternate Roman history series, and with David Weber collaborated on 1633 and 1634: The Baltic War and latest Honorverse series entry Cauldron of Ghosts. Flint's latest Ring of Fire novel is 1636: The Ottoman Onslaught. Flint was for many years a labor union activist. He lives near Chicago, Illinois.