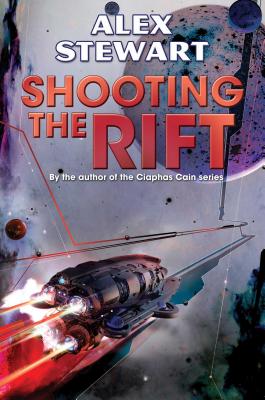 Shooting the Rift (Baen #1)
Paperback

* Individual store prices may vary.
Other Editions of This Title:
MP3 CD (1/28/2020)
Compact Disc (1/28/2020)
Mass Market (3/28/2017)
Description
ORIGINAL TRADE PAPERBACK. Space opera with a bang, as a young castout is caught up in an interstellar war. DISOWNED IN A HARSH GALAXY Cast out by his family and exiled from the Rimward Commonwealth, Simon Forrester must make a new life for himself as an apprentice to the powerful Commerce Guild. But others aboard the merchant vessel Stacked Deck have a hidden agenda that might lead directly to interstellar war. Now with rising tensions between the Commonwealth and the neighboring League of Democracies threatens to erupt into open war, Simon finds himself forced to choose between old and new loyalties, with the fate of an empire at stake About Shooting the Rift
"Stewart makes his faster than light travel] technology as accessible and relevant as the neuroware, genetic engineering, anti-gravity, and other assorted techno-furniture of the milieu. His various venues . . . are limned with vigor, vividness and vivacity. The personages are all true-to-life, delivering fine banter and plot-propelling dialogue, arising out of fully believable motivations and drives and desires. . . . the best of what ambitious adventure SF has always done and can plainly continue to do."--Locus
Baen, 9781476781181, 336pp.
Publication Date: April 5, 2016
About the Author
Born in Southend-on-Sea, a fading costal resort at the mouth of the Thames Estuary, in 1958, Alex Stewart has been writing stories since he could first hold a pen. Introduced to science fiction at an early age by his grandmother's enthusiasm for Thunderbirds, Godzilla movies, and weekly gift of comic books, he rapidly exhausted the local library's stock of juvenile SF, and resorted to raiding the adult shelves with his mother's ticket. Since his debut in British SF magazine Interzone, Stewart has has written short stories, novels, screenplays, comic scripts, reviews, criticism and RPG scenarios, both under his own name and the pseudonym Sandy Mitchell. As Sandy Mitchell, he's best known for the popular Commissar Cain series of Warhammer 40,000 tie-ins, described by David Drake as "First rate military SF." In the late nineties, he was also a staff writer on the BBC prime time technothriller series Bugs.
or
Not Currently Available for Direct Purchase