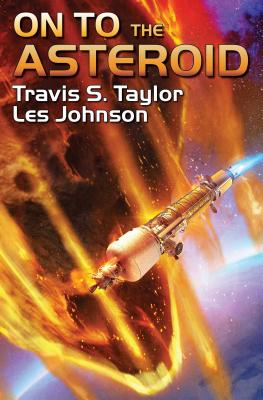 On to the Asteroid
Hardcover

* Individual store prices may vary.
Other Editions of This Title:
Mass Market (8/29/2017)
Description
Realistic thriller crackling with action and danger as an asteroid threatens the Earth, and dedicated astronauts and scientists try to save the planet. LOOMING DESTRUCTION FROM SPACE It's the beginning of a new golden age of space exploration. Finally, humanity is taking the commercialization of space to the next level--mining asteroids. The new gold rush of the commercial space era has begun. Another commercial venture, an attempt to put a hotel on the Moon, is seeking the space tourism gold of the ultra wealthy. And it seems as if the dream of finally sending people to Mars is finally going to happen using a ship propelled by a powerful nuclear rocket. But space travel isn't cut and dry, and there is nothing routine about it. In order to mine an asteroid the goal is to bring it closer to Earth, but orbital mechanics are tricky and close to Earth proves to be far too close for comfort--with looming destruction from space about to become a grim reality. Now astronauts, scientists, engineers, and people in all the burgeoning space businesses must team together to stop the asteroid before it is too late for humanity and the planet it calls home. About Travis S. Taylor:
" E]xplodes with inventive action."--Publishers Weekly on Travis S. Taylor's The Quantum Connection. " Warp Speed] reads like Doc Smith writing Robert Ludlum. . .You won't want to put it down."--John Ringo About Rescue Mode by Ben Bova and Les Johnson:
"... a suspenseful and compelling narrative of the first human spaceflight to Mars."--Booklist
Baen, 9781476781525, 352pp.
Publication Date: August 2, 2016
About the Author
Travis S. Taylor, Ph.D. is the co-creator and star of the National Geographic Channel's hit series, Rocket City Rednecks and can be seen on the Weather Channel on 3 Scientists Walk into a Bar. Taylor is a physicist who has worked on various programs for the Department of Defense and NASA for the past twenty years. His expertise includes advanced propulsion concepts, very large space telescopes, space-based beamed energy systems, future combat technologies and next generation space launch concepts. Taylor is also the author of pulse-pounding, cutting edge science fiction with the Tau Ceti Agenda series including One Good Soldier, The Tau Ceti Agenda, One Day on Mars, and Trail of Evil, as well as his ground-breaking Warp Speed series, with entries Warp Speed and The Quantum Connection. Les Johnson is a NASA physicist and author. By day, he serves as the Deputy Manager for the Advanced Concepts Office at the NASA George C. Marshall Space Flight Center in Huntsville, Alabama. In the early 2000s, he was NASA's Manager for Interstellar Propulsion Research and later managed the In-Space Propulsion Technology Project. He was technical consultant for the movie Lost in Space and has appeared on the Discovery Channel series, Physics of the Impossible in the "How to Build a Starship" episode. He has also appeared in three episodes of the Science Channel series Exodus Earth. He is the author of novel Back to the Moon, coauthored with Travis S. Taylor, and the coeditor of the science/science fiction collection Going Interstellar.
or
Not Currently Available for Direct Purchase