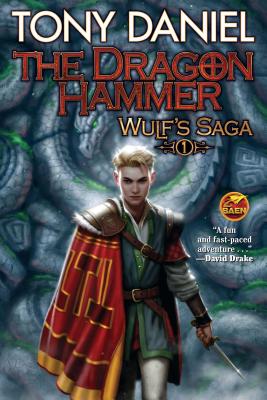 The Dragon Hammer (Wulf's Saga #1)
Paperback

* Individual store prices may vary.
Other Editions of This Title:
Digital Audiobook (7/28/2019)
Description
WULF'S SAGA BEGINS

Evil from the dawn of time is on the verge of domination—but Wulf von Dunstig figured none of that mattered to him. What could he do about it? After all, he was basically nobody—the sixteen-year-old third son of a duke destined for an uneventful life as a ranger. But when destiny comes calling, it turns out there is only Wulf to answer. After a devastating invasion of his native land, Wulf must rally the peaceful valley of Shenandoah. He must free his family and his land from the grip of intruders controlled by vampiric evil.

It's time to grow up. It's time to fight for what is right. It's time to wield the Dragon Hammer.

About The Dragon Hammer:
"A fun and fast-paced adeventure of a young man coming of age in a well-realized Tolkienesque world. The emphasis is on wonder—and courage—though there's plenty of magic also."—David Drake, author of best-selling Lord of the Isles fantasy series

"The setting is wonderful and rich, with recognizable geography from Virginia . . . The magic is interesting, with all types of half-human animals who are sentient, a magic tree which talks to Wulf telepathically, and vampire-like telepaths who perform blood rituals. . . . a very rich fantasy setting which is an interesting place to visit! We see Wulf change and grow up quite a bit in this volume and look forward to the next one, where hopefully he can get his love life sorted out."—BullSpec

About Tony Daniel:
"[D]azzling stuff."—New York Times Book Review

"Remember his name, and keep watching for whatever he does."—Roger Zelazny

"Daniel proves that the Golden Age of science fiction is right here and now."—Greg Bear

About Guardian of Night by Tony Daniel:
"[A] large cast of utterly graspable humans . . . .Following in the footsteps of Poul Anderson and Greg Bear, Tony Daniel makes a triumphant return."—Asimov's Science Fiction Magazine

". . .an unparalleled success and could easily become a classic in military science fiction. . .Daniel creates. . .believable aliens as well as humans who are all striving for the same goal: capture the Guardian of Night. I was surprised and delighted by the depth of characterization in this book and recommend it to you heartily."—Galaxy's Edge

About Metaplanetary, by Tony Daniel
"[A] panoramic tale of men and women engaged in a war that spans both virtual and normal realities and that calls into question the nature of human intelligence and the price of freedom."—Library Journal

"The best science fiction novel I've read in five years."—Lucius Shepard

About Superluminal, by Tony Daniel
"Daniel renders his 31st-century battles and human dilemmas utterly fascinating."—Washington Post Book World

"[T]eems with vivid characters and surprising action."—Publishers Weekly (starred review)

"[B]rilliantly realized. . . the story remains gripping throughout."—Booklist
Baen, 9781476781556, 512pp.
Publication Date: July 5, 2016
About the Author
Tony Daniel is an editor at Regnery Books and a former senior editor at Baen. He is the author of more than a dozen science fiction novels.
or
Not Currently Available for Direct Purchase