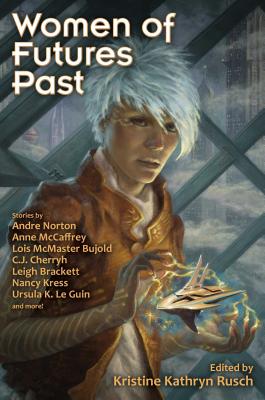 Women of Futures Past
Classic Stories
Paperback

* Individual store prices may vary.
Description
ANTHOLOGY OF GREAT SF STORIES BY RENOWNED WOMEN SF AUTHORS A collection of wonderful SF carefully selected by ground-breaking editor and author, Kristine Kathryn Rusch. Stories by Andre Norton, Anne McCaffrey, Lois McMaster Bujold, CJ Cherryh and more. Meet the Women of Futures Past: from Grand Master Andre Norton and the beloved Anne McCaffrey to some of the most popular SF writers today, such as Lois McMaster Bujold and CJ Cherryh. The most influential writers of multiple generations are found in these pages, delivering lost classics and foundational touchstones that shaped the field. You'll find Northwest Smith, C.L. Moore's famous smuggler who predates (and maybe inspired) Han Solo by four decades. Read Leigh Brackett's fiction and see why George Lucas chose her to write The Empire Strikes Back. Adventure tales, post-apocalyptic visions, space opera, aliens-among-us, time travel--these women have delivered all this and more, some of the best science fiction ever written Includes stories by Leigh Brackett, Lois McMaster Bujold, Pat Cadigan, CJ Cherryh, Zenna Henderson, Nancy Kress, Ursula K. Le Guin, Anne McCaffrey, C.L. Moore, Andre Norton, James Tiptree, Jr., and Connie Willis. About Women of Futures Past: ..".the stories are topnotch and varied, showing the incredible depth and breadth of science fiction, the killer introduction is worth the price of admission alone..." --San Francisco Book Review
Baen, 9781476781617, 288pp.
Publication Date: September 6, 2016
About the Author
Kristine Kathryn Rusch is an internationally best-selling author and award winning editor. She won a Hugo as editor of The Magazine of Fantasy & Science Fiction, and was the first female editor in that magazine's storied history. Along with husband Dean Wesley Smith, Kris is series editor for the bimonthly anthology magazine, Fiction River. As an author, she is the recipient of the Anlab, the Analog Magazine reader award for best science fiction short story of the year, and she is a two-time Shamus award finalist in the mystery field. Kris is the author of the Anniversary Day Saga, a mini-series inside the larger Retrieval Artist series, and under Kristine Grayson, she's the author of three novels in her Interim Fates series. Kris also writes a weekly blog about the state of the publishing industry, kriswrites.com. Her blog entries are also collected in several volumes of The Write Attitude. She's the author of Discoverability, a go-to book for writers on marketing their work, and Freelancer's Survival Guide, considered a bible for freelance writers of all stripes.
or
Not Currently Available for Direct Purchase