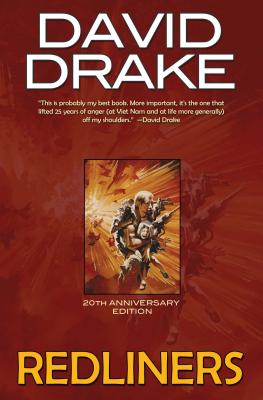 Redliners 20th Anniversary Edition
Paperback

* Individual store prices may vary.
Description
NEW EDITION OF DAVID DRAKE'S MILITARY SCIENCE FICTION MASTERPIECE. With an all-new introduction by the author!

They were the toughest fighters in the galaxy—that is, until they got used up. Major Arthur Farrell and the troops of Strike Force Company C41 had seen too much war with the alien Kalendru. They had too many screaming memories to be fit for combat again, but they were far too dangerous to themselves and others to be returned to civilian life.

The bureaucracy that administered human affairs arranged a final mission with the same ruthless efficiency as it conducted the war against the Kalendru. C41 would guard a colony being sent to a hell planet. But when the mission goes horribly wrong, Art Farrell and his troops find their lives on the line as never before, protecting civilians to whom bureaucratic injustice is a new experience, and death in war only a remote possibility. Until now.

A story of soldiers and civilians, of hope and—possibly— of redemption.

About David Drake:
"[P]rose as cold and hard as the metal alloy of a tank…rivals Crane and Remarque…"—Chicago Sun-Times

"Drake couldn't write a bad action scene at gunpoint."—Booklist
Baen, 9781476781624, 336pp.
Publication Date: August 2, 2016
About the Author
David Drake was attending Duke University Law School when he was drafted. He served the next two years in the Army, spending 1970 as an enlisted interrogator with the 11th Armored Cavalry in Vietnam and Cambodia. Upon return, he completed his law degree at Duke and was for eight years assistant town attorney for Chapel Hill, North Carolina. He has been a full-time freelance writer since 1981. His books include the genre-defining and best-selling Hammer's Slammers series and the nationally best-selling RCN series, including In the Stormy Red Sky, The Road of Danger, The Sea without a Shore, and Death's Bright Day.
or
Not Currently Available for Direct Purchase