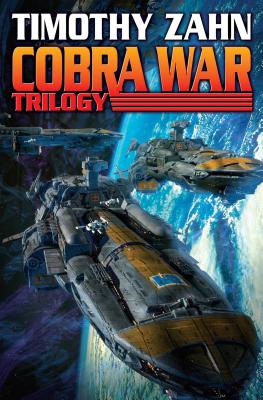 The Cobra War Trilogy
Paperback

* Individual store prices may vary.
Description
Contains all three novels of the Cobra War series by New York Times #1 best-selling author Timothy Zahn. Cobra warriors: technologically enhanced and implanted with an arsenal of covert weaponry to fight against alien foes and evil humans. Three complete novels together for the first time: Cobra Alliance, Cobra Guardian, and Cobra Gamble. Cobra Alliance
Earth had won its war with the Troft because of the Cobras, a guerilla force whose weapons were surgically implanted, invisible to the unsuspecting eye, yet undeniably deadly. Now the Moreau family, filled with Cobra warriors, is seen as a problem, not a solution. An urgent cry for help arrives from the secretive planet Qasama. Is it a true distress signal, or a trap for the Cobras? Jin Moreau and her son Merrick must journey into danger to find out. Cobra Guardian
One young Cobra must forge a new political order as a deadly alien enemy strikes. Earth has won a previous war with the deadly Troft and grown soft, but now the aliens are back Jasmine Moreau Broom, descendant of a now-legendary Cobra family, must rally the Cobras to war after a devastating attack on every planet with Cobras on it nearly succeeds in wiping them out entirely. The key to victory lies with Jasmine's quest to uncover a secret that might turn the tide while searching on a world that is under full-on alien attack. Cobra Gamble
The Troft invasions of Qasama and the Cobra Worlds has had at least one result: it has turned long-time antagonists into uneasy and unwilling allies. As the aliens battle to consolidate their conquered territories, a small group of Cobras and Qasaman Djinn work together to create a victory that will rock the invaders to the core. Now one young Cobra must forge a new political order as a devastating alien enemy strikes--an enemy more deadly than any humanity has ever faced. About Timothy Zahn:
"Zahn keeps the story moving at a breakneck pace, maintaining excitement."--Publishers Weekly " Y]ou can count on Timothy Zahn for three things: clean, sparse prose; good pacing; and great action scenes. The first book in the Cobra War series hits all those marks in admirable style and makes for a quick, entertaining sci-fi novel."--Blogcritics " Conqueror's Heritage] is another finely wrought space adventure . . . with] social, political and emotional complications, all of which Zahn treats with his usual skill."--Booklist "Zahn paints every detail in Angelmass] with gleamy realism . . . scientific dialogue that streams with starship hardware and military trooper talk . . . immensely appealing."--Kirkus Review
Baen, 9781476781655, 928pp.
Publication Date: July 5, 2016
About the Author
Timothy Zahn is a Hugo Award-winner and author of the New York Times #1 bestseller Heir to the Empire. Born in Chicago, he earned a B.S. in physics from Michigan State University and an M.S. in physics from the University of Illinois. He sold his first story to Analog in 1978, and immediately attracted attention as a new writer of science fiction based on real, cutting-edge science. Baen published his popular Cobra trilogy in one volume. His other popular series include the Conqueror and Dragonback novels. Zahn has written over twenty novels, including the recent works A Call to Arms and Cobra Outlaw.
or
Not Currently Available for Direct Purchase