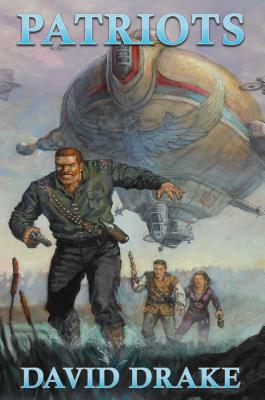 Patriots
Paperback

* Individual store prices may vary.
Other Editions of This Title:
MP3 CD (6/7/2016)
Mass Market Paperbound (8/25/2009)
Description
A brother and sister just entering their twenties, surviving with grit and courage on a frontier planet--on the eve of galactic revolution Down with the Empire David Drake science fiction classic reissued for a young adult audience 14 and up. THE FRONTIER: TWENTY-FIFTH CENTURY STYLE Mark Maxwell is a young man from Quelhagen, a colonial planet nearly as civilized as Earth herself. He's touring the distant fringes of human settlement to complete his education. Amy Bannock was born on the frontier, but she's been raised with as much gentility and culture as the environment permits. Yerby Bannock, Amy's brother, is a big, powerful sort who is always cheeful--and most happy when he's clearing a room in a brawl. Together the three of them are on hand to protect the raw colony of Greenwood from speculators--using the courts when they can and using brute force when that's the only method that works. Brute force is always Yerby's method of choice, but he's generally willing to listen to Mark and Amy when he figures they have a point. It's a story that sweeps from sprawling farms to courtrooms, from rain-sodden transfer points to luxury hotels. Conflict may mean a fistfight, a violent kidnapping, or tanks rolling down the street side by side. But underneath the squabbles and skirmishes, there's the threat of a revolution which will pit the colonies against their mother world, Earth. If revolution comes, Mark, Amy and Yerby will be in that middle of it too. And the revolution is coming About David Drake:
" P]rose as cold and hard as the metal alloy of a tank . . . rivals Crane and Remarque..."--Chicago Sun-Times
Baen, 9781476781914, 336pp.
Publication Date: October 4, 2016
About the Author
David Drake was attending Duke University Law School when he was drafted. He served the next two years in the Army, spending 1970 as an enlisted interrogator with the 11th Armored Cavalry in Vietnam and Cambodia. Upon return he completed his law degree at Duke and was for eight years Assistant Town Attorney for Chapel Hill, North Carolina. He has been a full-time freelance writer since 1981. His books include the genre-defining and best-selling Hammer's Slammers series, the nationally best-selling RCN series, including In the Stormy Red Sky, The Road of Danger, and The Sea without a Shore, and most recently, with John Lambshead, the Citizen series entries Into the Hinterlands and Into the Maelstrom.
or
Not Currently Available for Direct Purchase