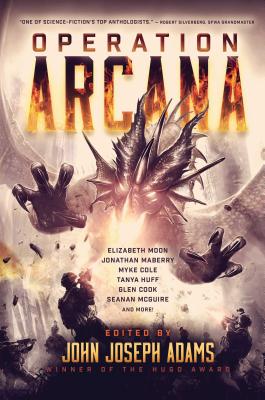 Operation Arcana (Baen #1)
Mass Market Paperbound

* Individual store prices may vary.
Other Editions of This Title:
Digital Audiobook (5/4/2015)
Paperback (3/3/2015)
Compact Disc (5/5/2015)
MP3 CD (5/5/2015)
Compact Disc (5/5/2015)
Description
High fantasy, contemporary and urban fantasy, fantasy action and adventure all set in a military vein by top authors including Jonathan Maberry, Tobias Buckell, Elizabeth Moon, Tanya Huff, Glen Cook, Simon R. Green, Seanan McGuire, and Linda Nagata. In the realms of fantasy, the battlefield is where heroism comes alive, magic is unleashed, and legends are made and unmade. From the War of the Ring, Tolkien's epic battle of good versus evil, to The Battle of the Blackwater, George R.R. Martin's grim portrait of the horror and futility of war, these fantastical conflicts reflect our highest hopes and darkest fears, bringing us mesmerizing visions of silver spears shining in the sun and vast hordes of savage beasts who threaten to destroy all that we hold dear. Now, acclaimed editor John Joseph Adams is sounding the battle cry and sixteen of today's top authors are reporting for duty, spinning never-before-published, spellbinding tales of military fantasy, including a Black Company story from Glen Cook, a Paksenarrion story from Elizabeth Moon, and a Shadow Ops story by Myke Cole. Within these pages you'll also find World War I trenches cloaked in poison gas and sorcery, modern day elite special forces battling hosts of the damned, and steampunk soldiers fighting for their lives in a world torn apart by powers that defy imagination. Featuring both grizzled veterans and fresh young recruits alike, including Tanya Huff, Simon R. Green, Carrie Vaughn, Jonathan Maberry, and Seanan McGuire, Operation Arcana is a must for any military buff or fantasy fan. You'll never look at war the same way again. CONTRIBUTORS:
Elizabeth Moon
Tobias Buckell & David Klecha
Myke Cole
Jonathan Maberry
Genevieve Valentine
Django Wexler
Yoon Ha Lee
Weston Ochse
Myke Cole
Ari Marmell
Tanya Huff
Carrie Vaughn
TC McCarthy
Glen Cook
Simon R. Green
Seanan McGuire
Linda Nagata About John Joseph Adams:
"John Joseph Adams has become one of those editors who I know will put together something I will love to read and know that the book I'm about to purchase isn't going to let me down." --Wil Wheaton "Merits a place on fantasy fans' bookshelves." --Publishers Weekly, on Epic: Legends of Fantasy "A genuine triumph . . . A] 'must buy' for every sci-fan you know." --Romantic Times, a "Top Pick" for February 2013, on The Mad Scientist's Guide to World Domination
Baen, 9781476781990, 448pp.
Publication Date: September 27, 2016
About the Author
John Joseph Adams is the editor of John Joseph Adams Books, an SF/Fantasy imprint from Houghton Mifflin Harcourt. He is also the series editor of Best American Science Fiction & Fantasy, as well as the bestselling editor of many other anthologies, including Wastelands, Brave New Worlds, and The Living Dead. Recent books include Operation Arcana, Press Start to Play, Loosed Upon the World, and The Apocalypse Triptych (consisting of The End is Nigh, The End is Now, and The End Has Come). Called "the reigning king of the anthology world" by Barnes & Noble, John is a two-time winner of the Hugo Award (for which he has been nominated nine times) and is a seven-time World Fantasy Award finalist. John is also the editor and publisher of the digital magazines Lightspeed and Nightmare, and is a producer for WIRED's The Geek's Guide to the Galaxy podcast. He also served as a judge for the 2015 National Book Award. Find him online at johnjosephadams.com and @johnjosephadams.
or
Not Currently Available for Direct Purchase