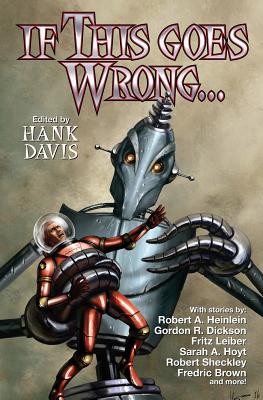 If This Goes Wrong . . .
Mass Market

* Individual store prices may vary.
Description
Science fiction tales, some humorous and some not-so-funny, about the downside of the future—and how to deal with a universe ruled by Murphy's Law! Includes stories by Robert A. Heinlein, Sarah A. Hoyt, Fritz Leiber, Gordon R. Dickson, Lester del Rey, Christopher Anvil, Fredric Brown, and more.

WHAT COULD GO WRONG . . . ?

Progress! It's wonderful—though it sometimes has unexpected and undesirable side effects. Read the long warning list of possible side effects on a medicine bottle's label sometime . . . the part in really tiny print.

But surely the benefits of modern technology outweigh the drawbacks. Until they don't. Remember how increasingly deadly weapons, from the machine gun to the H-bomb, were supposed to make war too horrific to even be contemplated? Didn't happen. The cell phone has made it possible to phone from almost anywhere—too bad if you wanted to be out of reach. And civilization is so big and complicated, that a breakdown of any part can have disastrous consequences. Modern transportation makes it possible to get anywhere in a hurry, though traffic jams and overextended airports may slow the hurry part to a crawl. And it also can ensure that a new disease can go all over the planet in a few days. Then, there's the sheer complexity of society itself, from interminable waits at the DMV to trying to get tech help on the phone ("Your call is important to us . . .").

And that's just the present day. What new technologies, new ways of organizing (or disorganizing) society, new confused and confusing government bureaucracies, new ways for small disgruntled groups to wreak havoc, and worse, will the future bring? Will privacy keep eroding? Could computers and robots take over? Maybe they wouldn't want to. And if the pace of modern life is driving you batty, just wait to see what's on the horizon.

Exploring such scary, yet fascinating, possibilities are such masters of science fiction as Robert A. Heinlein, Sarah A. Hoyt, Fritz Leiber, Gordon R. Dickson, Lester del Rey, Christopher Anvil, Fredric Brown, and more, writers who have seen the future—and it may not work . . .

Priase for If This Goes Wrong . . . :

"A strong collection with a number of clever stories that deserve to be reintroduced to the public. For those who enjoy the Golden Age of Science Fiction and have a sense of the absurd this is a definite buy."—Tangent

Praise for previous anthologies edited by Hank Davis

In Space No One Can Hear You Scream
". . . the 13 tales in this collection blend sf with horror to demonstrate the resiliency of both genres . . . offers strong tales by the genre's best storytellers." —Library Journal

". . . first-rate science fiction, demonstrating how short stories can still entertain." —Galveston County Daily News

A Cosmic Christmas 2 You
"This creative and sprightly Christmas science fiction anthology spins in some surprising directions . . . A satisfying read for cold winter evenings . . . a great stocking stuffer for SF fans." —Publishers Weekly

As Time Goes By
"As Time Goes By . . . does an excellent job of exploring not only romance through time travel—relationships enabled or imperiled by voyaging through time—but the intrinsic romance of time travel itself . . . The range of styles and approaches is as wide as the authors' sensibilities and periods might suggest . . . full of entertaining and poignant stories . . ." —Alvaro Zinos-Amaro, IntergalacticMedicineShow.com



Baen, 9781476782027, 368pp.
Publication Date: December 27, 2016
About the Author
Hank Davis is a senior editor at Baen Books. He served in Vietnam in the 101st Airborne Division and has had stories in Analog Science Fiction, If, The Magazine of Fantasy and Science Fiction, and anthologies Orbit, and (theoretically) Harlan Ellison's The Last Dangerous Visions.
or
Not Currently Available for Direct Purchase