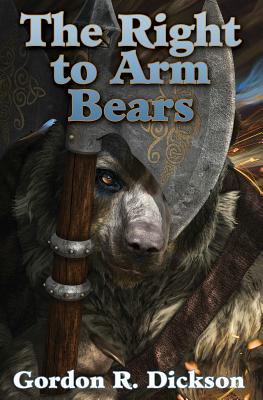 The Right to Arm Bears
Paperback

* Individual store prices may vary.
Description
A classic of science fiction from SF legend Gordon R. Dickson, winner of three Hugo awards, a Nebula award, and an inductee into the Science Fiction Hall of Fame. Humans and alien adversaries contend on a world whose inhabitants resemble bears both in appearance and in temperament.

A BEAR OF A CHOICE!

Planet Dilbia is in a crucial location for both humans and their adversaries, the Hemnoids. Therefore making friends with the Dilbians and establishing a human presence there is of the utmost importance, which may be a problem, since the bearlike Dilbians stand some nine feet tall, and have a high regard for physical prowess. They're not impressed by human technology, either. A real man, er, bear doesn't need machines to do his work for him.

But Dilbians are impressed by sharp thinking, and some have expressed a grudging admiration for the logical (and usually sneaky) mental maneuvers that the human "shorties" have used to get themselves out of desperate jams. Just maybe that old human craftiness will win over the Dilbians to the human side. If not, humanity loses a nexus, and the Dilbians will learn just how unbearable Hemnoids can be!

About Gordon R. Dickson:
"Dickson is one of SF's standard-bearers."—Publishers Weekly

"Dickson has a true mastery of pacing and fine understanding of human beings."—Seattle Post Intelligencer

"A masterful science fiction writer."—Milwaukee Journal
Baen, 9781476782058, 400pp.
Publication Date: November 1, 2016
About the Author
Gordon R. Dickson (1923-2001) was one of the most prolific and popular science fiction writers of the 20th Century, frequently nominated for the Hugo and Nebula Awards and winning three Hugos and one Nebula. He also received the Jupiter, August Derleth, and Skylark Awards, and was inducted into the Science Fiction Hall of Fame. He published nearly fifty solo novels, as well as several collaborations with such SF masters as Poul Anderson, Ben Bova, Keith Laumer, and Harry Harrison, and over one hundred and fifty short stories, novelettes, and novellas. His most popular works were the novels and shorter pieces in the Childe cycle (which included the Dorsai stories). Also very popular was his Dragon series of fantasy novels, which began with the award-winning The Dragon and the George, and continued for a total of nine novels, and the humorous Hoka stories, co-authored with Poul Anderson.
or
Not Currently Available for Direct Purchase