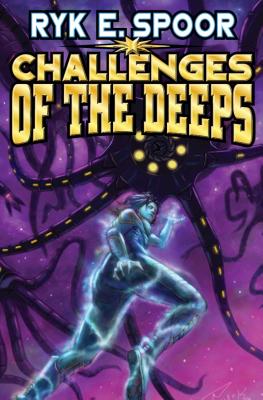 Challenges of the Deeps, 3 (Grand Central Arena #3)
Paperback

* Individual store prices may vary.
Other Editions of This Title:
MP3 CD (6/13/2017)
Description
SEQUEL TO GRAND CENTRAL ARENA AND SPHERES OF INFLUENCE. The climax of the Arenaverse adventure SF series The Arena: a vast alien otherspace that all species were forced to enter when they discovered faster-than-light travel. The Arena: where the lives of entire species might hang in the balance in a single Challenge. The Arena: filled with mysteries, alliances, betrayals, opportunities, and hideous dangers for individual and empire alike. And the only thing you couldn't do . . . was refuse to play the Arena's game. Ariane Austin and her crew had learned these lessons the hard way, and--with luck, skill, and sheer will, had managed to survive so far. But now a debt of honor to Humanity's oldest, if sometimes self-serving, ally Orphan has come due. The threat of war looms with the xenophobic Molothos, one of the five Great Factions; the dark and omnipresent legacy of the Hyperion Experiment lingers. As Leader of the Faction of Humanity, Captain Ariane Austin had to deal with all of these problems, and deal with them soon. For within her was also the alien power that the Shadeweavers and the Faith had sealed away--with a seal that would not last forever. She needed to find a way to control that power before it broke free--or more than just Humanity would pay the price. Now Ariane must travel with Orphan into the legendary Deeps of the Arena, far from any known Spheres--to a destination only the enigmatic alien knows, leaving behind one of her most trusted friends and advisors to confront whatever new trials the Arena may throw at Humanity in her absence. But before Ariane can depart, she must deal with a minor matter of a Challenge against one of the Great Factions--a Challenge with an entire species' citizenship in the Arena at stake About Spheres of Influence:
"Fast and entertaining action and a world that has the feel of Asimov's Foundation series."--Sarah A. Hoyt, author of the Darkship saga About Ryk E. Spoor's Grand Central Arena:
"...an imaginative piece of space opera that's set on a near-future Earth where artificial intelligence is taken for granted."--Shiny Reviews "Grand Central Arena' is space opera in the grand old tradition . . . but with modern sensibilities and awareness of current speculations in cutting edge physics."--Fantasy Book Critic About the Threshold Series by Ryk E. Spoor and Eric Flint
". . . fast-paced sci-fi. . . light in tone and hard on science . . ." --Publishers Weekly ". . . the series is filled with] linguistics, biology, physics, and evolution further the story, as well as wacky humor, academic rivalries, and even some sweet romances." --School Library Journal About Ryk E. Spoor's Phoenix Rising:
"A winner Great characters, and thrilling adventure. I want more "--Ed Greenwood, best-selling author of the Forgotten Realms series " E]xciting adventure, scary monsters, strange gods, and wondrous magic."--Lawrence Watt-Evans.
Baen, 9781476782089, 448pp.
Publication Date: March 7, 2017