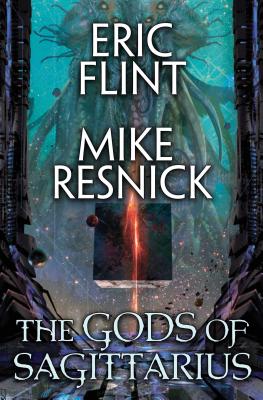 Gods of Sagittarius
Hardcover

* Individual store prices may vary.
Other Editions of This Title:
MP3 CD (8/29/2017)
Mass Market (6/26/2018)
Description
A grand alternate history, science fiction adventure from multiple New York Times best-selling author Eric Flint, creator of the Ring of Fire alternate history series, the Jao Empire series, and the Boundary series, and multiple Hugo award winner and science fiction legend Mike Resnick.

Russ Tabor is one of the top security specialists in the galaxy. Much against his will, he finds himself assigned to provide protection for Rupert Medawar Narayan Shenoy—"Lord Shenoy," as he likes to style himself—who is probably the human race's most brilliant savant. Shenoy has become convinced that the race of ancient aliens known as the Old Ones possessed powers unknown to any modern intelligent species. He believes they had harnessed forces which may well have been actual magic, giving the Old Ones the stature of gods.

Off Russ and Shenoy go to find the secret. Meanwhile, Occo, a member of the alien race known as the Nac Zhe Anglan, returns to her religious creed's home cloister to find that it has been completely destroyed—and by means which suggest that the Old Ones were the perpetrators. Yet the Old Ones, those ancient and inimical gods of the galaxy, were thought to have perished eons before.

Occo is not a savant of any kind. She is a shaman castigant, a warrior of her creed. Her purpose now is to seek revenge, not to uncover the secrets of the Old Ones. But she cannot do the one without first doing the other. So, she and her familiar Bresk set ought to track down those long-gone deities.

Now human adventures and an alien shaman are on a collision course with the truth: despite their many differences, only if they unite their forces do they stand any chance of surviving the coming encounter with the gods of Sagittarius.

Praise for Gods of Sagittarius:

". . . [T]he book makes for a breezy and fun reading experience. Fans of Flint or Resnick's previous works will particularly enjoy this, but any general sf reader looking for a light and entertaining read should give it a try."—Booklist

About Eric Flint's groundbreaking Ring of Fire series:
"This alternate history series is . . . a landmark…"—Booklist

" . . . reads like a technothriller set in the age of the Medicis . . . "—Publishers Weekly

About Eric Flint's best-selling Jao Empire series coauthored with K.D. Wentworth and David Carrico:
"The action is fast and furious . . . a trimphant story . . . "—The Midwest Book Review

"Building to an exhilarating conclusion, this book cries out for a sequel."—Publishers Weekly

About Eric Flint's Boundary series, coauthored with Ryk E. Spoor:
". . . fast-paced sci-fi espionage thriller . . . light in tone and hard on science . . ." —Publishers Weekly on Boundary

"The whole crew from Flint and Spoor's Boundary are back . . . Tensions run high throughout the Ceres mission . . . a fine choice for any collection." —Publishers Weekly on Threshold

"[P]aleontology, engineering, and space flight, puzzles in linguistics, biology, physics, and evolution further the story, as well as wacky humor, academic rivalries, and even some sweet romances." —School Library Journal on Boundary
Baen, 9781476782126, 336pp.
Publication Date: May 2, 2017
About the Author
Eric Flint is a modern master of alternate history fiction, with 3 million books in print. He's the author/creator of the multiple New York Times best-selling Ring of Fire series, starting with first novel 1632. With David Drake he has written six popular novels in the "Belisarius" alternate Roman history series, and with David Weber, he has collaborated on 1633 and 1634: The Baltic War, as well as four novels in Weber's Honorverse series. Flint was for many years a labor union activist. He lives near Chicago, Illinois.
or
Not Currently Available for Direct Purchase