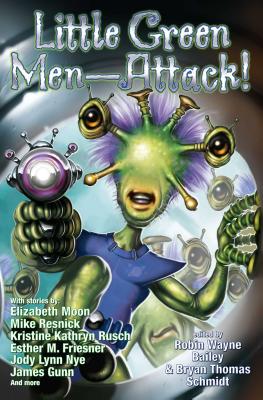 Little Green Men--Attack!
Paperback

* Individual store prices may vary.
Description
From Hugo-nominated editor Bryan Thomas Schmidt and Nebula nominated author Robin Wayne Bailey, here are nineteen top-notch science fiction stories guaranteed to make you think -and- laugh, featuring such major writers as Robert Silverberg, Mike Resnick, Allen M. Steele, Esther Friesner, Elizabeth Moon, Seanan McGuire, Jody Lynn Nye, James Gunn, Kristine Kathryn Rusch and many more. When Little Green Men Attack, It's All-out Laugh Warfare From the far reaches of outer space they come--inscrutable aliens, malicious invaders, wacky tourists from another planet--to conquer, study, and tickle us. From the battlefields of the Ozarks to the marble halls of the Boston Library, from Central Park to the skies above Washington, on the moon and in the seediest bars of Kansas City-- they're here. But do they really know who they're up against? Not hardly COMPLETE AUTHOR LIST:
Mike Resnick, Kristine Kathryn, Dantzel Cherry, Ken Scholes, Jody Lynn Nye, Seanan McGuire, Martin L. Shoemaker, Steven H. Silver, Selina Rosen, Beth L. Cato, Peter J. Wacks & Josh Vogt, Allen M. Steele, Elizabeth Moon, Esther M. Friesner, K.C. Ball, James Gunn, Bryan Thomas Schmidt & Alex Shvartsman, Robert Silverberg, Robin Wayne Bailey About Little Green Men--Attack : "Hard science fiction, time travel, urban fantasy, space opera and the downright weird. . . . Its 20 stories will all make you laugh and provide a break from earthbound cares."--The Daily News of Galveston County About Mission: Tomorrow, edited by Bryan Thomas Schmidt:
"This themed anthology . . . will appeal to a wide range of readers, who will appreciate the diversity of stories . . . a solid introduction to a classic genre."--Kirkus "Editor Schmidt adds grandmasters to a mix of newer established names and balances the tragic with the humorous."--Publishers Weekly About Shattered Shields, edited by Jennifer Brozek and Bryan Thomas Schmidt:
"In this well-built anthology, seventeen original stories cut to the heart of military fantasy, diving directly into the most exciting moments of dramatic bravery, grand battles, and life-changing heroism. . . . Readers who prefer to cut straight to the action, but want more depth than pure hack-and-slash, will find these offerings appealing."--Publishers Weekly "An inventive and thought-provoking set of tales that capture the bravery and terrors of battle. Carries the banner of military fantasy proudly."--John Marco, author of The Bronze Knight Series About The Raygun Chronicles, edited by Bryan Thomas Schmidt:
"Fans of sf should enjoy this stylistically varied homage to a genre as old as the fiction . . . "--Library Journal About Beyond the Sun, edited by Bryan Thomas Schmidt:
"Beyond the Sun mixes courage, redemption, and stark terror in tales of distant worlds. Buckle in."--Jack McDevitt, author of Firebird
Baen, 9781476782133, 304pp.
Publication Date: March 7, 2017
About the Author
Bryan Thomas Schmidt is an author and a Hugo-nominated editor of adult and children's speculative fiction. His debut science fiction novel was The Worker Prince, which received Honorable Mention on Barnes & Noble's Year's Best SF of 2011, and was followed by sequels The Returning and The Exodus. His children's books include 102 More Hilarious Dinosaur Jokes For Kids and Abraham Lincoln: Dinosaur Hunter--Land Of Legends. Schmidt has edited edited anthologies Space Battles: Full Throttle Space Tales #6, Beyond The Sun, Raygun Chronicles: Space Opera For a New Age, Galactic Games, and, with Jennifer Brozek, coedited military high fantasy original anthology, Shattered Shields. Schmidt hosts #sffwrtcht (Science Fiction & Fantasy Writer's Chat) Wednesdays at nine p.m. ET on Twitter. Robin Wayne Bailey is an American fantasy and science fiction author. He's the past president of the Science Fiction and Fantasy Writers of America. He is a cofounder of the Science Fiction and Fantasy Writer's Hall of Fame. The SF Hall of Fame merged in 2004 with Paul G. Allen's Vulcan Enterprises in Seattle and became part of the Science Fiction Museum and Hall of Fame. Robin continues to serve on its annual induction committee. Bailey graduated from North Kansas City High School, and received a B. A. in English and Anthropology and a M. A. in English Literature from Northwest Missouri State University. In addition to his work as an editor, Robin's works include Shadowdance, the Dragonkin trilogy, the Frost series, the Brothers of the Dragon series and Swords Against the Shadowland, among many other novels and stories.
or
Not Currently Available for Direct Purchase