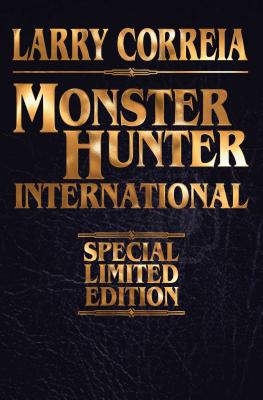 Monster Hunter
Leather

* Individual store prices may vary.
Other Editions of This Title:
Hardcover (5/29/2012)
Description
A STUNNING LIMITED EDITON OF THE FIRST NOVEL IN THE INTERNATIONALLY AND NEW YORK TIMES BEST-SELLING MONSTER HUNTER SERIES CONTAINS AN ALL NEW INTRODUCTION BY LARRY CORREIA Five days after Owen Zastava Pitt pushed his insufferable boss out of a fourteenth story window, he woke up in the hospital with a scarred face, an unbelievable memory, and a job offer. It turns out that monsters are real. All the things from myth, legend, and B-movies are out there, waiting in the shadows. Officially secret, some of them are evil, and some are just hungry. On the other side are the people who kill monsters for a living. Monster Hunter International is the premier eradication company in the business. And now Owen is their newest recruit. It's actually a pretty sweet gig, except for one little problem. An ancient entity known as the Cursed One has returned to settle a centuries old vendetta. Should the Cursed One succeed, it means the end of the world, and MHI is the only thing standing in his way. With the clock ticking towards Armageddon, Owen finds himself trapped between legions of undead minions, belligerent federal agents, a cryptic ghost who has taken up residence inside his head, and the cursed family of the woman he loves. Business is good . . . Welcome to Monster Hunter International. About Larry Correia and the Monster Hunter International series: " E]verything I like in fantasy: intense action scenes, evil in horrifying array, good struggling against the darkness, and most of all people--gorgeously flawed human beings faced with horrible moral choices that force them to question and change and grow."--Jim Butcher " A] no-holds-barred all-out page turner that is part science fiction, part horror, and an absolute blast to read."--Bookreporter.com "If you love monsters and action, you'll love this book. If you love guns, you'll love this book. If you love fantasy, and especially horror fantasy, you'll love this book."--Knotclan.com "A gun person who likes science fiction--or, heck, anyone who likes science fiction--will enjoy these books] . . . The plotting is excellent, and Correia makes you care about the characters . . . I read both books without putting them down except for work . . . so whaddaya waitin' for? Go and buy some . . . for yourself and for stocking stuffers."--Massad Ayoob " W]ill delight fans of action horror with elaborate weaponry, hand-to-hand combat, disgusting monsters, and an endless stream of blood and body parts."--Publishers Weekly on Monster Hunter Vendetta

Baen, 9781476782201, 528pp.
Publication Date: December 6, 2016
About the Author
Larry Correia is an award-winning competitive shooter, a movie-prop-gun master, and was an accountant for many years. He is the creator of the Wall Street Journal and New York Times best-selling Monster Hunter series, with first entry Monster Hunter International, as well as urban fantasy hardboiled adventure saga, the Grimnoir Chronicles, with first entry Hard Magic, and epic fantasy series The Saga of the Forgotten Warrior, with first entry Son of the Black Sword. Correia lives in Utah with his wife and family.
or
Not Currently Available for Direct Purchase