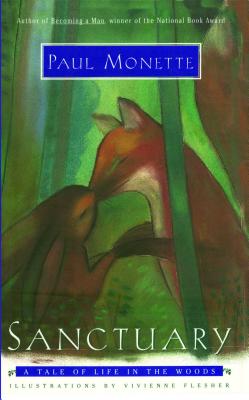 SANCTUARY
A Tale of Life in the Woods
Paperback

* Individual store prices may vary.
Description
From the author of the National Book Award winner Becoming a Man comes a fairy tale that captures the strangeness of society's rules and the liberating nature of love as the Great Horned Owl is brought to life as he sets an intolerant agenda in a mystical forest.

In this collection of fables, Paul Monette chronicles the experiences of being lesbian and gay through the scene of a magical forest that is protected by a solitary, sex-changing witch.

With the power to expel a shield that protect the animals of the forest from the outside world, the witch is able to keep the occupants of the forest safe. But not through physical protection, rather by changing the minds of the intruders entering the forest.

As the witch grows weary from her constant protection, an owl hungry for power takes over the throne of the forest, urging the animals to report all suspicious activity to keep the forest safe, leading to betrayal and skepticism among a previously free and enchanted group of animals.

"Like a shaman, Monette—the novelist, poet, essayist, AIDS activist, and National Book Award winner who died of AIDS in 1995—creates a magic space within this animal fable, which resonates with wisdom and grace." — Publishers Weekly
Scribner, 9781476782478, 96pp.
Publication Date: February 1, 2014