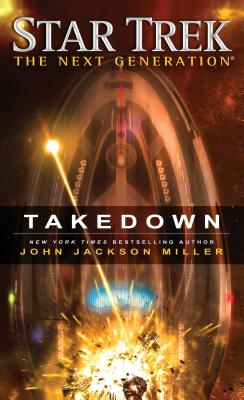 Takedown (Star Trek
The Next Generation)
Mass Market

* Individual store prices may vary.
Description
An all-new novel of Star Trek: The Next Generation—one of the most popular Star Trek series of all-time, featuring the adventures of Captain Jean-Luc Picard and the crew of the U.S.S. Enterprise!

When renegade Federation starships begin wreaking destruction across the Alpha Quadrant, Captain Jean-Luc Picard and the crew of the U.S.S. Enterprise are shocked to discover that the mastermind behind this sudden threat is none other than Picard's protégé and friend: Admiral William T. Riker. The newly minted admiral is on board the U.S.S. Aventine as part of a special assignment, even as the mystery deepens behind his involvement in the growing crisis. But the Aventine is helmed by Captain Ezri Dax—someone who is no stranger to breaking Starfleet regulations—and her starship is by far the faster vessel…and Riker cannot yield even to his former mentor. It's a battle of tactical geniuses and a race against time as Picard struggles to find answers before the quadrant's great powers violently retaliate against the Federation…

™, ®, & © 2015 CBS Studios, Inc. STAR TREK and related marks and logos are trademarks of CBS Studios, Inc. All Rights Reserved.
Pocket Books/Star Trek, 9781476782713, 368pp.
Publication Date: January 27, 2015
About the Author
John Jackson Miller is the New York Times bestselling author of Star Trek: Picard: Rogue Elements, Star Trek: Discovery: Die Standing, Star Trek: Discovery: The Enterprise War, the acclaimed Star Trek: Prey trilogy (Hell's Heart, The Jackal's Trick, The Hall of Heroes), and the novels Star Trek: The Next Generation: Takedown, Star Wars: A New Dawn, Star Wars: Kenobi, Star Wars: Knight Errant, Star Wars: Lost Tribe of the Sith—The Collected Stories; and fifteen Star Wars graphic novels, as well as the original work Overdraft: The Orion Offensive. He has also written the enovella Star Trek: Titan: Absent Enemies. A comics industry historian and analyst, he has written for franchises including Halo, Conan, Iron Man, Indiana Jones, Battlestar Galactica, Mass Effect, and The Simpsons. He lives in Wisconsin with his wife, two children, and far too many comic books.
or
Not Currently Available for Direct Purchase