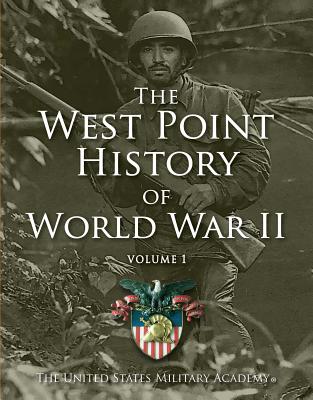 West Point History of World War II, Vol. 1 (The West Point History of Warfare Series #2) (Hardcover)
Simon & Schuster, 9781476782737, 352pp.
Publication Date: November 3, 2015
Other Editions of This Title:
Hardcover (11/8/2016)
* Individual store prices may vary.
Description
An outstanding new military history of the first half of World War II, featuring a rich array of images, exclusive graphics, superb new maps, and expert analysis commissioned by the United States Military Academy to teach the art of war to West Point cadets.

Since 1836, United States Military Academy texts have been the gold standard for teaching military history and the operational art of war. Now the USMA has developed a new military history series for the public featuring the story of World War II in two volumes, of which this is the first.

The West Point History of World War II combines the expertise of preeminent historians with hundreds of maps and images, many created for this volume or selected from Army collections. The first volume offers a balanced narrative analyzing the rising tide of Axis conquest from 1939 to mid-1942, ranging from battlefield decisions to operational and strategic plans, all set in their proper political context. The closing chapter provides a thematic treatment of the mobilization of the warring nations' economies and home fronts for the conduct of total war. The West Point History of World War II has been tested, checked, and polished by West Point cadets, faculty, and graduates to make this the best military history of its kind.
About the Author
The United States Military Academy at West Point is a four-year federal service academy established in 1802 to educate and train students as future officers in the military. Since 1836, West Point has published and frequently updated for its cadets definitive military history texts, now including The West Point History of Warfare series, the most important and insightful overview of military history to date.
Praise For West Point History of World War II, Vol. 1 (The West Point History of Warfare Series #2)…
"A beautifully designed volume where the photographs, posters and other images really do augment the text. The graphics and maps are models of clear communication. And the text is a bang up to date analysis of the different theatres of the war from a range of historians. . . . There is plenty to explore here, [it is] a book to return to again and again over the years."
— World War II Today

"There are truly not enough superlatives to describe this volume. . . . To accompany each chapter, the text provides lavish maps, timelines, figures, and order-of-battle diagrams for each of the major battles and campaigns. . . . This is a truly magnificent volume that should become not only standard issue at West Point but for any university teaching an undergraduate course in World War II."
— Jerry Lenaburg

"For the seriously military-minded is The West Point History of World War II by the U.S. Military Academy. With its maps, charts, vintage photos, historic posters and authoritative voice, you could almost be in a classroom."
— Allen Pierleoni