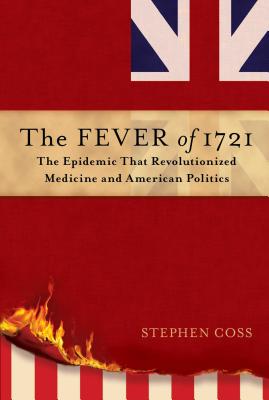 The Fever of 1721
The Epidemic That Revolutionized Medicine and American Politics
Hardcover

* Individual store prices may vary.
Other Editions of This Title:
Digital Audiobook (3/21/2016)
Paperback (3/28/2017)
MP3 CD (3/22/2016)
Compact Disc (3/22/2016)
Description
More than fifty years before the American Revolution, Boston was in revolt against the tyrannies of the Crown, Puritan Authority, and Superstition. This is the story of a fateful year that prefigured the events of 1776.

In The Fever of 1721, Stephen Coss brings to life an amazing cast of characters in a year that changed the course of medical history, American journalism, and colonial revolution, including Cotton Mather, the great Puritan preacher, son of the president of Harvard College; Zabdiel Boylston, a doctor whose name is on one of Boston's grand avenues; James and his younger brother Benjamin Franklin; and Elisha Cooke and his protégé Samuel Adams.

During the worst smallpox epidemic in Boston history Mather convinced Doctor Boylston to try a procedure that he believed would prevent death—by making an incision in the arm of a healthy person and implanting it with smallpox. "Inoculation" led to vaccination, one of the most profound medical discoveries in history. Public outrage forced Boylston into hiding, and Mather's house was firebombed.

A political fever also raged. Elisha Cooke was challenging the Crown for control of the colony and finally forced Royal Governor Samuel Shute to flee Massachusetts. Samuel Adams and the Patriots would build on this to resist the British in the run-up to the American Revolution. And a bold young printer James Franklin (who was on the wrong side of the controversy on inoculation), launched America's first independent newspaper and landed in jail. His teenage brother and apprentice, Benjamin Franklin, however, learned his trade in James's shop and became a father of the Independence movement.

One by one, the atmosphere in Boston in 1721 simmered and ultimately boiled over, leading to the full drama of the American Revolution.
Praise For The Fever of 1721: The Epidemic That Revolutionized Medicine and American Politics…
"As Stephen Coss shows in his deeply researched account, The Fever of 1721, Boston society divided along lines that we would not expect today . . . Smallpox was finally eradicated in 1979, but our current politics demonstrate that the tensions between personal freedom and public health that erupted in Boston in 1721 have yet to be fully resolved."
— The Wall Street Journal

"In 1721, Boston was a dangerous place . . . In Coss's telling, the troubles of 1721 represent a shift away from a colony of faith and toward the modern politics of representative government."
— The New York Times Book Review

"Intelligent and sweeping . . . The people portrayed in this public health story, their struggles and interactions, feel at once intimate and urgent, thanks to Coss' lucid telling of this fascinating story."
— Booklist

"Coss's gem of colonial history immerses readers into 18th-century Boston and introduces a collection of fascinating people and intriguing circumstances. The author's masterly work intertwines Boston's smallpox epidemic with the development of New England Courant publisher James Franklin's radical press. . . . Unlike many other works on colonial America . . . Coss's focus on a specific location at a specific time fleshes out the complex and exciting scene in sharp detail, creating a historical account that is fascinating, informational, and pleasing to read."
— Library Journal, starred review

"A fascinating glimpse inside the Boston mindset of the era."
— Kirkus Reviews

"The Fever of 1721 is an all-American tale: a fire-and-brimstone minister, sensational media, hardball politics, a health panic. Stephen Coss depicts an uproarious colonial past not unlike our present."
— Richard Brookhiser, author of Founders' Son: A Life of Abraham Lincoln

"Stephen Coss has written an engrossing, original book about Boston a half century before the Revolution. It is a tale of medical drama, philosophical ferment, and journalistic beginnings—and it is a tale well worth reading!"
— Jon Meacham, author of Destiny and Power: The American Odyssey of George Herbert Walker Bush

"The Fever of 1721 skillfully reveals early Americans who challenged both the dominant political order and prevailing scientific ideas about disease. That rebelliousness—embodied in bold figures like Rev. Cotton Mather, Dr. Boylston, and the teenaged Ben Franklin—would lead directly to revolution before the century was out."
— David O. Stewart, author of Madison's Gift and The Summer of 1787

"Long before the American Revolution colonial Boston was a hotbed of social and political ferment, key factors that produced, in the face of lethal epidemic, the first public trial of general inoculation ever practiced in the western world. In this lively and engaging book, Stephen Coss brings to life the key players in that bold experiment—including Puritan icon Cotton Mather and Boston prodigy Ben Franklin—and unfolds in intimate detail their halting progress toward a genuine medical breakthrough. Closely observed, driven by quirks of character as well as fate, Coss delivers a story that illuminates the rambunctious soul of the budding new republic."
— Charles Rappleye, author of Sons of Providence and Herbert Hoover in the White House
Simon & Schuster, 9781476783086, 368pp.
Publication Date: March 8, 2016
About the Author
The Fever of 1721 is Stephen Coss's first book. He lives in Madison, Wisconsin.
or
Not Currently Available for Direct Purchase