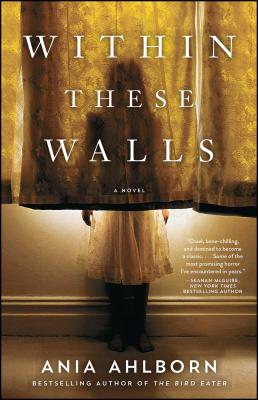 Within These Walls (Paperback)
Gallery Books, 9781476783741, 464pp.
Publication Date: April 21, 2015
Other Editions of This Title:
Digital Audiobook (4/20/2015)
MP3 CD (4/21/2015)
Compact Disc (4/21/2015)
* Individual store prices may vary.
Description
In her all-new supernatural thriller, bestselling indie horror author Ania Ahlborn asks: How far would you go for success? What would you be capable of if the promise of forever was real?

With his marriage on the rocks and his life in shambles, washed-up true-crime writer Lucas Graham is desperate for a comeback, one more shot at the bestselling success he once enjoyed. His chance comes when he's promised exclusive access to death row inmate Jeffrey Halcomb, the notorious cult leader and mass murderer who's ready to break his silence after thirty years, and who contacted Lucas personally from his maximum-security cell. With nothing left to lose, Lucas leaves New York to live and work from the scene of the crime: a split-level farmhouse on a gray-sanded beach in Washington State whose foundation is steeped in the blood of Halcomb's diviners—runaways who were drawn to his message of family, unity, and unconditional love. There, Lucas sets out to capture the real story of the departed faithful. Except that he's not alone. For Jeffrey Halcomb promised his devout eternal life…and within these walls, they're far from dead.
About the Author
Ania Ahlborn is the bestselling author of the horror thrillers Brother, Within These Walls, The Bird Eater, The Shuddering, The Neighbors, and Seed, and the novellas The Pretty Ones and I Call Upon Thee. Born in Ciechanow, Poland, she lives in South Carolina with her husband and their dog. Visit AniaAhlborn.com or follow the author on Facebook and Twitter @AniaAhlbornAuthor.
Praise For Within These Walls…
"Terrifyingly sad….Within These Walls creeps under your skin, and stays there. It's insidious….The book's atmosphere is distinctly damp, clammy, overcast, and it isn't all the Washington weather: its characters' souls are gray, dimmed by failure. Ahlborn is awfully good on the insecurities that plague both aging writers…and oversensitive young girls…which leave them vulnerable to those who…know how to get into their heads. So grim."

"Cruel, bone-chilling, and destined to become a classic, Within These Walls is worth the sleep it will cost you. Some of the most promising horror I've encountered in years."
— Seanan McGuire, New York Times bestselling author

"A monstrous Russian nesting doll of a book, holding secrets within secrets; the plot barrels headlong towards one of the most shocking climaxes you're ever likely to read. This one's going to wreck you."
— Nick Cutter, national bestselling author of The Troop and The Deep

"Ania Ahlborn is a great storyteller who spins an atmosphere of dread literally from the first page, increasing the mental pressure all the way through to the terrifying, chilling ending."
— Jeff Somers, acclaimed author of The Electric Church and We Are Not Good People

"Ever-mounting terror and a foreboding setting make for pure storytelling alchemy....Ania Ahlborn goes for the gut with surprise twists that will stay with you for days. Not a book, or an author, that you'll soon forget."
— Vicki Pettersson, New York Times bestselling author