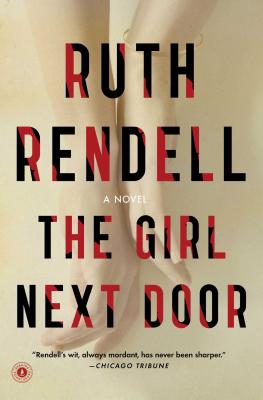 The Girl Next Door
A Novel
Paperback

* Individual store prices may vary.
Other Editions of This Title:
Digital Audiobook (10/6/2014)
Library Binding, Large Print (3/1/2015)
Hardcover (10/7/2014)
Description
INCLUDES AN EXCERPT OF RENDELL'S FINAL NOVEL, DARK CORNERS

From crime legend Ruth Rendell, a psychologically intriguing novel about an old murder that sends shockwaves across a group of astonishingly carnal and appetiteful elderly friends: "Refined, probing, and intelligent…never less than a pleasure" (USA TODAY).

In the waning months of the second World War, a group of children discover a tunnel in their neighborhood outside London. For that summer of 1944, the subterranean space becomes their "secret garden," where the friends play games, tell their fortunes, and perform for each other.

Six decades later, construction workers make a grisly discovery beneath a house on the same land: a tin box containing two skeletal hands, one male and one female. As the hands make national news, the friends come together once again, to recall their long ago days for a detective. Then the police investigation sputters, and the threads holding their friendship together begin to unravel. Is the truth buried amid the tangled relationships of these aging men and women and their memories? Will it emerge before it's too late?

Stephen King says, "no one surpasses Ruth Rendell when it comes to stories of obsession, instability, and malignant coincidence." In The Girl Next Door—"yet another gem" (The Washington Post)—Rendell brilliantly shows that the choices people make, and the emotions behind them, remain as potent in late life as they were in youth. "Rendell's wit, always mordant, has never been sharper than when she skewers patronizing assumptions about the elderly" (Chicago Tribune).
Praise For The Girl Next Door: A Novel…
"Using her customary spare yet decorous style and measured pace, Rendell, now in her 80s, beautifully and carefully individualizes each member of her ensemble cast, at the same time creating not a grim reminder of mortality but a picture of moribund lives renewed. A special book by a special writer."
— Booklist (starred review)

"[Rendell] creates another riveting story with her sharp characterizations and keen sense of irony that will keep readers engaged from start to finish. Fans of psychological suspense, along with Rendell's loyal following, will love this complex story."
— Library Journal (starred review)

"Ruth Rendell's fiction clusters at such a high level that the best judgment I can render about The Girl Next Door is this: It's a good Rendell, and that makes it very good indeed."
— Dennis Drabelle, Washington Post

"Only recently has it been common for novelists to work into their late 70s and beyond — not merely producing new work but writing at a very high level. A case in point is Ruth Rendell, whose new novel, The Girl Next Door, just appeared. Rendell is 84…Like her contemporary P.D. James, she is one of the finest writers of her time… her wit, always mordant, has never been sharper than when she skewers patronizing assumptions about the 'elderly.'"


— John Wilson, Chicago Tribune

"[Rendell] is one of the most literate living writers of fiction…Her witty style and her endless trove of subtle references to fellow writers (living and dead) are matched by a timeliness that always takes on contemporary social issues along with the invented mystery that propels her plot into action. Part of the miracle is that with more than 60 books to her credit over a half-century career, Ms. Rendell never descends into mere formula. The Girl Next Door is no exception."
— Robert Croan, Pittsburgh Post-Gazette

"[Rendell] has always been at her heart-stopping best when she pushes the reader out of the comfort zone with her stand-alone psychological thrillers…The Girl Next Door is vintage Rendell and a perfect celebration of her half-century…This novel reminded me of the singularity of Ruth Rendell's talent, her effortless mastery of language and her uncanny genius for mapping a criminal mind."
— Kate Saunders, The Times (U.K.)

"This book is extraordinarily courageous, a demonstration that fiction can take us where reportage dares not go."
— The Independent (U.K.)

"A must read… not your typical crime story, but it is a typical Rendell book — cunningly observed, elegantly written."
— Ed Siegel, WBUR
Scribner, 9781476784342, 304pp.
Publication Date: August 4, 2015
About the Author
Ruth Rendell (1930–2015) won three Edgar Awards, the highest accolade from Mystery Writers of America, as well as four Gold Daggers and a Diamond Dagger for outstanding contribution to the genre from England's prestigious Crime Writ­ers' Association. Her remarkable career spanned a half century, with more than sixty books published. A member of the House of Lords, she was one of the great literary figures of our time.