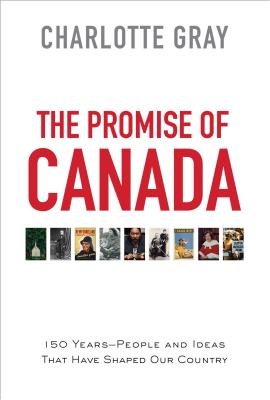 The Promise of Canada (Hardcover)
150 Years--People and Ideas That Have Shaped Our Country
Simon & Schuster, 9781476784670, 400pp.
Publication Date: October 18, 2016
Other Editions of This Title:
Paperback (5/15/2018)
* Individual store prices may vary.
Description
What does it mean to be a Canadian? What great ideas have changed our country? An award-winning writer casts her eye over 150 years of Canadian history.

"Our country owes its success not to some imagined tribal singularity but to the fact that, although its thirty-five million citizens do not look, speak or pray alike, we have learned to share this land and for the most part live in neighbourly sympathy." —Charlotte Gray, from the Preface of The Promise of Canada

On the eve of Canada's sesquicentennial celebrations comes a richly rewarding new book from acclaimed historian Charlotte Gray about what it means to be Canadian. Readers already know Gray as an award-winning biographer, a writer who has brilliantly captured significant individuals and dramatic moments in our history. Now, in The Promise of Canada, she weaves together masterful portraits of nine influential Canadians, creating a unique history of the country over the past 150 years.

What do these people—from George-Étienne Cartier and Emily Carr to Tommy Douglas, Margaret Atwood, and Elijah Harper—have in common? Each, according to Charlotte Gray, has left an indelible mark on our country. Deliberately avoiding a "top down" approach to our history, Gray has chosen people whose ideas have caught her imagination, ideas that over time have become part of our collective conversation. She also highlights many other Canadians, past and present, who have added to the ongoing debate over how we see ourselves, arguing that Canada has constantly reimagined itself in every generation since 1867.

Beautifully illustrated with evocative black and white images and colourful artistic visions of our country, The Promise of Canada is a fresh take on our history that offers fascinating insights into how we have matured and yet how—150 years after Confederation and beyond—we are still a people in progress. Charlotte Gray makes history come alive as she opens doors into our past, our present and our future, inspiring and challenging readers to envision the Canada they want to live in.
About the Author
Charlotte Gray, one of Canada's pre-eminent biographers and historians, has won many awards for her work, including the prestigious Pierre Berton Award for a body of historical writing, the Edna Staebler Award for Creative Non-Fiction, the Ottawa Book Award, the Toronto Book Award, and the CAA Birks Family Foundation Award for Biography. Over nine superb biographies, from Mrs. King and Sisters in the Wilderness to The Massey Murder, and masterful books such as The Museum Called Canada and Canada: A Portrait in Letters, she has brought our past to vivid life. Gray is a Member of the Order of Canada and was a panelist on the 2013 edition of CBC Radio's Canada Reads. She lives in Ottawa.
Praise For The Promise of Canada: 150 Years--People and Ideas That Have Shaped Our Country…
"This book is a masterpiece. It tells us more about ourselves and our country than any comparable work I know of, accomplishing this by style and wit and unconstrained intelligence all made credible by abundant detail. [...] This is an inexhaustibly interesting book about an inexhaustibly interesting country."
— Richard Gwyn

"Once again, Charlotte Gray helps us better understand who we are as an evolving nation—a country for all that will thrive well beyond the next 150 years."
— Naheed Nenshi, Mayor of Calgary

"Charlotte Gray writes of Canada with an immigrant's passion and an insider's knowledge. With her lively profiles, provocative ideas, and unabashed love of country, The Promise of Canada is a promise kept."
— Christopher Moore

"Charlotte Gray's The Promise of Canada dares to investigate our contradictions and conundrums through the stories of ordinary Canadians who made an extraordinary difference. From our historic past to our post-national present, Gray explores our culture from within the lives we live. This book is a triumph and a tour de force."
— Aritha van Herk

"Amazing! In weaving her own fascinating story throughout deft and telling profiles of critical Canadians over the past 150 years, Charlotte Gray has succeeded in giving us a remarkable "biography" of her adopted country. She now joins the likes of Pierre Berton, Peter C. Newman and Bruce Hutchison as guardians of the national mirror. A marvelous read."
— Roy MacGregor

"If I had to get Canada a gift for its 150th birthday, this book would be at the top of my list. With the richly told stories of these extraordinary Canadians—men and women from all walks of life—Charlotte Gray tells us what's extraordinary about Canada itself. It's a promise that we can see fulfilled around us every day."
— Susan Delacourt

"I've had a literary crush on Charlotte Gray for years. She's smart, funny, insightful. . . . This fascinating collection of biograpy as history takes us from West Coast art to strong-jawed Mounties, from Margaret Atwood to Preston Manning, with equal aplomb. Wonderful!"
— Will Ferguson

"The Promise of Canada is a true feat and it manages to highlight some of our most important stories. Some readers might feel that Gray left out a cause, symbol, or person (for example, there's nothing on hockey here) but she does a good job of packing in as much in as possible."
— The Globe and Mail

"Painstakingly researched and thoroughly engaging, The Promise of Canada is a pleasurable read, and, what's more, it's edifying."
— The Globe and Mail

"The Promise of Canada: 150 Years – People and Ideas That Have Shaped Our Country, takes a beautiful, slightly different and very successful way of looking at things — by looking at the people, places and stories she feels helped bring us together."
— The Winnipeg Free Press

PRAISE FOR THE MASSEY MURDER

"Narrated with a great sense of presence, irony, and verve, this book recreates a vanished world of Canadian jurisprudence and politics, invests it with life, and makes it memorable."
— Globe and Mail

"An engrossing chronicle of Toronto's social life at the beginning of the 20th century. . . . Gray's description of the trial and the Toronto of a century ago allow us to understand much more about the city we call home."
— Toronto Star

"A captivating read, balancing intense research with richly drawn characters and lively storytelling."
— Maclean's

PRAISE FOR GOLD DIGGERS

"A lively, delightful reenactment of a signal era of Klondike mythology."
— Kirkus (Starred Review)

"Gold in the story and gold on the page. With meticulous research and a keen eye for the crucial detail, Charlotte Gray disentangles the story of the great Klondike Gold Rush from its myths and clichés to tell the story of the extraordinary adventurers who struggled to survive and prosper in a harsh land."
— Margaret MacMillan
or
Not Currently Available for Direct Purchase